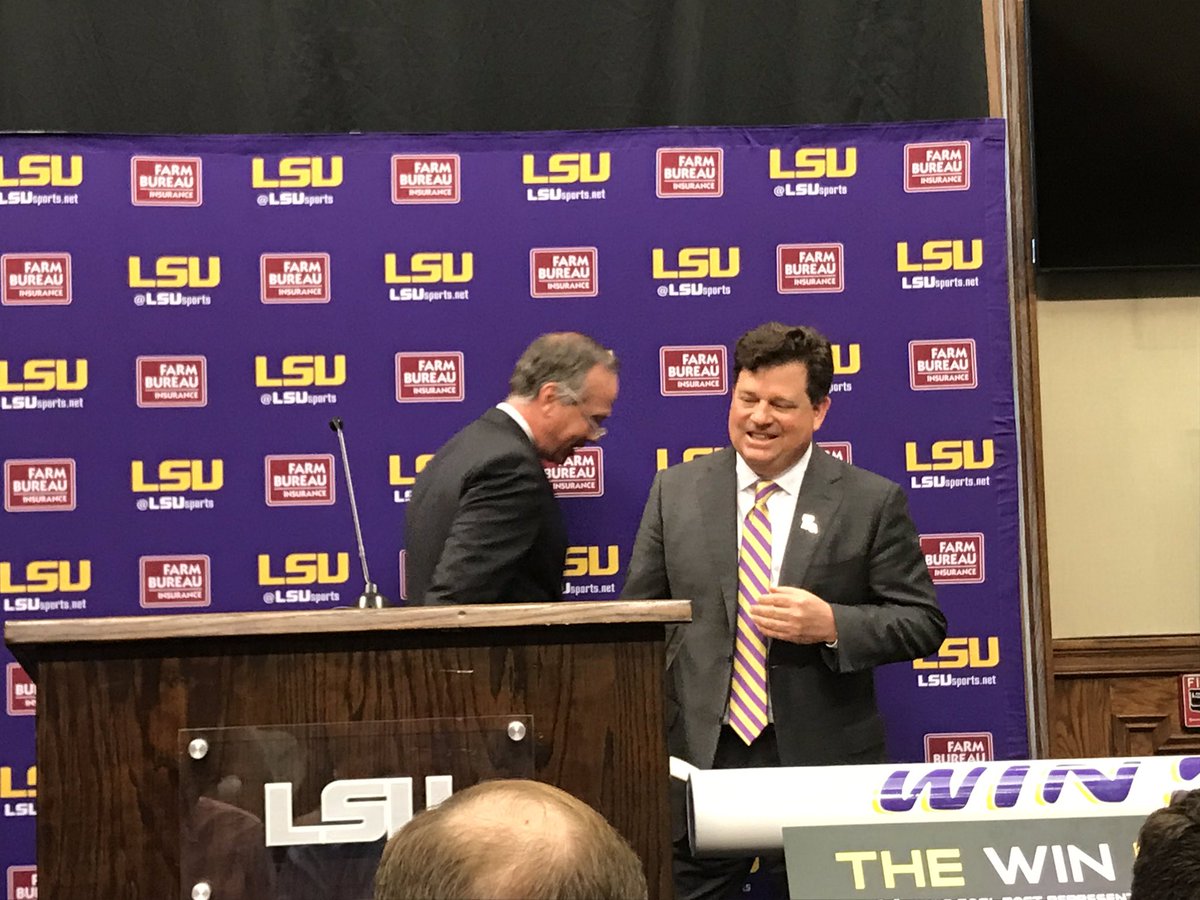 The LSU Board of Supervisors Athletics Committee meeting was short, sweet and productive.
The nine items listed on the agenda for the committee — which included an updated role and significant raise in pay for Deputy Athletic Director Verge Ausberry as well as contract extensions for four football coaches, including offensive Steve Ensminger, and assistant basketball coach Bill Armstrong — were all approved without objection within five minutes.
The quick meeting effectively concluded the athletic department's spring cleaning list, making sure all coaches were on board through the upcoming academic calendar.
"We just wanted to make sure that we get our amendments and extensions and our housekeeping in order with the board," said LSU athletics director Scott Woodward. "We want to continue the continuity that we have to be successful coming off this successful year and have continued success moving forward."
The committee's meeting began with the group officially approving the long-form version of Woodward's contract and the new contract for Ausberry.
In addition to his title as LSU's deputy athletics directory, which he has held since 2015, Ausberry will now also serve the role of Executive Director of External Relations for the university. The new role nearly doubles his salary to $500,000 immediately and it will grow to $525,000 by the end of the six-year stint.
"I couldn't be more happy," Woodward said of Ausberry's new deal. "I've known Verge for 20 years and worked with him. I have the utmost respect and confidence in him. I'm looking forward to having him on our team."
Afterward, Woodward took the floor and asked the committee to approve contract changes for seven coaches, including Ensminger, strength and conditioning coach Tommy Moffitt, offensive line coach James Cregg, special teams coach Greg McMahon, assistant basketball coach Bill Armstrong and co-head men's tennis coaches Andy and Christopher Brandy.
Ensminger's new deal will keep him with the Tigers through March 31, 2021, and his salary will remain at $800,000.
Cregg and McMahon will also be with the program through March 31, 2021, with McMahon receiving a 12 percent raise to $425,000.
Moffitt's proposed extension is for two years, keeping him with the Tigers through June 30, 2022. He would also receive a 19 percent raise, receiving $520,000 for the 2019-20 season, $540,000 for the 2020-21 season and $560,000 for the 2021-22 season.
Armstrong also received a significant 30 percent raise to $325,000 through June 30, 2021.
"Coach Armstrong's done a phenomenal job for our staff. Certainly, we want to reward people who are hard workers and people who do a great job," said LSU head basketball coach Will Wade during Thursday morning's SEC Teleconference. "One thing I love about coach Armstrong is he has no ego. He's always working. He has a great way about him with our players. I felt like he deserved a raise, and I'm certainly appreciative of (LSU athletics director) Scott Woodward and (deputy athletics director) Verge (Ausberry) for approving that, and hopefully the board of supervisors for moving that through."