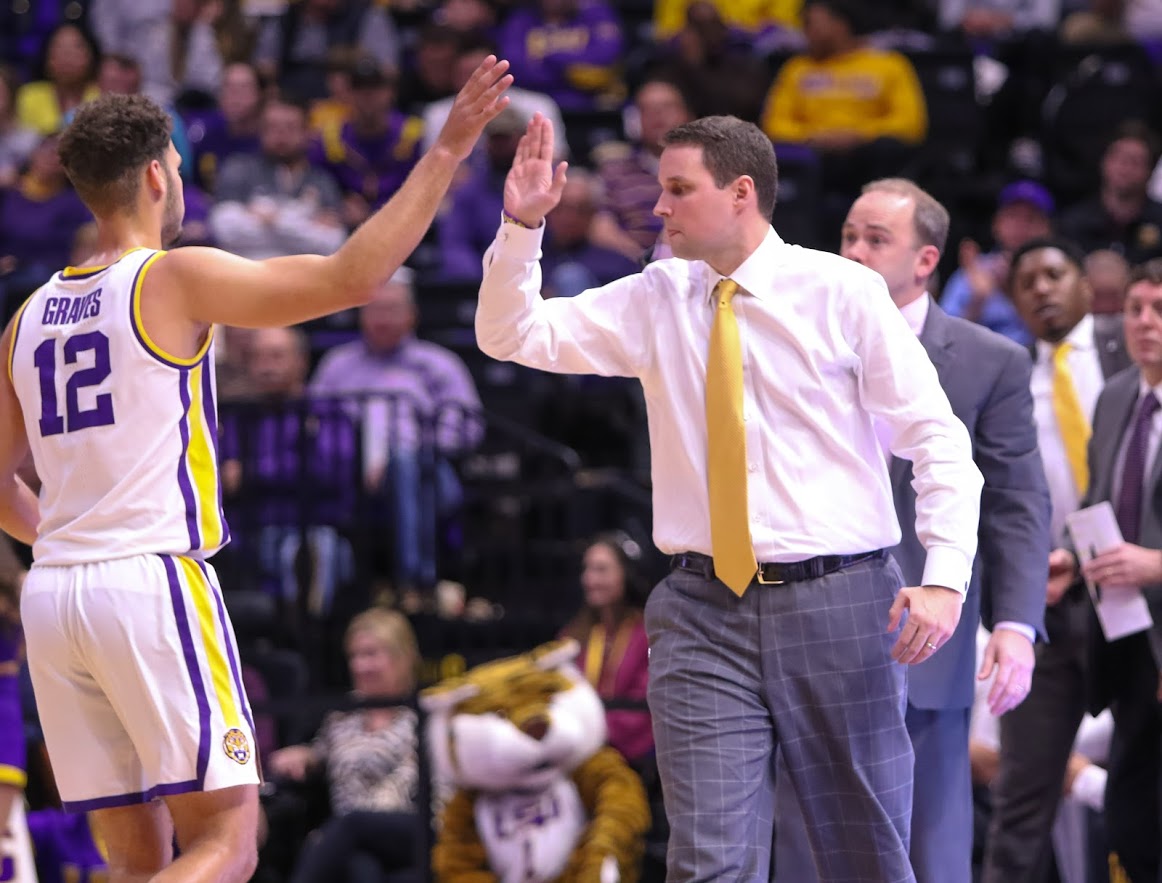 LSU may still be looking to finish filling out its roster, but that hasn't kept the Tigers from getting back into gear with summer practice.
LSU coach Will Wade and the rest of the SEC's head basketball coaches took the the phone lines Thursday morning for a summer teleconference to update the media on how things are going during the offseason.
The following is everything Wade had to say during the teleconference, including his thoughts on new collegiate rules, his first thoughts on LSU's 2019 recruiting class now that they're in Baton Rouge and an upcoming trip to Spain.
Opening Statement
"Our summer's off to a good start. We have five of our top eight guys back, so we have a little bit more of a veteran core coming back. And I've been very pleased with our young guys. Blue collar, hardworking group with our news guys. That's been very, very good for us.
"We're looking forward to our trip to Spain in August. It will be a great time for us to continue to grow as a team. Every time I've gone on a foreign tour with other teams I've coached and been a part of, it's been a great team bonding experience and a great overall experience for our players. It's really expedited things for our teams as far as being a little bit further ahead as far as starting the season. So hopefully we'll be able to capitalize on all those advantages we have this summer."
On the incoming recruits making their first impression in Baton Rouge…
"They've all been tremendous for us. You never know for sure until we play games, but I definitely think we've hit on all three of those kids.
"Charles (Manning) is just a tremendous, tremendous defender. He's got length and athleticism. He's everything we thought he'd be on the defensive end. Shooting the ball at a high level and he's playing well off the bounce. We're very, very pleased with him.
"(James) Bishop is as hard a worker as I've ever seen as a freshman. You guys know how I feel about Skylar Mays, and James has worked as hard, if not harder than Skylar this summer. It's incredible to watch. In fact, this week I actually had to kind of shut things down. I thought his body was giving out on him a little bit because he'd been working so hard. He was in the gym on his own three, four, five times a day outside of what we were doing with our team. Just an incredible, incredible worker. He can score it at will so very, very excited about him.
"Then Trendon (Watford), he's just been phenomenal as well. He's been an extremely hard worker. He's been in the gym working extra," Wade noted. "We've been spending this time trying to fine tune his jump shot and get that very, very consistent. He's worked hard at that. He makes the right play every time. I try to judge it not necessarily on whether the play is completed or the play is finished, but does he make the right read or does he make the right play, and Trendon does that 90-95 percent of the time.
So we're very, very happy with our newcomers, as well as our returners and how they've progressed as well."
On Bill Armstrong's proposed contract extension, raise…
"Coach Armstrong's done a phenomenal job for our staff. Certainly, we want to reward people who are hard workers and people who do a great job. One thing I love about coach Armstrong is he has no ego. He's always working. He has a great way about him with our players. I felt like he deserved a raise, and I'm certainly appreciative of (LSU athletics director) Scott Woodward and (deputy athletics director) Verge (Ausberry) for approving that, and hopefully the board of supervisors for moving that through.
"But coach Armstrong has been a vital part of our success these first couple years. He'll be huge for us as we continue to move forward as we try to sustain the level that we're at now and try to reach a bit of a higher level. But I'm very excited about that."
On proposed rule changes for college basketball…
"I think initially moving the 3-point line back will have an effect on the shooting percentage. I think it will go down. But I think, like anything, players adjust, everybody adjusts. I think as the season goes along the 3-point percentages will go back up, and I think eventually they'll even back out to where they were at the old line or maybe even a little bit better. But I think initially there will certainly be an opportunity for a little bit of a dip, and I think they'll continue to move up as guys get more used to it and guys practice more with that line.
"… I'm fine with it. I would not have moved it back, but if we want to move it back, we'll move it back. I'm fine with it."
"With the 20-second reset (of the shot clock) on an offensive rebound, I think it's a good rule. Most of the time when you get an offensive rebound, you're going right back up with it anyway.  Very rarely, maybe once or twice a game do you pull out and use the whole shot clock. I think it's a good thing for pace of play."
Photo Credit: Terrill Weil