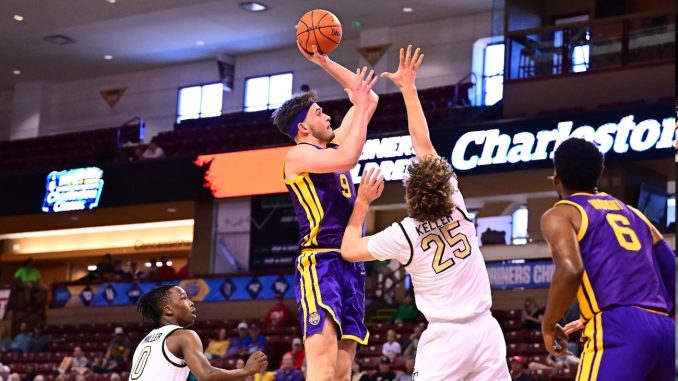 Will Baker poured in a game-high 23 points and had eight rebounds, while Jordan Wright added 15 points along with a team-high nine rebounds, and Jalen Reed added 12 points with six rebounds and LSU scored the last five points of overtime and finally put Wake Forest away 86-80 to finish fifth in the Charleston Classic on Sunday.
LSU (3-2) led almost the entire game from start to finish, by as many as 14 points in the first half but Wake Forest (2-3) went on a 10-0 run to open the second half to tie the game.
The game was tied three times in the second half and the Tigers' biggest lead in the final 20 minutes of regulation was four points.
Wake Forest never led until overtime when the Demon Deacons went up by two points for less than a minute.
LSU missed some key free throws late in regulation that could have put the Demon Deacons away for good, and Reed also missed a contested driving layup that would have won it for the Tigers in regulation.
"I was really proud of our players. I thought we showed a lot of resiliency the first half," LSU coach Matt McMahon said.
"I thought the first team to get a stop would win the game the first 10 minutes.
"I haven't seen anything like that in a long time. But then we struggled on offense in the second half. We had the game, felt like we had it won a couple of times. And if you don't watch a lot of basketball, usually when you don't close that out, go to overtime, you lose all that momentum, the other team finds a way to win. But I think it really speaks to the character and toughness of our group. Really made some big time plays in the overtime period to find a way to win the game.
"We didn't close out our free throws at the end of the game (regulation). I thought Jalen Reed had a beautiful drive there at the buzzer to win. It just didn't go our way," McMahon said.
LET'S GEAUX 😤

📺 ESPN2 | @jayreedd pic.twitter.com/KKyhB4ezas

— LSU Basketball (@LSUBasketball) November 19, 2023
Kevin Miller's fastbreak layup gave the Demon Deacons a 76-74 lead one minute into overtime.
LSU, however, responded with a 3-pointer from Tyrell Ward on a feed from Wright and then Ward followed his clutch 3-pointer with a jump shot.
TYR3LL 🎯

📺 ESPN2 | @tyrellward_ pic.twitter.com/IsXd6L2fZU

— LSU Basketball (@LSUBasketball) November 19, 2023
Andrew Carr's jumper got Wake Forest within 81-80 with a minute to go but Reed scored in the paint on a set play after taking a low-post feed from Baker.
"We watched a video clip at halftime and were seeing how their big man would come drop and double team," Baker said. "So, we knew the cut would be there, the 45 cut from Jalen to the basket. So, I was kind of waiting on that once I saw his man leaving the double team. So, it was a great look for him."
From there, LSU added three free throws and held Wake Forest scoreless to close out the win.
Hunter Sallis made four 3-pointers and scored 22 points for Wake Forest. Miller added 19 points with eight assists, Cameron Hildreth had 18 points and nine rebounds, and Carr had 17 points and nine rebounds.
After leading by double digits for much of the first half, LSU's biggest lead in the final 13 minutes of regulation was four points several times, the last with 34 seconds left.
Carr then scored in the lane to get Wake Forest within two and after Wright missed two free throws for LSU that could have sealed the game for the Tigers, Carr made another layup to tie it with 15 seconds left, leading to overtime.
LSU returns to action against North Florida on Friday night 7 p.m. at the Pete Maravich Assembly Center.