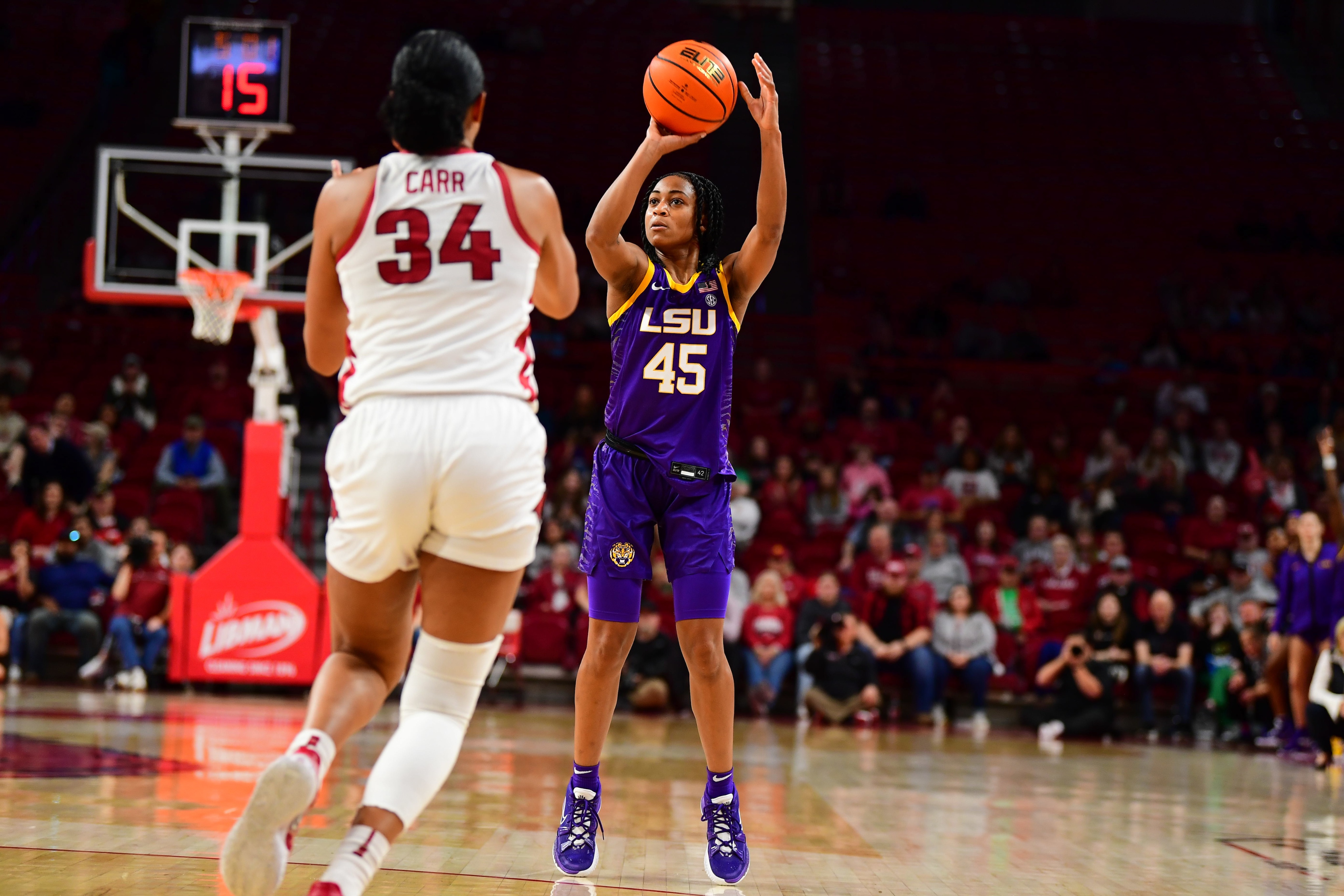 It was the best response LSU women's basketball coach Kim Mulkey believed her team could deliver under the circumstances.
Against an often-criticized non-conference schedule, the Lady Tigers have risen to No. 9 nationally and remained undefeated through the first 12 games of the season.
With all eyes on LSU for the start of Southeastern Conference play it was more of the same in a 69-45 blowout win Thursday against No. 24 Arkansas in Bud Walton Arena.
"Just keep winning," Mulkey said in her retort to the skeptics that have taken issue with her team's schedule. "Just keep winning."
LSU (13-0, 1-0) was led by sophomore Angel Reese's 13th consecutive double-double with 19 points and 16 rebounds. Senior guard Alexis Morris also had 19 points and freshman Flau'jae Johnson added a double-double with 10 points and 11 rebounds.
Graduate transfer LaDazhia Williams added 15 rebounds and received a heaping helping of the credit in the team's defensive effort that helped limit Arkansas (13-3, 0-1) to season low in points, field goals made (17) and field goal percentage (28%).
Morris added six assists to lead the Tigers and had five rebounds.
"Neither team, when you turned on the TV to watch it was because it was such a great offensive performance," Mulkey said. "But if you're a true basketball junkie you're watching other things. You're impressed with the 23 offensive boards; you're impressed with a lot of other things that we did to compete tonight. Our defense is getting better. We have size, we have strength, we have speed and quickness. You've got to defend when you're not shooting it well."
LSU, one of five undefeated teams nationally, compensated for 34% field goal percentage by outrebounding Arkansas 62-30 – a season-high for rebounds. The Tigers also twice limited the Razorbacks to less than 10 points scoring in the first and fourth quarters.
"I thought LaDazhia Williams set the tone for us defensively. She had 15 big rebounds," Mulkey said of the transfer from Missouri. "She only scored four, but it's what she did helping on cutters, on drives. It's what you hope a senior will do that's been in this league and has played a lot of basketball. We don't win the game without her setting the tone defensively."
LSU took the lead for good on Reese's second-chance basket with 4:07 left in the first quarter and the Tigers went on to a 14-9 lead.
A 7-0 run to open the second quarter, including a 3-pointer from Morris, a pair of free throws from Jasmine Carson and layup from Johnson, extended LSU's lead and the Tigers went on to open a 38-25 halftime advantage.
LSU took complete control of the game in the third quarter which it ended on a 9-2 run on Williams' free throw to make it 55-38.
The Tigers established a 58-38 cushion on Reese's fastbreak layup and a free throw from Johnson gave her team a 66-41 lead with 5:40 left.
"I thought we kept the crowd out of the game. We controlled the game from the tip," Mulkey said. "It wasn't pretty, but I thought we controlled the game from the tip."
LSU returns home to face Vanderbilt at 2 p.m. Sunday on New Year's Day.
"I don't know how good we are," Mulkey said. "We know what our goals are. How good we are? Compare us? We don't have time to do that. We're going to flush this game. We're going to get ready for Vanderbilt. I hope we have a great crowd at home."