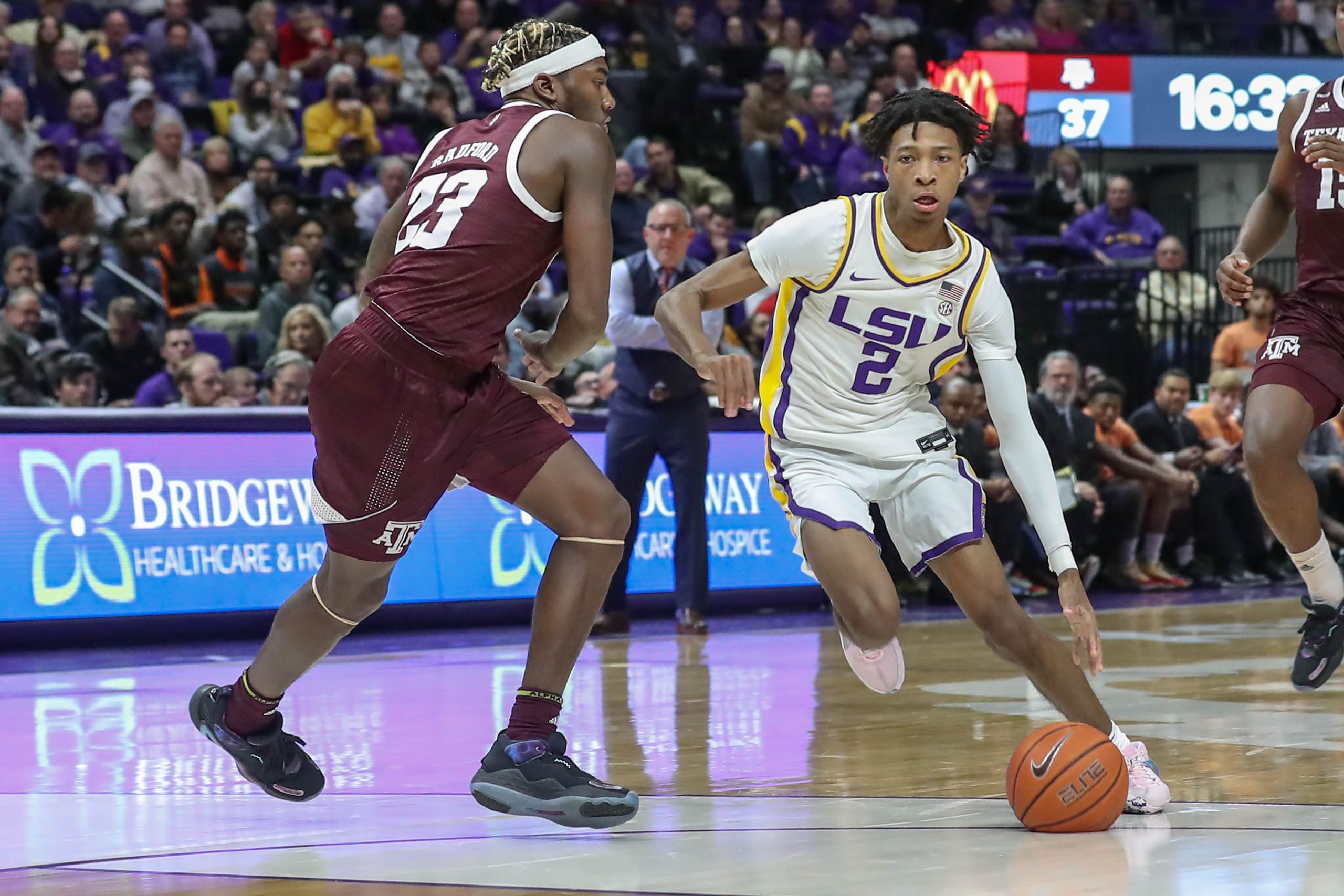 The No. 18 LSU Tigers, down three players at the end, outscored Texas A&M, 13-2 over the final 3:34 of the game to score a rallying 70-64 win over the Aggies Wednesday night at the Pete Maravich Assembly Center.
LSU stopped a thr.ee-game losing streak and is now 16-4 on the season and 4-4 in the SEC. Texas A&M, which started league play 4-0, has now lost three straight and is 15-5 overall and 4-3 in the league.
LSU played the game without Xavier Pinson (MCL sprain) and Darius Days (ankle) and a good portion of the second half with Tari Eason suffering from cramps that forced him to the bench and eventually the dressing room.
"Well, it was a great, great win. We found a way," LSU coach Will Wade said. "Eric Gaines played his best game here. He was phenomenal, just tremendous. I am just proud of our guys. It wasn't easy. It is never easy, but I am really proud of our guys. We made the free throws when it mattered. We did not make many of them during the game, but we made them when it mattered. I thought the crowd was great. The students were great. I am just very proud of our group. To play the last 12 minutes basically without Tari (Eason) and Shareef made some big plays for us. Brandon Murray, he is just a warrior."
LSU, after leading at the half by three, 34-31, fell behind by five, 62-57, in a game that featured 10 ties and 11 lead changes.
The lead went to five when Quenton Jackson hit a layup after an LSU turnover. Eric Gaines was fouled as the teams went to the final media timeout with 3:34 to play.
At that point, the Tigers began a tremendous finishing run at the free throw line as Gaines made two to cut the A&M lead to three, 62-59. A&M turned a ball over and Brandon Murray was fouled and made two to cut the A&M lead to just one, 62-61.
Texas A&M got their final points of the game with 1:45 to play on a second chance bucket after an A&M miss by Tyrece Radford that gave the Aggies a 64-61 lead.
LSU called a timeout and out of the timeout came up with a play that found Mwani Wilkinson open for a three and he buried his only shot of the game to tie the contest at 63-63 with 1:18 to play.
A&M called timeout and Marcus Williams missed a three, A&M got the offensive rebound and Jackson missed a layup. A&M got the rebound again and Andre Gordon's shot was blocked by Shareef O'Neal.
Murray finally got the rebound and LSU called its final timeout with 36 seconds left and the game tied. Gaines drew a foul three seconds into the play and made two free throws to give LSU the lead for good at 66-64.
"I felt that although they were in a game that was competitive and physical, there were too many 50/50 type balls, unclean rebounds, 50/50 loose balls on the ground, and possible jump balls. I thought in a game as highly contested as this one, especially on the road, we have to do a better job," A&M coach Buzz Williams said.
Williams looked like he was going to have an easy layup on the other end to tie the game, but Gaines blocked the shot. Radford got the offensive rebound and his three-pointer missed. Again, Murray got the offensive rebound and was fouled with 18 seconds left. He made two free throws to increase the LSU lead to 68-64.
"I saw him (Andre Gordon) by himself and went for it even though I had four fouls," Gaines said. "I had to make that attempt. And I did. I got the block and sealed the game at the free-throw line."
A&M missed another three-pointer and Gaines his two free throws to give what equaled LSU's biggest lead of the night at six points.
LSU finished the game making 12 consecutive free throws on a night when they were 24-of-35 at the line. LSU was just 11-of-19 in the first half, but 13-of-16 in the final 20 minutes.
Murray led LSU with 21 points on 6-of-14 shooting with 3 treys and 6-of-6 at the line with three assists. Gaines finished the night with 16 points, six rebounds, 9-of-12 at the line with three assists, no turnovers and four steals. Before the cramps slowed Eason, he had 14 points and nine rebounds.
Jackson led A&M with 20 points, while Gordon had 18 and Radford 14.
LSU shot 42.6 percent from the field (20-of-47) with six treys, while A&M made 40.4% (21-of-52) with nine treys.
LSU out rebounded A&M, 38-30.
Both Justice Williams, Tari Eason and Alex Fudge had their first career starts for the Tigers.
"I thought Gaines was great, I thought Murray was great," Wade said. "I thought those guys stepped up and made plays and made things happen. I was very proud of those guys. We still have a lot of growth to go so we have to play consistently and play back-to-back but I was very proud of those guys."