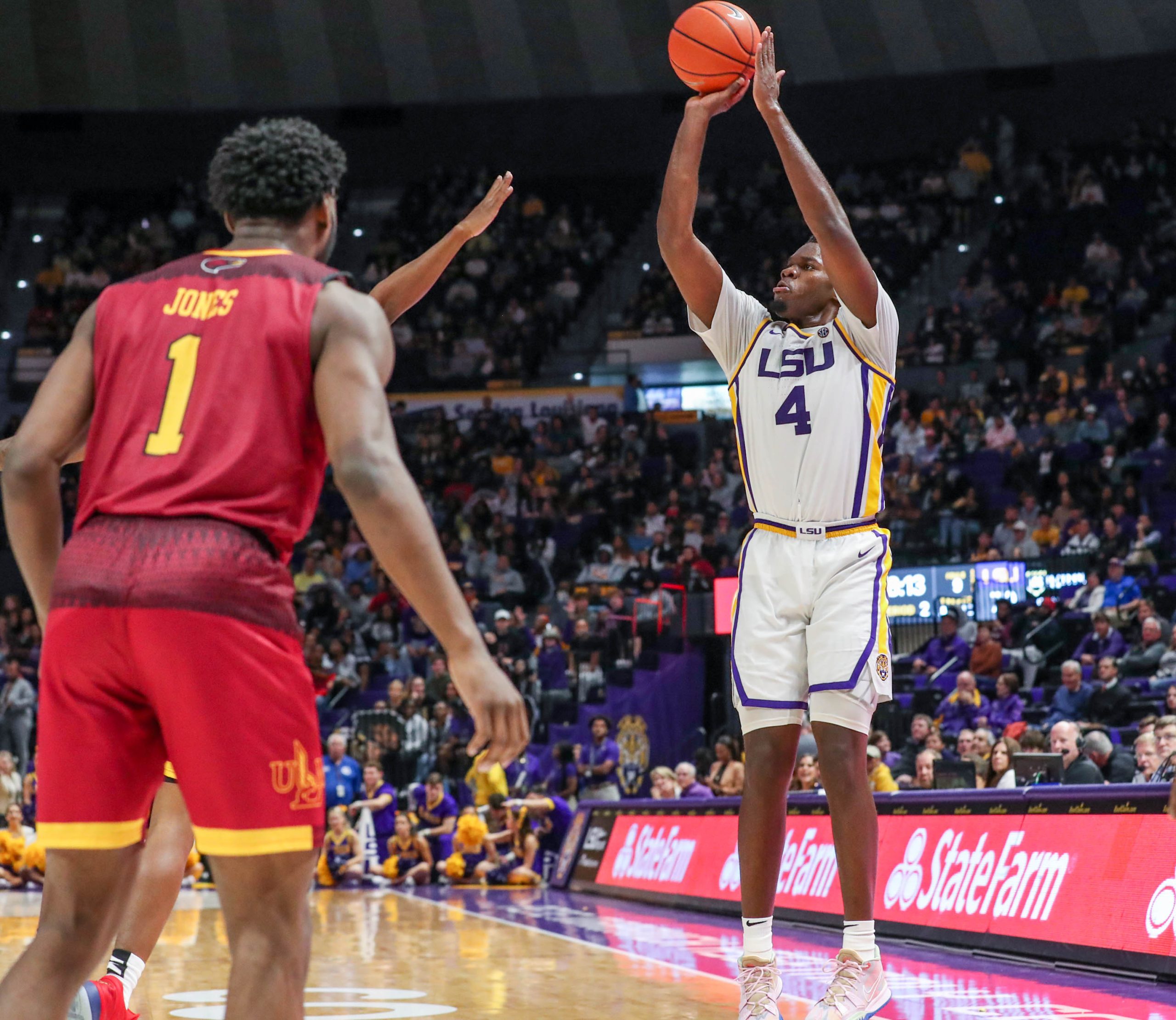 Late last week, LSU fifth-year men's head basketball coach Will Wade hinted what to expect from his 2021-22 Tigers.
"It's not going to be ascetically pleasing, we're not going to trot out there and score 100 points. . .we're going to go through some scoring slumps," Wade said.
Until LSU senior forward Darius Days practically burned down the Pete Maravich Assembly Center with probably one of the greatest season-opening first-halves in school history.
After Days first 3-point attempt rattled in and out, he swished eight straight 3s including three in a 26-0 LSU run towards a 32-point halftime lead and an eventual 101-39 pounding of UL Monroe Tuesday night before a crowd of more than 9,000 fans including 2,000 students.
"Coach said `let it fly' and the guys have confidence in me to make those shots," said Days, who finished with 30 points including those 8 of 9 3s after he personally outscored the visiting Warhawks 23-20 in the first half. "The team put me in the right position to make shots.
"I feel everybody had fun tonight. Not one person was left out."
Everybody in Wade's eight-man rotation consisting of three returnees and five newbies dazzled at the appropriate times.
•New starting senior point guard Xavier Pinson had perfect balance of scoring and playmaking with 10 points and 7 assists, including an up and under drive and a dunk off a pair of crossover-dribble ankle-breaking shake and bake drives.
*Freshman starting center Efton Reid showed his old-school post moves and relentless rebounding with 16 points and 6 rebounds.
•Returning sophomore starting forward Mwani Wilkinson was his usual solid well-rounded self with 6 points and 5 rebounds and with team-highs of 6 assists and 2 blocked shots.
•The three bench players in the eight-man rotation – returning sophomore guard Eric Gaines and newcomers sophomore Tari Eason and freshman Alex Fudge combined for 25 points and 19 rebounds. Gaines had 10 points and 7 assists, Eason, a transfer from Cincinnati, contributed a double-double with 11 points and 10 rebounds and Fudge grabbed five offensive rebounds.
There was not much Wade didn't like about the way his team scored the biggest margin of victory ever in a season opener.
"It was a total team effort, that's kind of how our group is this year," Wade said. "Everybody's going to chip in, everybody's going to contribute."
The stats in every phase of the game reflected LSU's dominance — 52.8 field goal percentage including 38 buckets (11 dunks) on 28 assists, 41.4 3-point percentage with four Tigers hitting 3s, a 47-26 rebounding cushion with 17 offensive rebounds leading to 22 second-chance.
But the most pleasing aspect of a season-opener against an athletically overwhelmed opponent was LSU's defense, something that played effectively last season in short bursts but not maintained deep into games.
The Tigers held UL-Monroe to 27.7 percent from the field (13-of-47) including just 4 of 28 in the second half when the Warhawks scored 19 after they trailed 52-20 in a first half in which they were forced into four shot-clock violations.
"We struggled to score against their switching man-to-man defense," UL-Monroe coach Keith Richard said. "We knew that they were going to do it because they did it last year. We worked on it this week but until you play against these guys and their length and quickness that they have while switching."
LSU had a moment of truth in the first half when point guard Pinson took a seat with 8:48 after picking up his second foul. At that point, the Tigers led by just 22-17 including 14 from Days.
With Pinson out, Days fired in two more 3s in a 1-minute span and his teammates in that breathtaking 26-0 burst in which LSU made 10 of 16 shots keyed by 5 of 6 3s.
"Our defense set the tone in the first half," said Pinson, who transferred after last season from Missouri. "We all played hard and defense leads to offense."
LSU plays again Friday night in the PMAC against Texas State at 7 p.m.