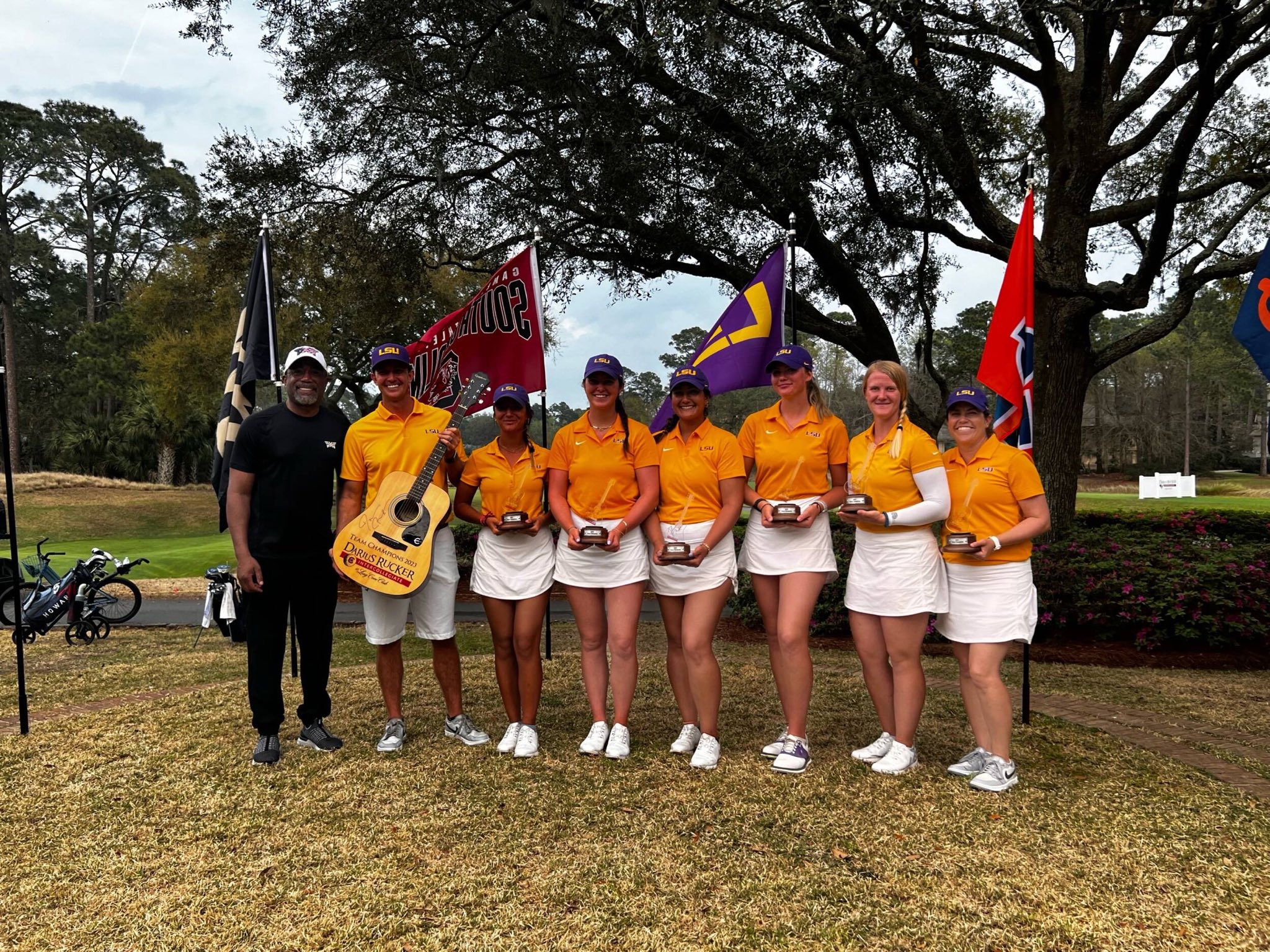 The LSU women's sixth-ranked golf team captured its fourth team championship of the 2022-23 season, winning the Darius Rucker Intercollegiate at the Long Cove Club at Hilton Head Island, South Carolina.
The Tigers of coach Garrett Runion rallied from four shots off the lead entering the final round and made up sufficient ground to shot a 3-over 287 and surpass a field with five top 10 teams and five other top 20 teams.
LSU finished at 6-over on the 54-hole course (283-288-287 – 858) or four shots better than host South Carolina (10-over, 862)
The tournament title was LSU's 52nd of its 40-plus year history and the 11th under Runion.
"I've been telling them all year, they're deep and they're good," Runion said of his team's fourth team title this season. "They're real consistent and that keeps us in a lot of tournaments."
LSU's depth was on display with No. 4 player Edit Hertzman finishing as the tournament's runner-up at 4-under, 209 or one shot behind medalist Mathilde Claisse of South Carolina.
"[This win means] a lot," Herztman said of the team title. "I mean, we have a really good team. So, I'm just so happy that we got the opportunity to show that, and I'm really proud of my team. I just think this was so fun for us to make it all up and win this big thing. It was so cool."
Sophomore Aine Donegan finished with a 1-over 70 to move up seven spots on the final day and wind up 13th at 3-over 216.
Senior stalwarts Ingrid Linblad and Latanna Stone also had counting score and finished 11th and 45th, respectively. Lindblad posted a 2-over 215 and Stone was 9-over 222.
Darius Rucker Intercollegiate
Long Cove Club
Hilton Head, South Carolina
Final Team Results (Par 284-852)
1 LSU 283-288-287 – 858 +6; 2 South Carolina 283-284-295 – 862 +10; 3 Auburn 285-292-289 – 866 +14; 4 Wake Forest 291-292-284 – 867 +15; 5 Texas 295-286-290 – 871 +19; 6 Arizona State 292-291-289 – 872 +20; 7 Baylor 291-293-289 – 873 +20; 8 Vanderbilt 296-286-293 – 875 +23; 9 Oregon 295-297-285 – 877 +25; T10 Duke 300-290-291 – 881 +29; T10 Georgia 297-293-291 – 881 +29; 12 Northwestern 300-290-292 – 882 +30; 13 Alabama 297-295-291 – 883 +31;  14 Virginia 307-297-286 – 890 +38; 15 Kentucky 305-295-294 – 894 +42; 16 Furman 311-295-292 – 898 +46; 17 Arkansas 307-297-300 – 904 +52
Individual Top 5 (Par 71-213)
1 Mathilde Claisse, South Carolina – 69-69-70— 208 -5
2 Edit Hertzman, LSU – 69-73-67 – 209 -4
3 Rosie Belsham, Baylor – 69-72-71 – 212 -1
T4 Huai-Chien Hsu, Texas – 74-72-67 – 213 E
T4 Jenny Bae, Georgia – 72-70-71 – 213 E
T4 Ashleigh Park, Oregon – 70-72-71 – 213 E
T4 Celina Sattelkau, Vanderbilt – 73-68-72 – 213 E
LSU Scores
2 Edit Hertzman 69-73-67 – 209 -4
T11 Ingrid Lindblad 68-73-74 – 215 +2
T13 Aine Donegan 76-70-70 – 216 +3
T45 Latanna Stone 74-72-76 – 222 +9
T71 Carla Tejedo 72-76-80 – 228 +15