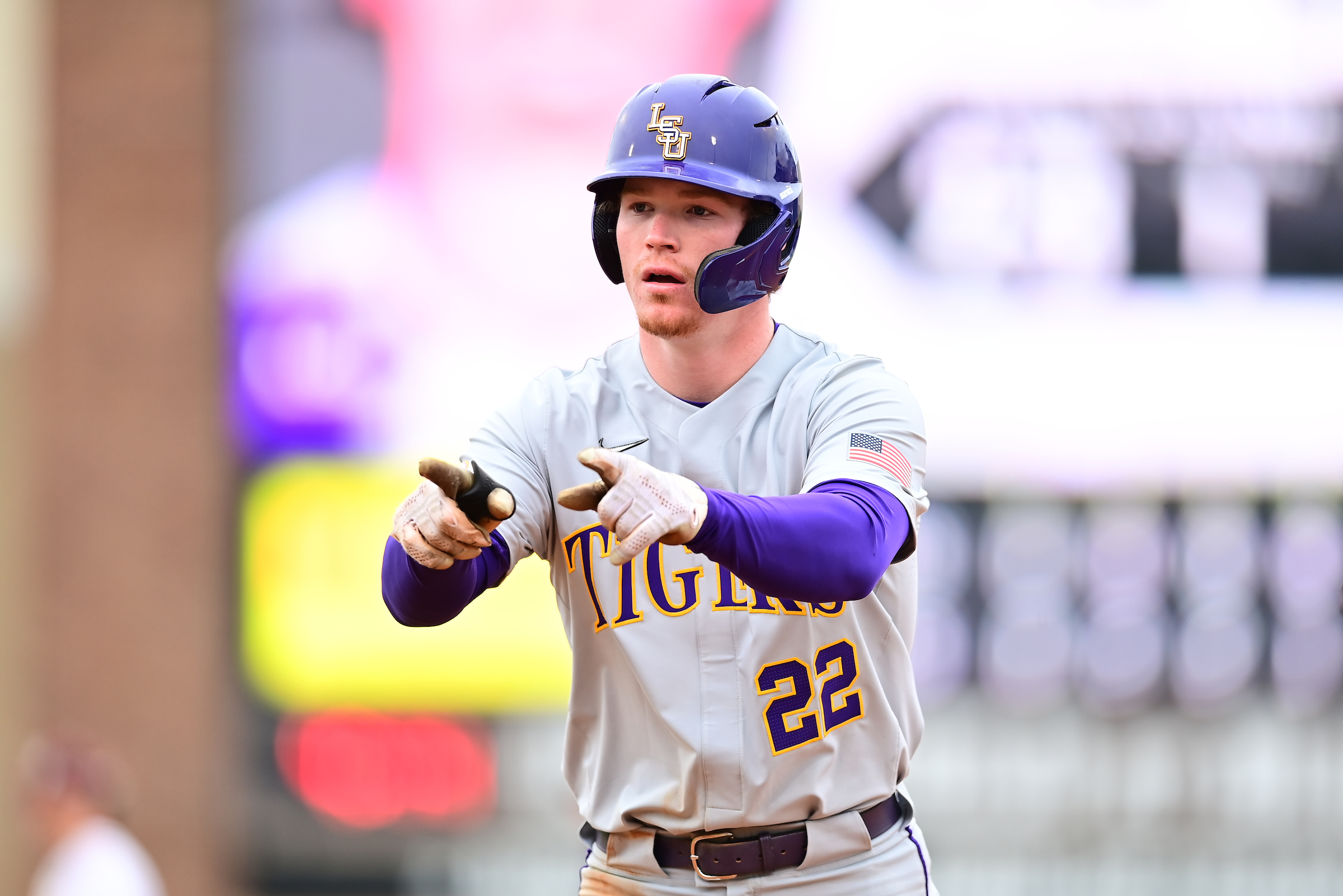 LSU fell behind Texas A&M early on Saturday by four runs, and the Tigers were scoreless and hitless heading into the fourth inning.
The No. 1 Tigers had even stranded seven base runners in the first three innings, leaving the bases loaded in the second and third innings, despite having no hits to that point.
It was shades of Iowa – LSU's only loss (12-4) this season – that were surfacing.
But then LSU (18-1, 2-0 SEC) erupted, and the Tigers kept pouring it on – a six-run fourth inning, three more in the sixth and three more in the seventh.
No. 15 Texas A&M (13-6, 0-2) didn't quit as much it wilted away.
LSU freshman designated hitter Jared Jones and sophomore third baseman Tommy White opened the floodgates with seven hits. The two sluggers combined for 10 RBIs to power the Tigers past the Aggies, 12-7, and clinched the SEC-opening series for both at Blue Bell Park in Bryan-College Station.
Dylan Crews added a hit to keep his 17-game hitting streak rolling and improved his batting average to .508. He also scored two runs.
LSU's Garret Edwards (3-0), who pitched 3.1 innings in relief of starter Ty Floyd, got the win.
Matt Dillard (0-2) took the loss for Texas A&M.
The series finale will take place Sunday at 1 p.m. and will be broadcast on the LSU Sports Radio Network and streamed on SEC Network+.
Jones, who had seven RBIs, hit his first career SEC home run and seventh of the season. His three-run shot to left field helped LSU pull away from the Aggies. Jones also had his first SEC hit earlier in the game.
"We had really good plate discipline and really hit mistakes well today," LSU coach Jay Johnson said. "Jared is super talented, and his biggest evolution is he's really improved mentally. Just watching him slow the game down with runners on base gives me a lot of peace of mind. He's in control of himself, so you know you're going to get a quality at-bat. When a guy is that big, that strong and that physical, and he's locked in, the results are going to be really good, and they were really good today."
With one out in the top of the sixth inning, Jones pulled one deep over the left-field wall and drove in Gavin Dugas and White for a 9-5 lead. White had led off the inning with a double to right field and Dugas reached when he was a hit by a pitch for the second time in the game.
The Aggies trimmed the Tigers' lead to 9-6 in the bottom of the sixth on an RBI-single by Hunter Haas that drove in Jace Laviolette, who was walked on four pitches by Edwards.
LSU did not have a hit until the top of the fourth when the Tigers batted around, scoring six runs on six hits including four consecutive, two-out hits that drove in six runs for a 6-4 advantage.
Jordan Thompson and Brady Neal led off the six-run inning with back-to-back singles. With Thompson and Neal on base and two outs, Crews drew a walk with first base open.
White then began with the of four consecutive hits to put LSU ahead to stay. His two-out single drove in two runs and cut Texas A&M's 4-0 lead in half.
Dugas followed White with an RBI-single to score Crews and Josh Pearson doubled to right field, driving in White and moving Dugas to third. Jones then recorded his first career SEC base hit, driving in Dugas and Pearson.
But the Aggies came right back to add another run in the bottom of the fourth before Edwards struck out Aggies' clean up hitter and pre-season All-American, Austin Bost, to end the inning with runners on first and second.
Floyd walked Jace Laviolette after being up 0-2 in the count and Laviolette advanced to second on a passed ball. Hank Bard flied out to center field, moving Laviolette to third. Kasen Wells' had a RBI-groundout to shortstop that cut LSU's lead to 6-5. Haas singled to center, and then Edwards walked Moss on a full-count, the third walk issued by LSU pitchers.
Edwards got out of the inning when he struck Bost out swinging on a 2-2 breaking ball.
Texas A&M scored two runs on three hits in the second inning to take a 2-0 lead.
The Aggies had two runners on when Bost led off with a single and Ryan Targec walked when Kaeden Kent drove in a run with a single through the right side of the infield. After Floyd struck out A&M's Jordan Thompson and then got Laviolette to fly out to shallow left, Bard singled to right just out of the reach of Dugas, who was playing shallow right, to score Targec.
LSU again loaded the bases in the top of the third even though the Tigers still had not gotten a hit. White walked, then Dugas was hit by a pitch and Pearson walked to load the bases. But with two outs, Jones hit a hard line drive to short and the Tigers came up empty.
Texas A&M scored two more runs in the bottom of the third to increase its lead to 4-0 on one hit and a throwing error by Floyd.
Thompson and Neal then hit back-to-back singles to open the LSU fourth and the floodgates for the Tigers.