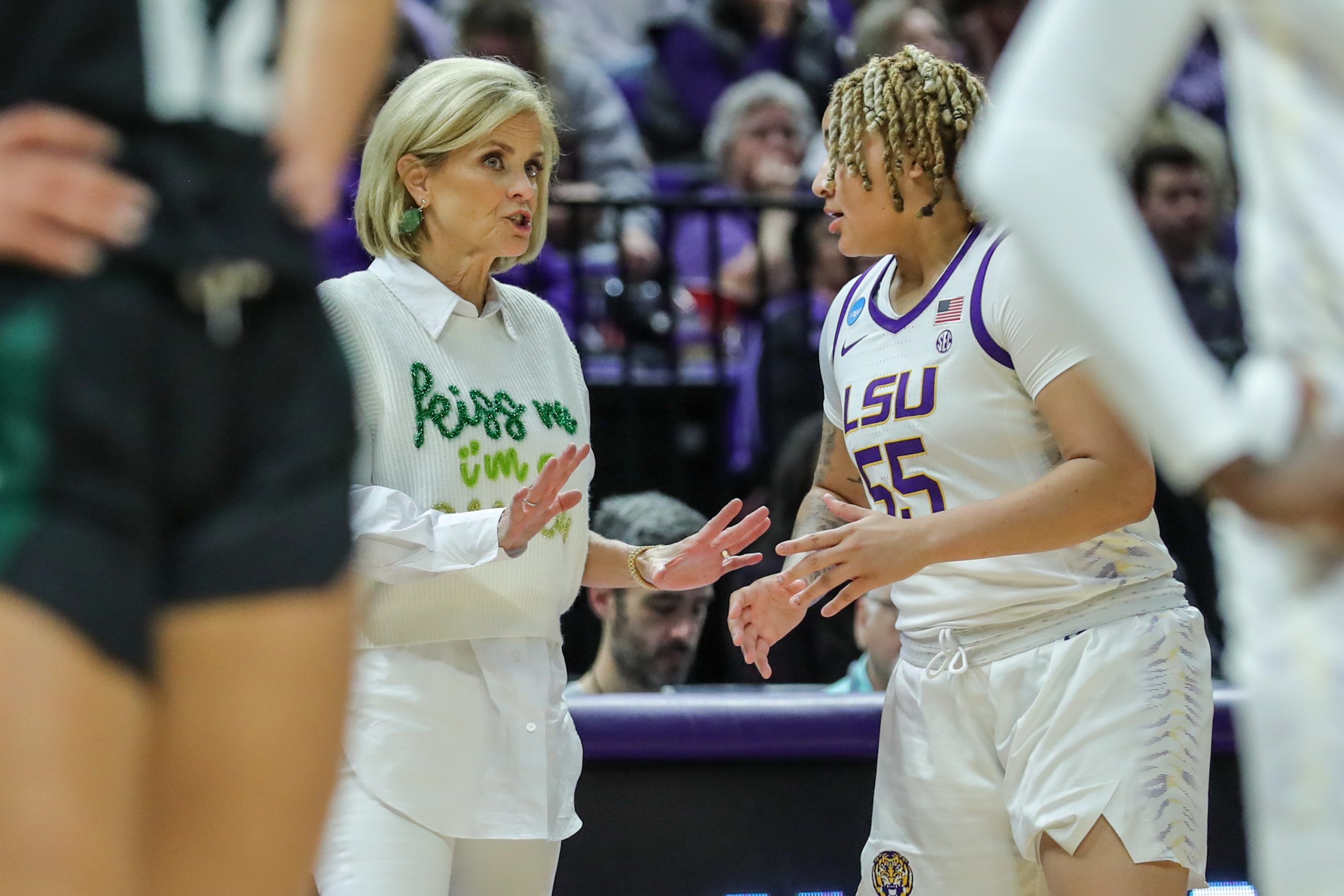 Neither one came away with the most pleasant experiences after playing against Michigan last season.
LSU's All-American forward Angel Reese was a starter at Maryland which twice lost Big 10 Conference games to Michigan, experiencing varying degrees of success in each contest on her way to a Sweet 16. Reserve guard Kateri Poole whose role at point guard fluctuated but in two games against the Wolverines, the Buckeyes experienced a pair of setbacks on their way to a Sweet 16.
Fast-forward to this season and Reese is LSU's leading scorer and rebounder and Poole one of the team's top reserve guards, a tandem looking to lead the third-seeded Tigers (29-2) past sixth-seeded Michigan (23-9) in Sunday's NCAA Tournament second-round game at 6:30 p.m. the Pete Maravich Assembly Center.
The game will be televised by ESPN and broadcast locally by 107.3-FM.
"They're the team up north," said Poole, repeating a familiar refrain of someone from Ohio State when referring to Michigan. "Rival or not I'm coming at you for blood."
The 6-foot-3 Reese, who matched a program record 34 points in Friday's 73-50 first-round win over No. 14 Hawaii, earned third team All-America honors during her two seasons at Maryland. During her two appearances against Michigan, she averaged 7.5 points on 4-of-19 shooting from the field and averaged 7.5 rebounds.
"They take a lot of charges, and I got a couple of offensive fouls last year," Reese said of a 71-59 loss to Michigan. "They pay attention to detail. I wasn't able to get a lot of easy looks against them. I've watched the film against them last year. I can't do it all by myself. I had a great night last night, but it will be somebody else's night tomorrow. That could possibly be anybody on our team. I just do whatever I can to win. Even if I don't score, I don't care. As long as we win."
Poole said there was one common theme in last year's two games with Michigan – both of which were won by the Wolverines.
"They're very physical," said Poole, who is averaging 4.4 points, 2.3 assists and 1.3 steals for LSU this season. "They have different players, but I experienced that playing them at Ohio State. They have a good coach (Kim Barnes Arico). We're sticking to what we know, try to outrebound them and stuff like that."
Led by Reese's 29th double-double – 34 points and 15 rebounds – LSU advanced to the second round of the NCAA Tournament for the second straight season against a team from the Big 10. A year ago with an injured Alexis Morris, it was Poole and the Buckeyes that eliminated the Tigers, 79-64, in the PMAC where they're undefeated in 16 games this season.
LSU's trying to reach the Sweet 16 in the Greenville 2 Regional for the first time since 2014.
"It's that next step," LSU coach Kim Mulkey, who is 55-8 in her second season and will coach in her 800th career game. "You want to do better than the previous year. I think in all aspects of what we've done in two years, we have done one more thing than the previous year. This would be that one more thing that last year's team didn't get to do.
"That doesn't mean if I come in here tomorrow (Sunday) and we don't win the game, that we're heading in the wrong direction," Mulkey said. "It would be a disappointment. We're heading in the right direction. This would be another stepping-stone that we've stepped on."
Mulkey believed Michigan was a team in the discussion to host the first-and-second rounds of the NCAA Tournament several weeks ago. The Wolverines encountered a tough stretch of games where they went 2-4 with losses to Indiana and twice to Ohio State and wound up hitting the road to Baton Rouge.
With a veteran roster of eight players that range from juniors to graduate transfers, Michigan defeated No. 11 UNLV 71-59 behind a double-double from Emily Kiser (18 points, 10 rebounds) and production from Maddie Nolan (18 points) and Leigha Brown (17 points, 7 assists).
Michigan's offense, which averages 74.5 points, is the only team nationally with three players averaging at least 16 points in graduate guard Leigha Brown (18 points, 5.1 rebounds), sophomore guard Laila Phelia (16.5 points, 4.2 rebounds) and Kiser (16.3, 7.2 rebounds).
More than balance, the Wolverines also present a physical challenge with only two of 15 players standing under six feet, forcing Mulkey to consider altering her starting lineup to close the size disparity her team's facing.
"We don't have that kind of size," Mulkey said. "That means they're going to contest a lot of shots. They're going to rebound the ball hard. They're going to be physical. They're going to mix their defenses. Speed can counteract being big. Hopefully we'll have some advantages in that area."
LSU will also look to rely on two constants that have carried them this season: field goal defense and rebounding.
The Tigers forced Hawaii into 30.8% shooting in their first-round matchup, forced 21 turnovers and enjoyed a plus-seven edge rebounding. The Wolverines are shooting .467% this season but compared to the Tigers' season norms, are a minus-10 in rebounding and a minus-nine in scoring average.
"I came to LSU for games like this and luckily we get to play in front of these amazing fans," Reese said. "Just being able to have them here for our last home game of the season, I'm so excited. One game at a time. I want to get to the Sweet 16 and we'll take this game and focus on it."