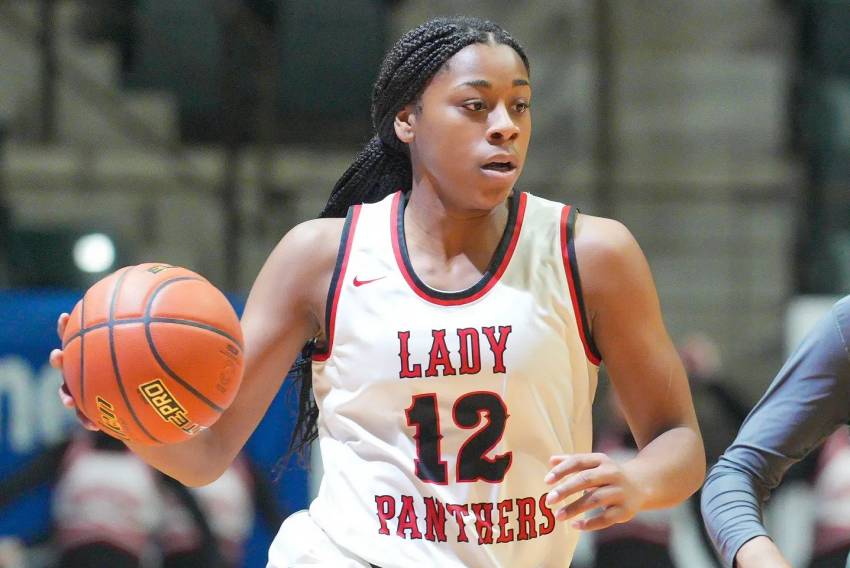 By JIMMY WATSON
Shreveport Times
Parkway guard Mikaylah Williams, already showered with accolades from numerous organizations, moved into more rarified air Saturday when she was named the Louisiana Farm Bureau Insurance/Miss Basketball winner for 2023 by the Louisiana Sports Writers Association for the second straight year.
The 6-foot-1 LSU signee becomes just the fifth Louisiana high school female athlete as a two-time winner of the award in the 28 years of its existence. She joins Kisha James of Pineville (1997-98), Seimone Augustus of Capitol (2001-02), Kalani Brown of Salmen (2014-15) and Cara Ursin of Destrehan (2016-17) as double timers.
"Mikaylah is an incredibly special student-athlete. Her immense talent, combined with her unmatched work ethic sets her apart – making her not only the top player in the state, but in the country," LSU women's basketball coach Kim Mulkey. "Mikaylah brings a versatile skill set to Baton Rouge. She has a college ready frame with the ability to score the ball at all three levels that will have an instant impact on the court for us."
Williams, the No. 1 2023 women's basketball recruit in the country according to at least one recruiting service, led Parkway (25-1) to the LHSAA nonselect Division I state title earning Outstanding Player honors after pouring in 27 points in a dominating 80-57 victory over Ponchatoula.
That put a smile on the face of Mulkey, who recently coached her Tigers to the first NCAA National Championship in school history. She believes the multi-talented Williams will fit in quite nicely with the talent she has returning.
"We are blessed Mikaylah chose to stay home and compete for championships as a Tiger," Mulkey said. "It's going to be a special treat for the entire state of Louisiana to watch this homegrown kid represent LSU throughout the remainder of her basketball career."
Williams averaged 19 points, 7.0 rebounds, 4.4 assists and 2.6 steals on a balanced team. The title game win was vindication for Williams and Parkway, which lost in double overtime to Ponchatoula in the 2022 title game.
La. Farm Bureau Insurance/LSWA Miss Basketball winners
1996: Judy Clark, Singer
1997: Kisha James, Pineville
1998: Kisha James, Pineville
1999: Ashley Antony, Anacoco
2000: Alana Beard, Southwood-Shreveport
2001: Seimone Augustus, Capitol
2002: Seimone Augustus, Capitol
2003: Katie Antony, Anacoco
2004: Quianna Chaney, Southern Lab
2005: Courtnee Hollins, Fairview
2006: Alexis Rack, Franklin
2007: Tarkeisha Wysinger, Many
2008: Deana Allen, Ellender
2009: Kylie Leonards, Fairview
2010: Theresa Plaisance, Vandebilt Catholic
2011: Tina Roy, Kaplan
2012: Lulu Perry, Benton
2013: La'Dencia Johnson, Rayville
2014: Kalani Brown, Salmen
2015: Kalani Brown, Salmen
2016: Cara Ursin, Destrehan
2017: Cara Ursin, Destrehan
2018: Kourtney Weber, Ursuline
2019: Tiara Young, Walker
2020: JeKaila Jordan, John Curtis
2021: Jeriah Warren, LaGrange
2022: Mikaylah Williams, Parkway
2023: Mikaylah Williams, Parkway