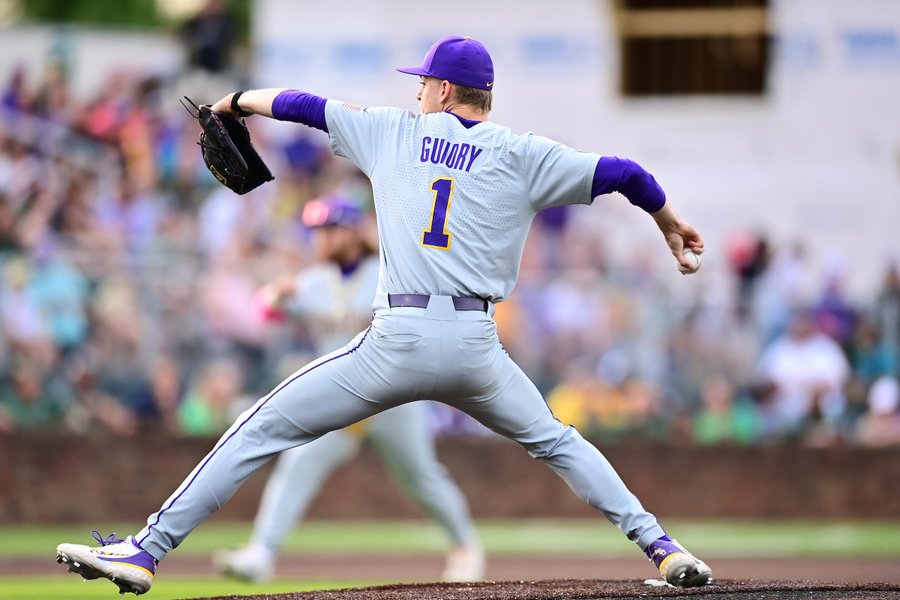 Second baseman Gavin Dugas homered, collected three hits, scored three runs, and drove in two more, while left fielder Tre' Morgan went 3-for-5 and also scored three runs to lead No. 1 LSU to a 10-0 victory Tuesday in seven innings at Southeastern Louisiana University.
Tommy White also hit his team-leading 16th home run of the season; a two-run shot to left field. It was only the second home run White has hit to left field all season and it drove in Dylan Crews to put the Tigers up 10-0 in the top of the seventh.
LSU (36-8) picked up its 12th run-rule win of the season and also recorded its eighth shutout of the year to lead the nation.
LSU returns to action at 6 p.m. Friday when it opens a three-game SEC series at Auburn. The game will be broadcast on affiliates of the LSU Sports Radio Network (98.1-FM), and it will be streamed on SEC Network +.
Dugas, LSU's lead-off hitter, was 3-for-4 at the plate with a two-run homer, was hit by pitch and scored three runs.
LSU freshman right-hander Gavin Guidry (3-0), making his first career start, was credited with the win. He worked the first 2.1 innings and limited the Lions to no runs and no hits with one walk and four strikeouts.
"I thought there are some good qualities we've displayed throughout the year that we displayed tonight," LSU coach Jay Johnson said. "The hitters managed the strike zone well, so we took our free bases, and we drove the ball when (Southeastern) made some mistakes. We played good defense, which was great, because Sunday (vs. Alabama) was probably our toughest defensive game of the year.
"We used six pitchers in seven innings, and I'm really happy with how those guys performed tonight; we really needed that."
SLU starter Adam Guth (0-1) was charged with the loss. He allowed three runs – all unearned – on four hits in 2.0 innings with one walk and no strikeouts.
LSU grabbed a 3-0 lead in the top of the second inning as first baseman Jared Jones drew a one-out walk, moved to third when SLU third baseman Shea Thomas mishandled catcher Hayden Travinski's grounder, and scored on a wild pitch by Guth.
Dugas punctuated the inning with a two-out, two-run homer, his 11th dinger of the season.
The Tigers extended the lead to 7-0 in the fourth in a four-run outburst highlighted by Travinski's two-out, two-run single. Crews also produced a run on a fielder's choice grounder, and he scored on a wild pitch.
LSU added a run in the fifth when Dugas singled, stole second base, advanced to third on a wild pitch and scored when SLU shortstop TJ Salvaggio misplayed White's ground ball.
Crews lined a two-out double in the seventh, and White – who leads the nation with 73 RBI — followed with his 16th homer of the season.