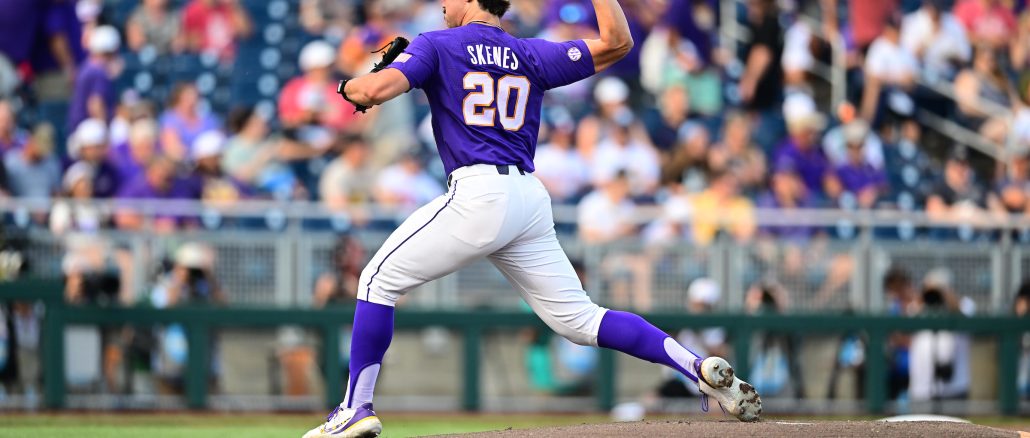 LSU's Paul Skenes is even better and more talented than we all thought.
Skenes, in fact, proved just how good he is Saturday night with the whole world watching.
In his first-ever College World Series game at Charles Schwab Field in Omaha, Skenes ended up showing off – out of necessity – against a familiar foe, the Tennessee Volunteers.
Skenes, America's Ace, threw 7.2 innings, struck out 12 and moved to 200 total strikeouts on the season, pulling within two strikeouts of LSU's all-time single season strike out leader, Ben McDonald in a 6-3 victory over Tennessee.
Skenes (13-2) allowed two runs on five hits and he walked one batter. He's only walked 19 batters all season.
No. 5 LSU (49-15) beat Tennessee after building a 5-0 lead, and advanced to face Wake Forest on Monday at 6 p.m. Central. Wake Forest, the No. 1 seed, advanced after the Demon Deacons screeched past Stanford, 3-2.
Tennessee (43-21) will play Stanford in an elimination game on Monday at 1 p.m. Central.
Wake Forest trailed 2-1 in the bottom of the eighth before staging a late rally and holding The Cardinal in the ninth to set up Monday night's game against the Tigers.
Skeenes had LSU leading 5-1 with one out in the eighth inning when he handed the ball to freshman reliever Gavin Guidry.
Guidry threw one pitch and Tennessee center fielder Hunter Ensley (3-for-4) crushed a two-run home run to deepest part of the park in straight-away center to cut LSU's lead to 5-3.
Riley Cooper immediately replaced Guidry and got LSU out of the inning. He picked his first save of the season in 1.1 innings, facing six batters, giving up one hit and striking out two.
Tennessee starter Andrew Lindsey (3-4) was charged with the loss after working 3.2 innings. He allowed two runs on five hits with one walk and four strikeouts.
LSU right fielder Brayden Jobert hit a solo home run in the bottom of the eighth inning to give the Tigers and Cooper some breathing room going into the top of the ninth.
Skenes kept Tennessee batters off-balance by often starting them off with his secondary pitches — changeups, sliders and curves or pitching backward — rather than his devastating fastball
LSU coach Jay Johnson said pitching coach Wes Johnson adjusted the way he called pitches when they noticed the first few Tennessee batters sitting on fastballs and making good contact.
"You could tell they were trying to jump him," Johnson said, adding that batters must make their decision to swing early if they're going to catch up to Skenes' heater.
Skenes threw a total of 123 pitches, 75 for strikes, and even though 46 of those pitches were at 100 mph or above, that's not even the most amazing thing he did in leading the Tigers to the win.
"He threw backwards," Tennessee coach Tony Vitello said. "Throws a hundred miles an hour and he threw backwards on our guys. From his end you're doing anything you can to advance in the situation in the bracket where you're in the winner's side. And he mixed it up.

"And in order to do that effectively you've got to throw strikes and command your pitches," Vitello said. "And he did that. I don't know what his changeup numbers are, and my angle is not that great. But I would imagine his changeup usage and strike percentage changeup-wise was as good as it's been all year. He was effective with his whole arsenal."
In other word, Skenes took it up a notch on college baseball's biggest stage.
That's what was most amazing about what Skenes did before the 25,010 people in attendance in Omaha and a national television audience.
From what Vitello said, Tennessee's coaches and players were on to Skenes' backward pitching strategy early in the game. But understanding what's being thrown at you and being able to adjust are two entirely different things.
"But there was a heavier mix, I think, than we expected," Vitello said. "I think our guys recognized it right away but it's easier said than done adjusting on the fly in that situation. But the communication was good by the guys in the dugout what they were seeing."
Tennessee designated hitter Griffin Merritt, a .314 hitter, who slapped a low velocity single off through the right side off Skenes for his only hit of the night in the top of the fifth inning, said there's more to the big guy than his 100 mph fastball.
"The guy has four pitches that he can throw for strikes," Merritt said. "And everybody sees the velocity. And that doesn't help when you're at the plate. But his ability to locate pitches and his ability to mix pitches, 2-0 is not an automatic fastball down the middle.
"He's able to spin the ball well and he's able to locate," Merritt said. "He doesn't miss over the plate a whole lot. You combine that with just the arm talent that he has, and the pitch repertoire that he has, and he gets to be a pretty tough at-bat."
Skenes said he really wasn't showing off by pitching backwards. He said he was doing it to win the game.
"At different points today I had all four pitches working. I mean, you have to look at obviously their lineup, but also what's working for me," Skenes said. "And went out there and made pitches, kind of threw what they weren't expecting at times and it worked pretty well."
Skenes' pitching approach against Tennessee was all part of the game plan, Johnson said.
"We kind of did a hybrid thing of a look back at those games," he said. "Then we looked back on where they were recently. And some of those guys have improved. And we felt like we needed to attack them a little bit different way.
"And then looking at it also, their plan early in the game, we were able to kind of figure out what they were trying to do with him (Skenes)," he said. "And then Wes did a nice job of calling pitches. And then the big man took care of the rest as far as the execution."
Early on Tennessee was making good contact from the batter's box.
"They were on fastballs the first inning," Johnson said. "They had a hit — (Hunter) Ensley had a hit and then (Jared) Dickey lined out. And so (Maui) Ahuna swung early. You could tell they were trying to jump him. Sometimes that's all you could do.
"When it's getting on you that fast you have to make an early decision," Johnson said. "When you have to make an early decision and he starts throwing his changeup like that, there's not a lot you can do. The execution of all three tonight was pretty elite."
LSU got the scoring started on the strength of second baseman Gavin Dugas' 16th homer of the season, a solo shot in the second inning. The Tigers added to their total in the bottom of the third on an RBI groundout from first baseman Tre' Morgan and led 2-0 after three innings.
LSU struck for two more runs in the bottom of the sixth inning to extend the lead to 4-0. Catcher Hayden Travinski led off with a walk and advanced to second on a wild pitch. Jobert delivered an RBI-triple on a ball he smashed to the right-center field wall. With Jobert on third, shortstop Jordan Thompson singled through the left side to bring in Jobert.
In the bottom of the seventh, center fielder Dylan Crews led off with a double, and third baseman Tommy White followed with a single to left field. Morgan produced a quality at-bat with less than two outs and lifted a sacrifice fly to center for a 5-0 advantage.
With his lead-off double, Crews collected his 100th hit of the season, becoming the first LSU player since Alex Bregman in 2013 to reach that mark in a single season.
Tennessee scored three runs in the eighth on an RBI single by shortstop Maui Ahuna and Ensley's two-run home, narrowing the gap to 5-3.
Jobert padded the LSU lead in the bottom of the eighth with his solo shot to right field. It was Jobert's 12th homer of the season.