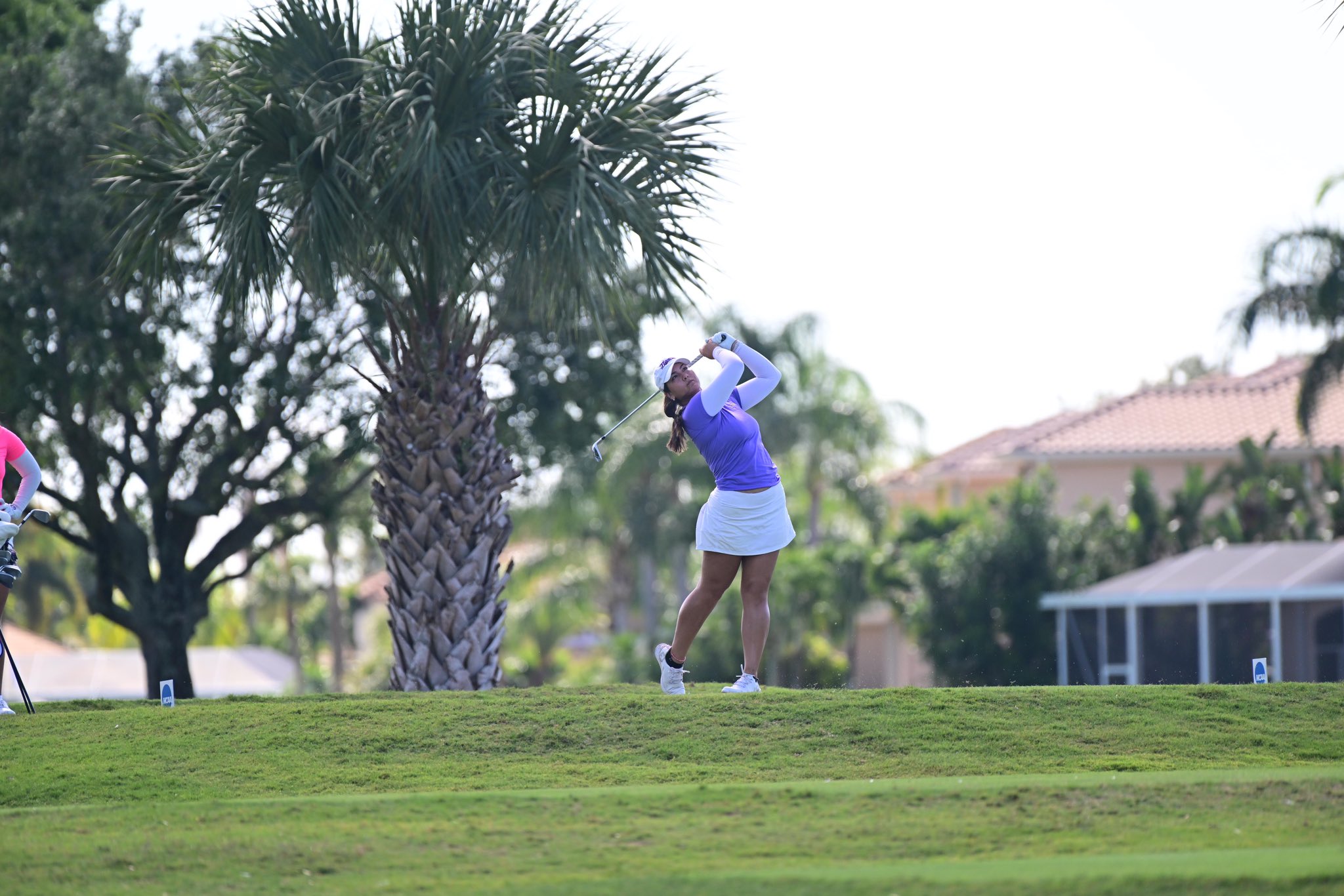 PALM BEACH GARDENS, Florida – LSU saved a counting stroke on the 17th hole and then posted three birdies on the 18th hole Monday in the first round of the NCAA Women's Golf Regional to stand in a tie for fourth at PGA National Champion Course.
The Tigers are tied with Duke and Texas at 10-over par 298, the number for qualifying for nationals in Scottsdale, Arizona later this month.
The top five at this and five other NCAA women's golf regionals will advance.
"Statistically this semester, our first round has been our highest round," LSU women's golf coach Garrett Runion said. "We haven't gotten off to strong first days. The good thing is we have played better the second and third rounds and I would say this round was really no different. The teams that are leading teed off on the back nine and got through "The Bear Trap" (Holes 15-17) early. We played it in a little more wind, even though there wasn't a ton of wind most of the day. I'm proud of the way we finished on 18. That gives you a little momentum going into the second day."
Michigan State, the No. 6 seed, is the first-round leader at 3-under 285, followed by 10th seed South Florida at 8-over 296. No. 8 seed Arkansas is third at 9-over 297 and then No. 1 seed LSU is joined by No. 5 seed Duke and No. 2 seed Texas at 10-over 298.
LSU senior Latanna Stone shot 2-under 34 on the back nine in a 1-under round of 71 on the course that hosts the PGA Tour's Honda Classic. She punctuated the LSU momentum swing with a par on 17, saving her team a stroke, and then hit a great approach to close distance on the par 5 18th hole.
Stone had four of LSU's eight total birdies on the day and is co-leader in par 5 scoring at 3-under par. Stone is tied for fourth in the individual competition after 18 holes, just two shots out of the lead held by Brooke Biermann of Michigan State, who had five birdies in her 3-under round of 69.
On 18, Aine Donegan finished with birdie to finish at even par for the final nine holes and post 2-over 74, while Ingrid Lindblad hit a near perfect approach shot to tap in distance on 18 for birdie to close her round to also post 2-over 74 and stand in a group at T16. Donegan is tied for the tournament lead with 15 pars in the opening round.
Lindblad had two birdies in her round on 18 and earlier on the par 5 sixth hole.
"All-in-all, we just didn't make as many birdies, but we made a lot of pars which is keeping us in it," Runion said. "We just need to take care of our business the next two days. Latanna played really well. A 71 out here that's a real strong round on a big course. Aine, I know she was a little frustrated but she stayed patient all day and made her only birdie on the last hole and had another solid round."
Carla Tejedo and Edit Hertzman both shot 7-over 79 for their opening rounds.
The three teams tied for fourth will lead off the second round on the first hole again at 8 a.m. local time (7 a.m. Baton Rouge time) with LSU joined by Duke and Texas. The three leading teams will follow in a wave beginning at 9:06 ET.
Live scoring for the round will be available on Golfstat.com on the Palm Beach Gardens tab and updates during the round on LSUsports.net.
NCAA PALM BEACH GARDENS REGIONAL
PGA NATIONAL CHAMPION COURSE
FIRST ROUND TEAM RESULTS (PAR 288)
1 Michigan State 285 -3
2 South Florida 296 +8
3 Arkansas 297 +9
T4 Duke 298 +10
T4 LSU 298 +10
T4 Texas 298 +10
7 Alabama 299 +11
T8 UCF 300 +12
T8 Northwestern 300 +12
10 California 302 +14
11 Pennsylvania 306 +18
12 Quinnipiac 315 +27
Top 5 Individuals (Par 72)
1 Brooke Biermann, Michigan State, 69 -3
T2 Kelly Sim, Northwestern, 70 -2
T2 Sara Byrne, Miami, 70 -2
T4 Valentina Rossi, Michigan State, 71 -1
T4 Katie Lu, Michigan State, 71 -1
T4 Bohyun Park, Texas, 71 -1
T4 Latanna Stone, LSU 71 -1
LSU Scores
T4 Latanna Stone 71 -1
T16 Aine Donegan 74 +2
T16 Ingrid Lindblad 74 +2
T53 Carla Tejedo 79 +7
T53 Edit Hertzman 79 +7