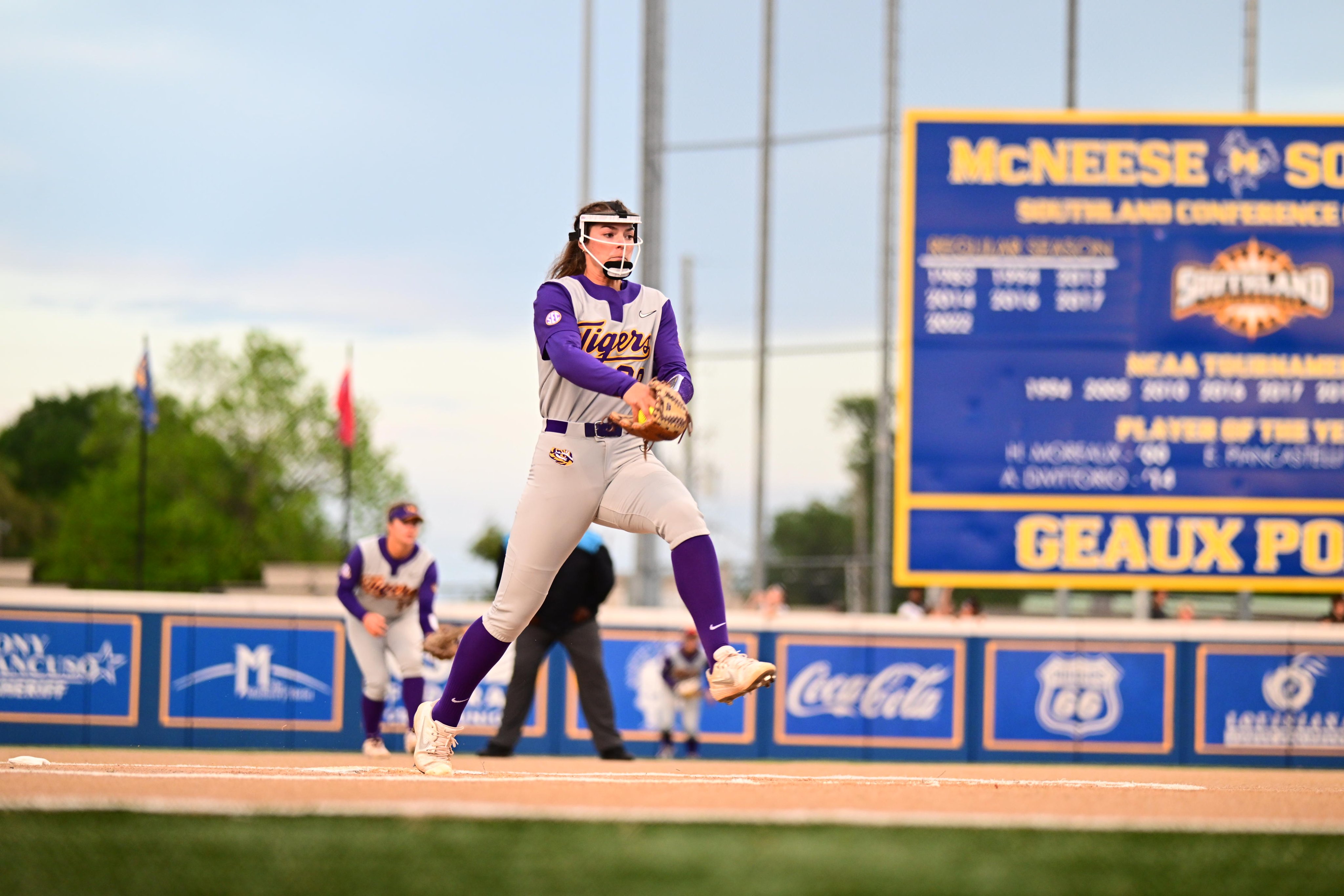 A strong beginning from No. 15 LSU's softball team fizzled after the first inning in Tuesday's road trip to McNeese State.
The Tigers scored three times on four hits in the top of the first inning but didn't score again and McNeese tied it with three runs in the third and scored on an unearned run in the sixth for a 4-3 victory before a record crowd of 1,488 at Joe Miller Field.
LSU (34-11) outhit McNeese (33-12) 8-5, but also committed three errors that led to two unearned runs. It ended the Tigers' 13-game winning streak in a series they only lost for the fourth time in 42 games. The Cowgirls are registered their third win over a ranked opponent this season, having defeated No. 12 Washington and No. 22 North Texas earlier this season.
LSU piled up three runs on four hits with bases-loaded hits from Karli Petty, Raeleen Gutierrez and Taylor Pleasants against McNeese starting pitcher Ashley Vallejo.
Vallejo (13-7) didn't allow another run, scattering four hits to go with two walks and two strikeouts. Petty's 2-for-3 effort led the Tigers at the plate.
Catcher Emily Phillips cranked a two-run homer to highlight a three-run third inning against LSU starting pitcher Ali Kilponen (4 IP, 4 hits, 3 runs, 2 earned runs, 1 walk, 2 strikeouts). An error led to an unearned run for McNeese which tied the game at 3-all.
LSU got out of a difficult none out, bases-loaded jam in the fifth when relief pitcher Sydney Berzon (12-5) got a groundball that Pleasants threw catcher Maci Bergeron at the plate for the first out. Berzon then got a strikeout and an infield pop up.
McNeese pushed across the winning run an inning later when video replay overturned an out call at third base when Pleasants threw to Danieca Coffey at third base.
Instead of the second out of the inning, the Cowgirls had a runner in Chloe Gomez at third who wound up scoring on Berzon's wild pitch.
Berzon yielded a run on two hits, walked one and struck out three.
LSU returns home to start a three-game SEC series against Mississippi State at 6 p.m. Friday.