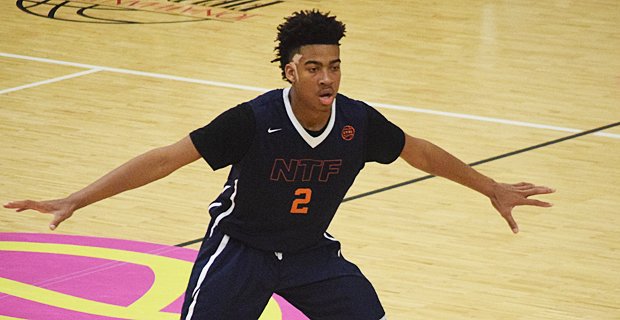 After months of waiting — and exactly a month after it first expected a decision — the LSU basketball program finally got the answer it was looking for from five-star prospect Trendon Watford.
The Alabama-native is coming to Baton Rouge.
Watford, the 6-foot-9 power forward out of Birmingham, Ala., has a 0.9936 Composite Rating, according to 247Sports, which has him listed as the No. 17 prospect in the country and the No. 4 power forward in the 2019 class.
His ability to score at will helped him lead Mountain Brook High School to three consecutive large-school state championships in Alabama, and he's received offers from some of the nation's top programs, including Kansas, Tennessee and Auburn.
Watford is a natural scorer with a penchant for getting to the rim seemingly at will. He relies heavily on his right hand and lacks elite lateral quickness, but he makes up for those weaknesses with his strength, his soft touch at the rim, his ball-handling and his outside shooting.
His skillset makes him an ideal replacement for a guy like former LSU forward Naz Reid, who contributed heavily to the Tigers' run to the Sweet 16 and a regular season Southeastern Conference championship last season.
Watford originally announced his Top 5 on March 27, naming LSU, Alabama, Memphis, Indiana and LSU. Shortly after, he announced his plan to announce his decision on April 20 during the Jordan Brand Classic, but indefinitely delayed his decision after it was announced the event would not be televised.
By the time he announced his new decision date of May 20th a week in advance, Duke had been eliminated as he never received an official offer.
Although Memphis served as LSU's primary competitor for Watford — especially during the Will Wade suspension and controversy that unfolded late in the season and into the offseason — reports began emerging late in the process that Alabama was making a big push to swoop in and grab him.
Watford joins combo guard James Bishop and transfer shooting guard Charles Manning as members of the 2019 signing class.
Point guard Javonte Smart announced his return to the program on Saturday. The Tigers still await decisions from Emmitt Williams, Skylar Mays and Marlon Taylor, who have until May 29 to tell school officials they plan on re-enrolling after declaring for the NBA Draft.
Photo courtesy of 247Sports