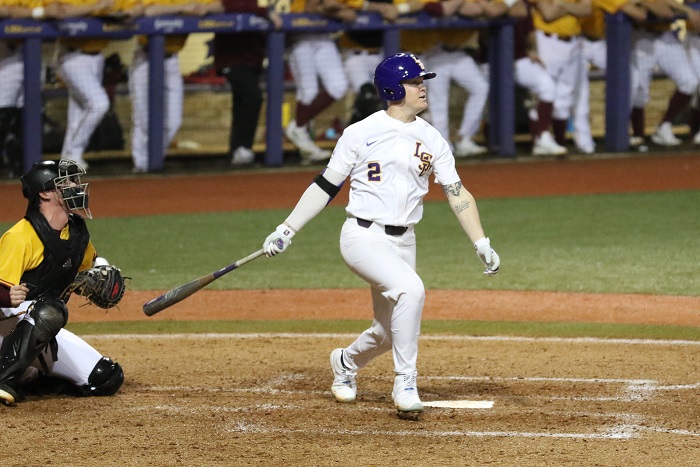 The starting right field job isn't the only thing Antoine Duplantis will be passing on to Daniel Cabrera.
LSU announced on Wednesday that the junior outfielder will wear the esteemed No. 8 jersey next season.
The tradition of the No. 8 jersey being worn by an upperclassman leader began with Mikie Mahtook. It's since been worn by Mason Katz (2012-13), Alex Bregman (2014-15), Jake Fraley (2016), Cole Freeman (2017) and Duplantis (2018-19).
"Daniel Cabrera absolutely deserves this honor of continuing the No. 8 tradition," LSU coach Paul Mainieri said through an official release. "We look forward to him taking on the top leadership role on our team, and the impact he makes both on the field and in the clubhouse will be vital to our success in 2020."
Cabrera, a Baton Rouge native, has a .300 cumulative batting average in his first two seasons at LSU with 30 doubles, four triples, 20 homers, 104 RBI and 78 runs scored. He blasted a team-best 12 homers as a sophomore in 2019, and he was third on the club with 50 RBI.
"The previous players who wore Number 8 were great examples of what it means to be an LSU Baseball player," Cabrera said. "I am very grateful and blessed to have the chance to continue the tradition. I will do everything I can to represent the number, LSU Baseball and the university in the best possible way."
PHOTO BY JONATHAN MAILHES