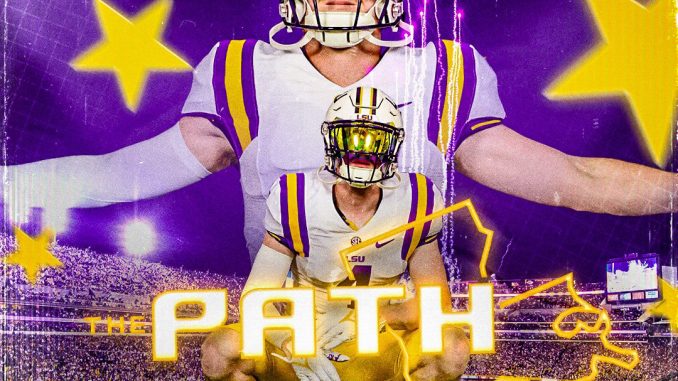 LSU football is making some big splashes on the recruiting trail heading into the 2023 pre-season camp.
LSU hosted its annual Bayou Splash event on July 27 for the school's top prospects to help make their commitment choice easier, and it paid off with several prospects indication they want to join the program.
The 2024 and 2025 LSU recruiting classes added new members with a handful of commitments from players who attended the event.
JD LaFleur, a four-star Class of 2025 tight end from Sulphur High School, is the latest prospect to commit to LSU on Tuesday. He announced his decision to stay in state and play for the Tigers. LaFleur is the son of former All-American and All-SEC tight end David LaFleur.
The younger LaFleur is the No. 11 ranked recruit in the state of Louisiana and is ranked No. 17 among all tight ends in the class.
LSU also bolstered its offensive line in the Class of 2024 with the additions of a pair of three-star linemen. Offensive tackle Ory Williams from San Marcos, Texas, and interior offensive lineman Joseph Cryer from Natchitoches Central High flipped his commitment from Ole Miss to LSU.
With the new additions committed to Kelly, the '24 LSU recruiting class is now ranked 11th overall according to 247 Sports. LSU's '25 recruiting, with three commitments that now includes LaFleur, is ranked No. 8.
LSU second-year coach Brian Kelly previously coached at Notre Dame from 2010-2021 and had no shortage of great tight ends during his tenure.
If LaFleur can live up to expectations, he would join names like Pro Bowl tight ends Kyle Rudolph and Tyler Eifert as exceptional tight ends to coach under Kelly.
LSU has also had a history of great tight ends playing in with LSU besides his father. Thaddeus Moss, son of NFL Hall of Fame wide receiver Randy Moss, was the team's starting tight end during LSU's historic run to a perfect season in 2019. 
The 6-4, 290-pound Cryer, a projected center, is a transfer from Many High which won the Division III state non-select state title in 2022 over Union Parish. The three-star Cryer committed to Ole Miss on June 2, received an offer from LSU on July 26 after on unofficial visit for the 'Bayou Splash' recruiting event. The nation's No. 41 ranked inside offensive lineman by ESPN, decommitted from Ole Miss on July 30 and changed his pledge to the Tigers a day later.