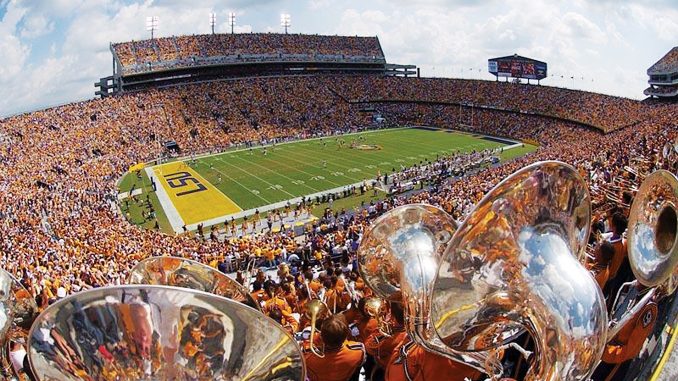 LSU football players reported to campus today and begin practice on Thursday morning at the "Ponderosa."
TigerRag.com will be reporting on every practice and monitoring LSU's progress, so bookmark us and keep checking back for updates throughout camp, as well as video updates and interviews with coaches and players.
LSU is gearing up for the start of the 2023 season after a 10-4 season under head coach Brian Kelly. Kelly is entering his second year and had resounding success last season, including a landmark win against arch-rival Alabama. 
"The whole theme of Year One was that they were running ahead of schedule ahead of what Brian Kelly's schedule was, and that was obvious winning the SEC West, winning 10 games," Tiger Rag Editor Todd Horne said. LSU's wins over teams like Ole Miss and Alabama earned the team a trip to the SEC Championship and a win against Purdue in the Cheez-It Citrus Bowl.
Horne also said players are looking for the same ending LSU had to its historic 2019-2020 season, and that is to win a national championship.
The offense will be led by senior quarterback Jayden Daniels, but the team has plenty of other talent to aid Daniels throughout the season.
LSU is returning its leading receiver Malik Nabers for his junior season after racking up 72 receptions for 1,017 yards and three touchdowns, but the team also expects solid performances from all 11 players on offense.
"You're going to have a team that is really strong up front. And you're going to see a team that has eight running backs to draw from and they're going to be running the ball straight at you quite a bit," Horne said.
LSU's defense is entering the season with more questions than the offense with many new faces expected to be playing, especially in the secondary. One of the team's leading tacklers, Greg Brooks Jr., and junior Major Burns are expected to be entering fall camp as starters, but the other names are still up in the air.
"The biggest question mark, I guess by far, is who's going to be starting at cornerback and how is the defensive backfield going to come together with basically two returning starters. But they don't know who's going be the cornerback," Horne said.
LSU's first game is scheduled for Sunday, Sept. 3 in Orlando against Florida State. The Tigers played the Seminoles in 2022 in the Superdome and lost Kelly's first game ever as the Tigers' coach, 24-23.
LSU will travel to Tuscaloosa, Ala., where they will play the Crimson Tide in arguably the biggest matchup for both teams going into the year. If LSU can defeat Bama in 2023, it will be the first time it has won in Tuscaloosa since the 2019 national championship team and will be the Tigers' first back-to-back victories over Alabama since 2010 and 2011, a span that also accompanied a national championship appearance for LSU.
LSU's first home game will be on Saturday, Sept. 9 against Grambling State, and will enter the SEC slate of the season at Mississippi State on Sept. 16.
LSU will wrap up the regular season in Baton Rouge against Texas A&M on Saturday, Nov. 25, and is hopeful of a return trip to the SEC Championship game a week later.