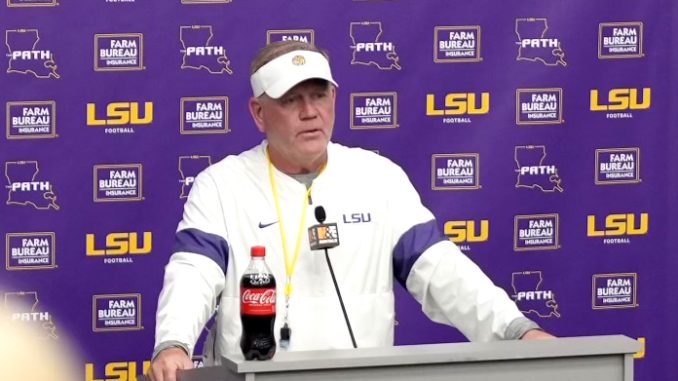 LSU second-year football coach Brian Kelly was in a great mood during his press conference after the first day of practice on Thursday. His Tigers completed 18 drills during the session – nine inside the indoor practice facility and the other nine sessions, including a 7-on-7 drill, outside on the Ponderosa in the 100-degree heat.
Kelly's entire video is available here.
Other stories from today coming down the pike on TigerRag.com about LSU football include:
One of LSU's preseason strengths, its offensive line which returns four starters, could see some shake up as camp progresses prior to the season-opener against Florida State.
LSU redshirt freshman Aaron Anderson from Alabama is electric and stood out in drills on Thursday operating from the slot receiver position. Kelly talked about Anderson and how the 5-foot-8 speedster is even more impressive than he imagined.
Kelly pointed out that the key advantage LSU has in camp this year over last year's team, and how that can and should transfer into wins for the Tigers this season.
Defensively, LSU has three top-flight safeties – Greg Brooks, Jr., Major Burns and transfer Andre Sams, Kelly said – and having those three playing at the same time allows the Tigers to play another level of defense this season.
Kelly outlined the changes to his staff and the changed responsibilities following defensive line coach Jimmy Lindsey's sudden health issue that has forced him to temporarily leave the program. Kelly did say Lindsey would be back in the future but did not indicate how long that may be.
Star wide receiver Malik Nabers will likely not be throwing many passes like he did in the Cheez-It Bowl 63-7 stomping of Missouri, Kelly said. He did say make no mistake about it, Nabers will be showcased in a number of ways this season that he was unable to be showcased last season.
Fifth-year running back John Emery, Jr., who has been battling to overcome issues off the field related to academics, missed Thursday.
Kelly explained his new injury reporting and protocol and why he is making this change. His reasons may surprise you.