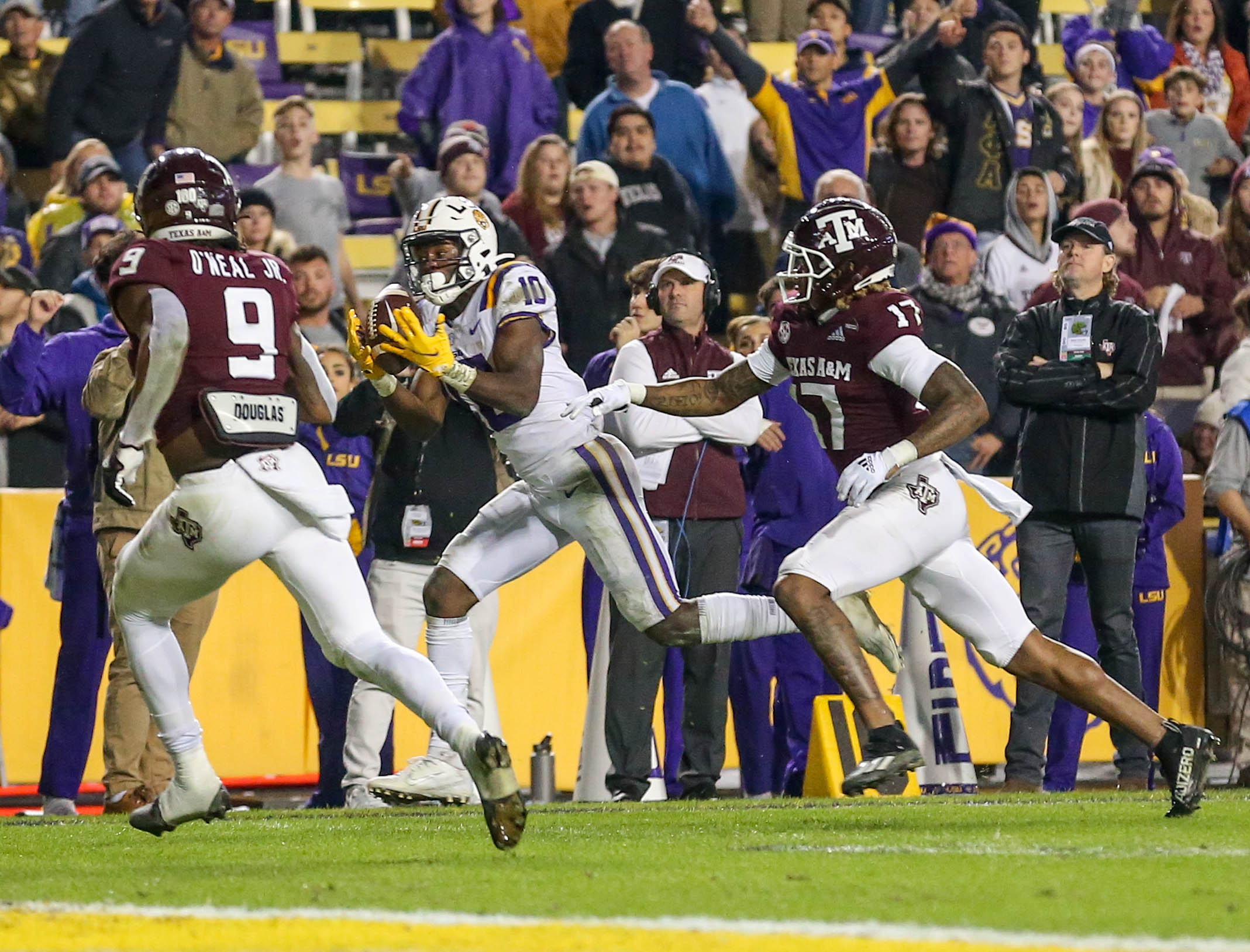 It's an opportunity LSU wide receiver Jaray Jenkins has embraced with both hands.
Since the conclusion of last year's regular season when he was hailed as a hero with the game-winning reception in an upset win over Texas A&M, Jenkins saw his productivity slip without a true quarterback in the Texas Bowl. He also mulled over the option of leaping to the NFL or deciding to return for an additional year of experience to play under a new coaching staff and enhance his draft prospects.
Jenkins decided on the latter and with the team without its top receiving threat in junior Kayshon Boutte this spring, the Tigers find themselves with one veteran presence – the 6-foot-2, 205-pound Jenkins – to show the way for an overall talented group.
"I've seen people before me when I was young," Jenkins said. "Now I'm one of the older ones and I take that leadership role very seriously. I'm not going to tell a young guy to do something if I'm not going to do it.  I feel like I was ready for it, and I feel like it's going to be great. I'm going to lead those guys in a way that I was led and the way I'm going to lead them."
Like most of the team, there's been a quantum leap for Jenkins to new head coach Brian Kelly and a new staff that includes wide receiver's coach Cortez Hankton. The choice to return to school and play an additional year has thrust Jenkins into a definitive leadership role with five sophomores and a first-year junior on the roster all competing for playing time and trying to catch the eye of the new staff.
"It's been rough," Jenkins said. "It's just something different. New coaches are different. It's just something we had to handle that comes onto the plate and we have to attack with that mindset every day and that's what we've been doing. The accountability has to be there. Everybody has to take accountable for what they're doing on and off the field and that's been a major thing for us this year and I feel like we'll where exactly where we want to be."
Jenkins arrived at a time where LSU was on the nation's cutting edge offensively. After signing out of Jena High where he was a ESPN300 recruit, he redshirted and bided his time behind what would become college football's top offense led by eventual Heisman Trophy-winning quarterback Joe Burrow. He threw to an array of wide receivers – Justin Jefferson, Ja'Marr Chase and Terrace Marshall Jr. – all whom became NFL first-round draft choices after the Tigers 15-0 run to the 2019 national championship.
During LSU's magical run to the pinnacle of college football Jenkins was a reserve behind the aforementioned wide receivers, finishing with five catches for 67 yards and no touchdowns.
The door swung open for Jenkins with the departure of Jefferson and eventually both Chase and Marshall where Jenkins was considered a bigger part of LSU's future at wide receiver. With Marshall opting out the latter part of the 2020 season, it was Boutte that emerged as a star of the future.
Boutte was among the nation's leaders with nine touchdown receptions over the first six weeks of the 2021 season when he suffered a season-ending ankle injury at Kentucky, leaving an already youthful wide receiving group even younger and less proven.
Jack Bech, who also saw time at tight end, wound up leading LSU in receiving with 43 catches for 481 yards and three touchdowns with Boutte second. Jenkins emerged over the final six weeks of the regular season as a consistent threat on the outside, winding up third on the team with 34 receptions for 502 yards and six scores.
It was his final touchdown of the regular season, though, that seemingly vaulted Jenkins in LSU lore.
With the Tigers at a disadvantage in manpower because of a litany of season-ending injuries, there was the underlying motivation the team wanted to send out head coach Ed Orgeron with a victory in his final game in Tiger Stadium. The school had already reached a separation agreement with its coach when the Tigers where able to overcome the No. 14 Aggies on the final drive of the game when quarterback Max Johnson found Jenkins or a 28-yard TD pass with 20 seconds left an improbable 27-24 victory.
He topped all receivers with a career-high eight catches that game for 169 yards and 2 TDs, the first coming from 45 yards away.

Over his team's last six games since losing Boutte, Jenkins proved he was capable becoming a No. 1 option. In a wild 49-42 home over Florida that was dominated by the running of Ty Davis-Price, it was Jenkins that broke a 42-all tie with his third touchdown reception with 3:30 remaining.
Jenkins matched his four-catch outing against Florida with a pair of four-catch performances against Ole Miss and Alabama and by virtue of his career-best showing in the A&M game, he was the team's top receiver in three games with an eye of being part of more of a well-balanced group in 2022.
"We need the whole receiver room to step up," Jenkins said. "It's not just about certain ones. We're all a unit. That's what we preach, everybody's got to do their job. I feel like everybody's going to do their job, step up more and I feel like our receiver room will be something to see."