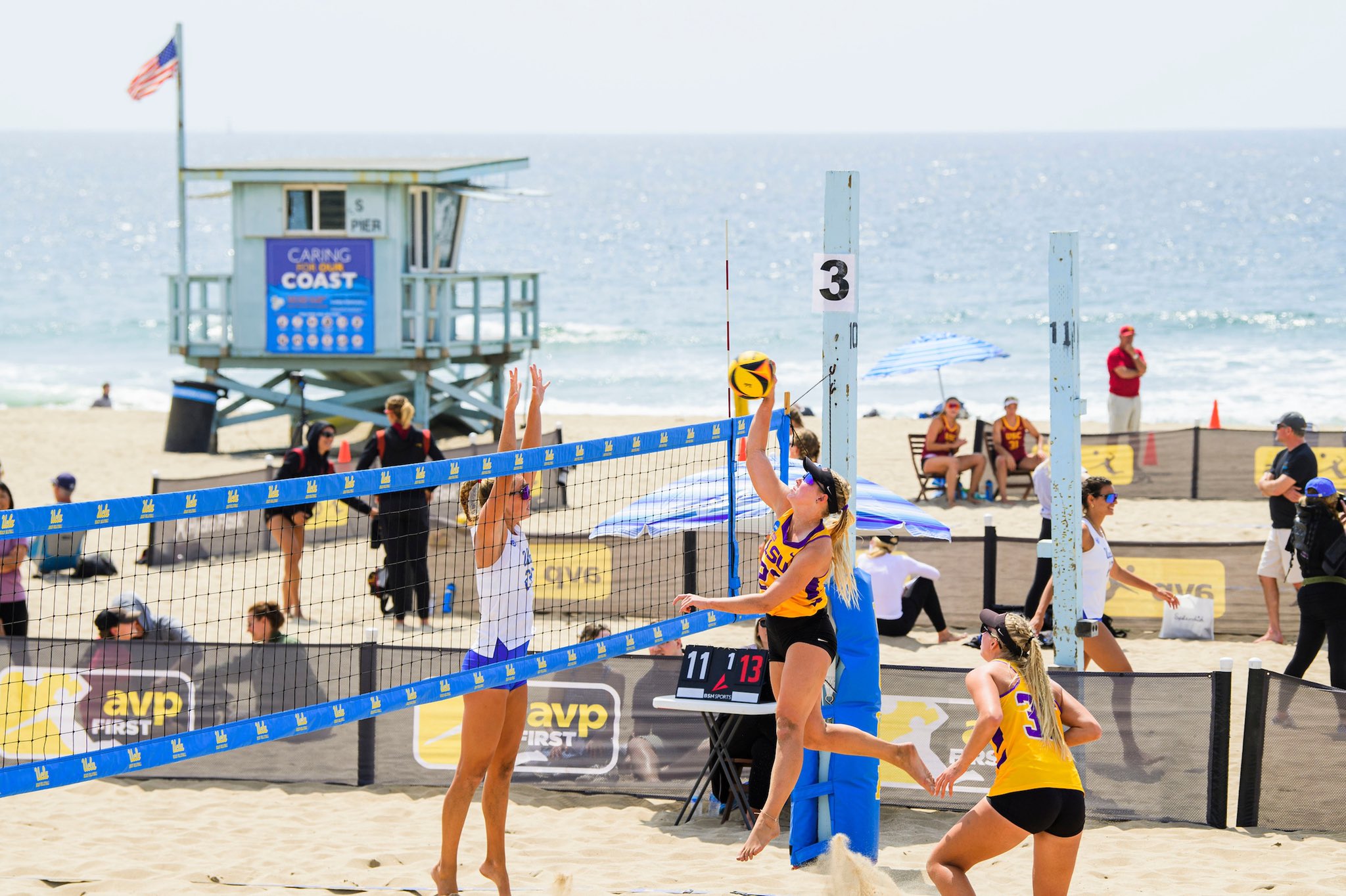 TALLAHASSEE, Florida – The No. 5 LSU beach volleyball team split its Friday matches at the Unconquered Invitational hosted by Florida State.
LSU started with a 3-2 over No. 15 Florida International but dropped a 4-1 decision to No. 4 Florida State.
"This morning I thought we played well and at times I thought we played good against Florida State," LSU beach volleyball coach Russell Brock said. "We're not where we need to be yet. Looking forward to tomorrow and two good tests. It's a great opportunity to play the No. 2 team in the country and to play a good Stetson team. It's a great opportunity for us to get back into it."
On Saturday, the Tigers will face No. 19 Stetson at 8:30 a.m. and No. 2 TCU 1 p.m. Fans can follow @LSUBeachVB on Twitter for in-match score updates.
In the first game of the day, LSU faced off FIU after losses on Courts 1 and 5, the Tigers got wins from Court 2 from Kylie Deberg and Kelli Greene-Agnew (23-21, 21-7), Court 3, from Holly Carlton and Reilly Allred (19-21, 21-17 and 16-14) and Court 4 with Grace Seits and Ellie Shank (21-16, 21-15).
In their next match of the day, the Tigers' lone win came on Court 4 where Ashlyn Rasnick-Pope and Melia Lindner picked up a 14-21, 24-22, 15-13 win.
No. 5 LSU 3, No. 15 FIU 2
1. Paige Kalkhoff/Giada Bianchi (FIU) def. Bella Bauman/Parker Bracken (LSU) 21-13, 21-19
2. Kylie Deberg/Kelli Greene-Agnew (LSU) def. Roberta Ribeiro/Zuzanna Bielak (FIU) 23-21, 21-7
3. Holly Carlton/Reilly Allred (LSU) def. Gina Lipscomb/Emma Erteltova (FIU) 19-21, 21-17, 16-14
4. Grace Seits/Ellie Shank (LSU) def. Rachele Mancinelli/Emily Meyer (FIU) 21-16, 21-15
5. Kendall Mather/Lisa Luini (FIU) def. Allison Coens/Lara Boos (LSU) 10-21, 21-14, 16-14
No. 4 Florida State 4, No. 5 LSU 1
1. Maddie Anderson/Brook Bauer (FS) def. Bella Bauman/Parker Bracken (LSU) 21-14, 22-20
2. Alaina Chacon/Madison Fitzpatrick (FS) def. Kylie Deberg/Kelli Greene-Agnew (LSU) 21-14, 14-21, 15-10
3. Morgan Chacon/Jordan Polo (FS) def. Holly Carlton/Reilly Allred (LSU) 21-17, 19-21, 16-14
4. Melia Lindner/Ashlyn Rasnick-Pope (LSU) def. Kate Privett/Anna Long (FS) 14-21, 24-22, 15-13
5. Raelyn White/Caitlin Moon (FS) def. Grace Seits/Ellie Shank (LSU) 23-21, 21-19