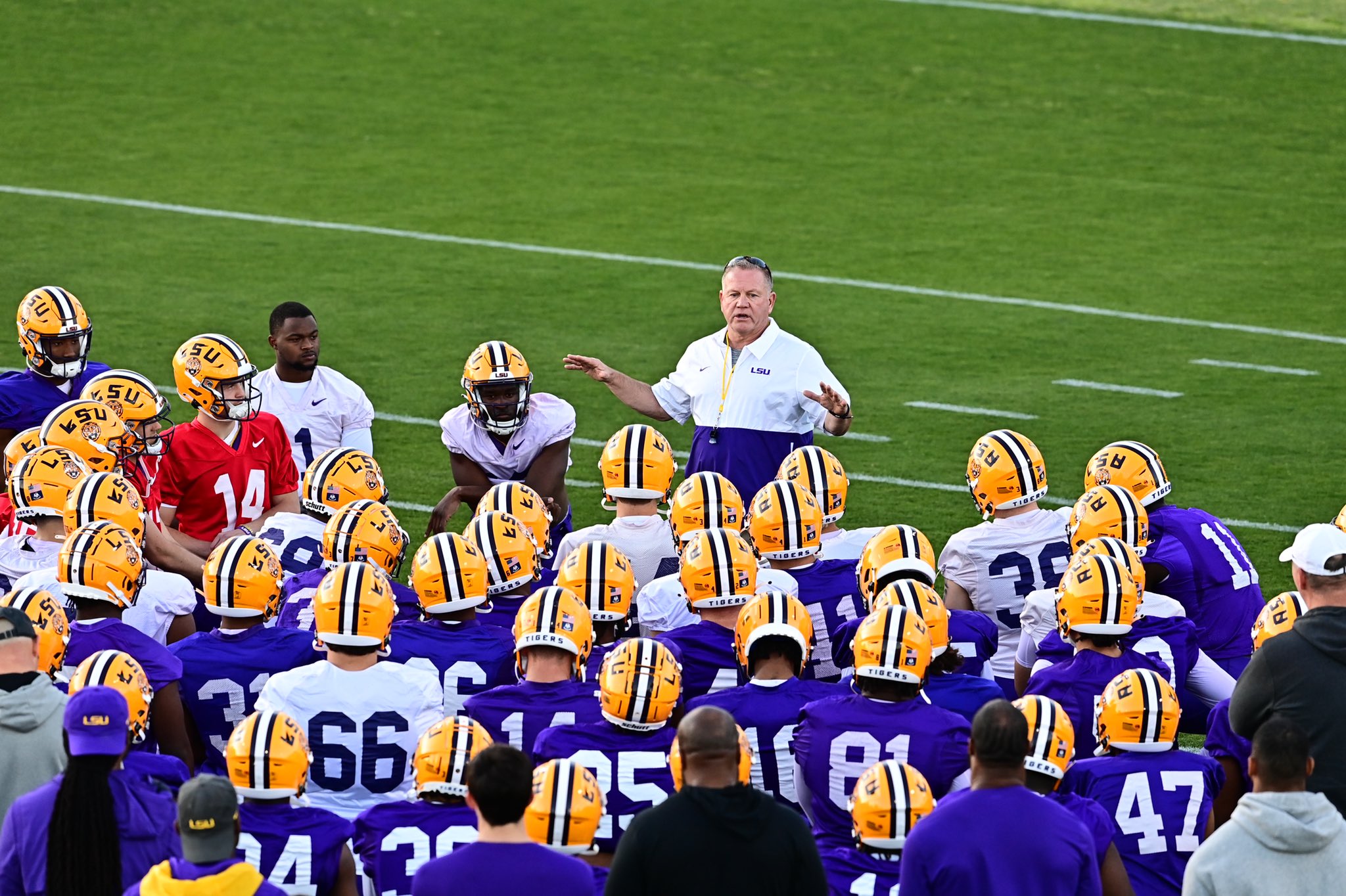 Part of the allure of LSU's quarterback situation going into the 2022 football season revolves around the ability of first-year coach Brian Kelly to heighten the competition at the position.
Not only was Kelly able to convince Myles Brennan to come back out of the NCAA transfer portal for a sixth season and within the last month signed Jayden Daniels from Arizona State, but he was also able to hold on to prized recruit Walker Howard of St. Thomas More who signed with the Tigers in December.
Howard, one of five early enrollees, returned to play last fall with St. Thomas More after a five-week layoff following a fractured fibula, but has shown an equally strong pain tolerance in returning from thumb (non-throwing hand) surgery to join the rest of LSU's quarterbacks Thursday for the start of spring practice.
"He had the surgery and he's incredible in terms of how he just stayed here, he didn't go on spring break, he stayed here, did rehab," LSU first year coach Brian Kelly said Thursday after his first practice. "We got him ready, his arm's great. He got this surgery on kind of the fatty part of his thumb. And our (silent) cadence is a clap. He's clapping and he's wincing every time. We weren't smart enough to think that maybe he should use a verbal cadence. So, we made that change. He was verbal, after he said coach, 'that really hurts.' So, he's done a really good job of coming back. And we're not that smart."
Howard led STM to a Division II state championship in his first season as a starter in 2020 and recovered in time from the fibula injury to quarterback the Cougars to the Division II state semifinals against E.D. White. He finished with a two-year passing total of 6,765 yards and 75 touchdowns.
By electing to graduate early, Howard enrolled in time for the spring semester where he's one of four scholarship quarterbacks taking repetitions – Brennan, Daniels, Garrett Nussmeier and Howard.
Here's what else Kelly had to say:
Opening statement:
"I loved the energy, the enthusiasm, there's an incredible want to look. I mean they want to change the narrative. You know, they want to be a championship team and they know it takes hard work. It takes a commitment. And this was one practice towards that. So, I would say from my perspective, it's what we've seen from the guys in terms of great energy. Really incredible. I would say, attention to all the little things that we've asked in meetings of being on time, and that's a that's a big thing for us right now. So, you know, we got to learn how to practice, it's different for them.
You know they're learning me and how I want to practice but it's not because they're not giving us everything. So, it's what I would have hoped for. A group that is eager to learn. And then I will say that their conditioning level (strength and conditioning coach) Jake Flint and his staff have done an incredible job. We run a drill called which is a high tempo pace with the first group a pace with the second (group) and on a first day, generally and you get guys that are bent over huffing and puffing and there was none of that. So that's a real indication of their conditioning level and that staff is getting them ready for spring practice."
Are taking notes part of your practice process?
"Yeah, I think today in particular, you know, there are things that I like to be done from a management standpoint too. So, you know, getting all the things managed on the field the right way with our student managers, equipment, medical staff, those things are important to me as well in the way things are laid out from period to period and then within the drills themselves and making sure that they're the right coaching points. So, but generally I'm moving around the practice. I tend to probably go 70/30 offense to defense. And, you know, that's just the way I've always kind of coached a little bit more on the offensive side, but generally taking notes and much more about a bigger picture today. I don't know if you saw in the middle there, we have a tent where we have live GPS numbers. I like to check the player loads during the practice and get a better sense of what their load is how fast they're running. And keep a tempo that as well."
Are there any positions you like with the depth you have?
"I think the wide receiver position has great depth. Certainly, the defensive line has great depth. I think we've created some great competition at quarterback. You know, I think that there's some clear opportunities for us to if things move in the right direction. It'll be really strong at corner. I think there's some depth at safety, and then the running back position, although there might be some uncertainty. You know, at this point, if you look at the guys that were suiting up there today, and then what we've got coming, I think we've got some really good depth there. So, I think across the board you want to continue to develop as I mentioned earlier, the offensive line and tight end position. I think we're still looking at how we're going to play that outside backer position or that nickel/Sam right now. I don't know that that needs to be addressed through the portal that's really internal. But those were considerably for me be strengths of our football team."
What do you like about quarterbacks coach Joe Sloan?
"Well, there's a lot of things I like about Coach Sloan. I think specifically this is so much about how you talk and how you communicate, and you know that position requires incredibly detailed communication because they are running your offense. They get the ball in their hand and so you need somebody that is really good at certainly the big picture offensively and understanding what we're trying to accomplish, but he really has to do a great job of building relationships. You got to be able to trust him. And you know, he just is a guy that has that kind of character, and the kids will trust him because of who he is as a person."
Which of the incoming freshmen have impressed you?
"Offensive lineman Will Campbell is just a beast. I mean, physically, you know, he has the makeup physically to compete in his first year. Will he, I couldn't tell you right now, it's too early to tell. He's kind of shown himself in the weight room, he has the physical traits to compete early on. I'm not here to pound the table for him that he's ready to start, but physically, he doesn't look like a normal freshmen offensive lineman coming in. So, that's one guy that kind of stands out to me. You know, Walker (Howard), obviously is a talented, talented freshman quarterback, but again, you know, we're talking about championship level football, and you need a little bit of experience. When I talk about some of these guys, they're very, very talented. But you're comparing them to Alabama, Texas A&M, you know, great football teams with experienced players. So that's the difference."
What was the sense of urgency like?
"We were out there for 90 minutes, and I like to get a lot of work done in a short period of time. I don't think you need to be out there for two three hours. I think you can get your work done. And I want to do it with high energy. I love intensity through repetition. I think it's the best way to learn and creating that environment has been really good. Everybody's got really good players. I think it's about preparation. And this has been for me a way to prepare our football team for Saturday's so yeah, a lot of that is already scripted. A lot of that is already built into the way we practice. I do all the practice schedules for the coaches and then they just coach their positions accordingly.
What's your experience like with player accountability, consistency, effort?
"Every championship team that I've been on everyone that I've coached, they all had the same tenants. Our mission standard, they don't change. They hear it every single day. And these tenants are what every championship football team I've ever had. They've had these tenants. They've been part of every championship that I've been in. So that's why they're so important to what we talk about that and then the standard and what we demand on a day-to-day basis."
Did you get what you wanted out of the first practice after pushing the initial date back?
"It was helpful, giving us a little bit more time with them. And I will tell you, where it helped us, a little bit is getting more guys back on the field. We only had two players today that were on scholarship that did not participate (Kayshon Boutte, Major Burns). That's it. Everybody else was in some kind of participation, whether it was limited in some fashion. When I looked at the board, I didn't know how we're going to do this. Kayshon obviously is going to get healthy, so I think it was it was the prudent move to push it back."
What's your take on defensive coordinator Matt House?
"I think he just he doesn't overcomplicate it. You've got to be great in third down. You've got to be a great situational defense. You've got to mix things up. I don't want to dumb this down in any shape or form. But you still have to get energy, you have to get guys run into the football and there has to be a simplicity to that. And so, the way he teaches the way he communicates, he can get to that line quickly with the kids. And on day one, you could see that if you were out there for any of the practice, you could see there's a great energy and look his record speaks for itself. He's been able to do it wherever he's been a defensive coordinator and you saw it today. Great energy on the defensive side of the ball."