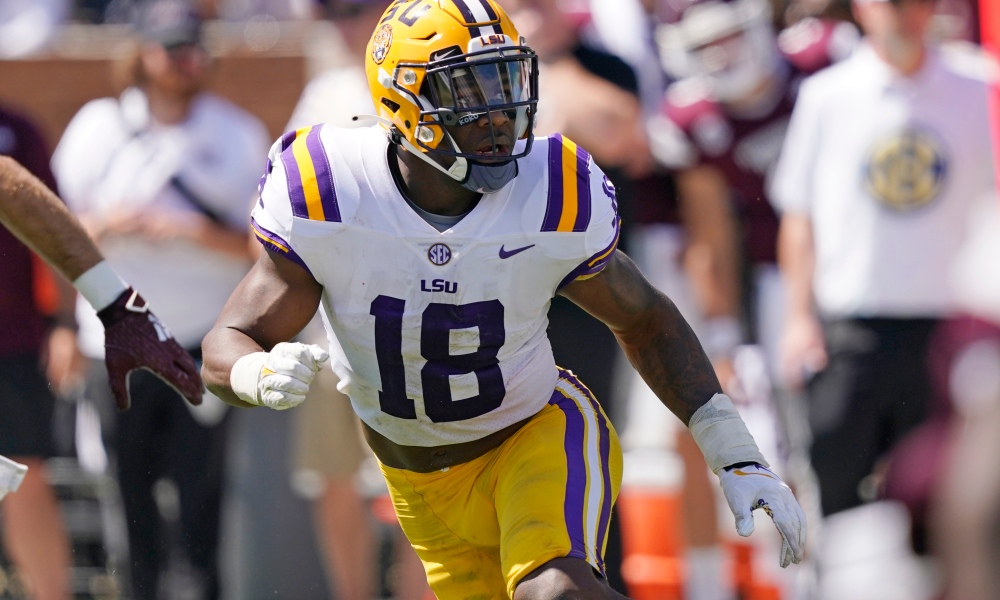 LSU senior linebacker Damone Clark was beating himself up over the lost opportunity.
A week after watching teammate Andre Anthony scoop up a fumble and score the first touchdown in LSU's 49-21 victory over Central Michigan, Clark had similar visions of glory in his team's Southeastern Conference opener at Mississippi State.
Secondary member Cordale Flott had forced a fumble on the first offensive series which Clark picked up and appeared to be headed for the end zone in front of State's sideline when he was tackled after a 40-yard return to the Bulldogs' 35-yard line.
"I should have scored that," Clark said afterward of his first career fumble recovery. "That's on me."
Fellow senior defensive player, Ali Gaye, said the overriding feeling amongst LSU's defense was that Clark should have scored and when he didn't, they let him have it in a good-natured way.
"Everybody's been telling him he should have scored that," Gaye said earlier this week. "Dre (Anthony) scored, and he had the opportunity to score. I'm telling him that if I get the opportunity, I don't care if I'm tired or my legs are about to fall off, I'm going to run and take it to the house. He missed his opportunity. If I get the same opportunity, I'm going to feel like a running back and take it to house. He did a good job on that, but I think he should have scored. It was a great play he made."
Clark's heads-up play, which led to LSU's first touchdown and 7-0 lead in a game the Tigers won 28-25, turned out to be an indication that good things were in store.
The former Southern Lab standout enjoyed a career-best outing with 15 tackles that included eight solo tackles that strengthened his lead in the SEC in tackles with 42 or 10.5 per game, earning his first career SEC Defensive Player of the Week honors. He holds a sizable lead for team honors over Micah Baskerville (25) and Major Burns (23) a year after tying for team-high honors (63) with JaCoby Stevens last season.
"I'm blessed to be SEC (Defensive) Player of the Week but that was from last week's game," said Clark, a member of the Butkus Award Watch List. "My biggest thing is to go out there and do it all again but do it better. I made mistakes. It's about going out there and improving on the things that I messed up on."
Clark's status as the top tackler in the nation's toughest conference is a testament to the lengths the 6-foot-3, 240-pounder has put himself through to try and capitalize on a sterling final season and follow in the same footsteps as his predecessors Devin White, Patrick Queen and Jacob Phillips.
White and Queen were both first-round NFL draft picks of the Tampa Bay Buccaneers and Baltimore Ravens, respectively, while Phillips was a fourth-round selection of the Cleveland Browns.
Can Clark be the next great LSU linebacker headed for the NFL? His head coach believes Clark's improved play going into Saturday's home game at 8 p.m. with No. 22 Auburn has caught up to his requisite size needed to play football at the highest level.
"He's an excellent young man, he's a hard worker," LSU head football coach Ed Orgeron said. "He looks like an NFL linebacker out there. Now he's playing like it. I want him to have all the success he can."
When Clark led LSU with a then career-high 14 tackles in a season-opening 28-17 loss at UCLA, his production was somewhat overshadowed by a recurring theme from a year ago when the Tigers suffered a couple of blown coverages in the intermediate part of the field that resulted in back-breaking touchdowns.
It was a reminder of the problems that haunted last year's defense which under then defensive coordinator Bo Pelini finished statistically as the school's worst unit where blown coverages and missed assignments routinely plagued the Tigers.
Clark started in five of his team's 10 games, equaling the 63 tackles of Stevens, with four stops behind the line of scrimmage for minus-18 yards that included a sack and three quarterback hurries.
There was clearly work to do, though, and with the arrival of first-year linebackers coach Blake Baker, the former defensive coordinator at the University of Miami, Clark's elevated his play with a new-found confidence that's resulted in a heightened level of production.
At his current pace, Clark would finish the season with 126 tackles, the seventh best single-season total in program history.
"Coach Baker's a good coach. He's not just like a coach. (He's) like a father, like a friend," Clark said. "He makes you comfortable with him and that's the biggest thing. Having a relationship with a coach that he's been everywhere. I met him in the spring and our relationship got stronger and stronger. He's rubbing off of me. He always tells me to go out and play, trust what you see and don't second guess yourself. We're going to correct the things we need to correct."
Orgeron said two of the areas that hampered Clark's play in the previous years was his inability to make tackles in the open field and drop into coverage.
Additional film study has been a tool Clark's relied on for an added edge, something Orgeron noticed on Sunday's which is typically the team's off day after a game.
"He still has some things he needs to get better at but he's somebody that wants to work at it all the time," Orgeron said. "He has all the skills to be a great a linebacker. Patrick Queen was a great player. Damone has a great future if he continues to make progress."
After seeing limited action as a freshman with only one tackle in 2018, Clark played in all 15 of LSU's games during the Tigers national championship season. He made three starts and totaled 50 tackles with four stops for loss and 3 ½ sacks.
With the departures of Queen and Phillips to the NFL, Clark stepped into their departed roles as not only of the leaders of the 2020 defense, but the entire team which voted him one of two players to wear the coveted No. 18 jersey. It's an honor he earned again this season and became only the fourth player to wear the number in consecutive seasons in a tradition started 18 years.
"I feel like everybody has their time," Clark said. "I feel like Devin paved the way for Patrick and Patrick paved the way for me. I'm not nowhere near where I need to be. I just have to keep improving every day and everything else is going to take care of itself."