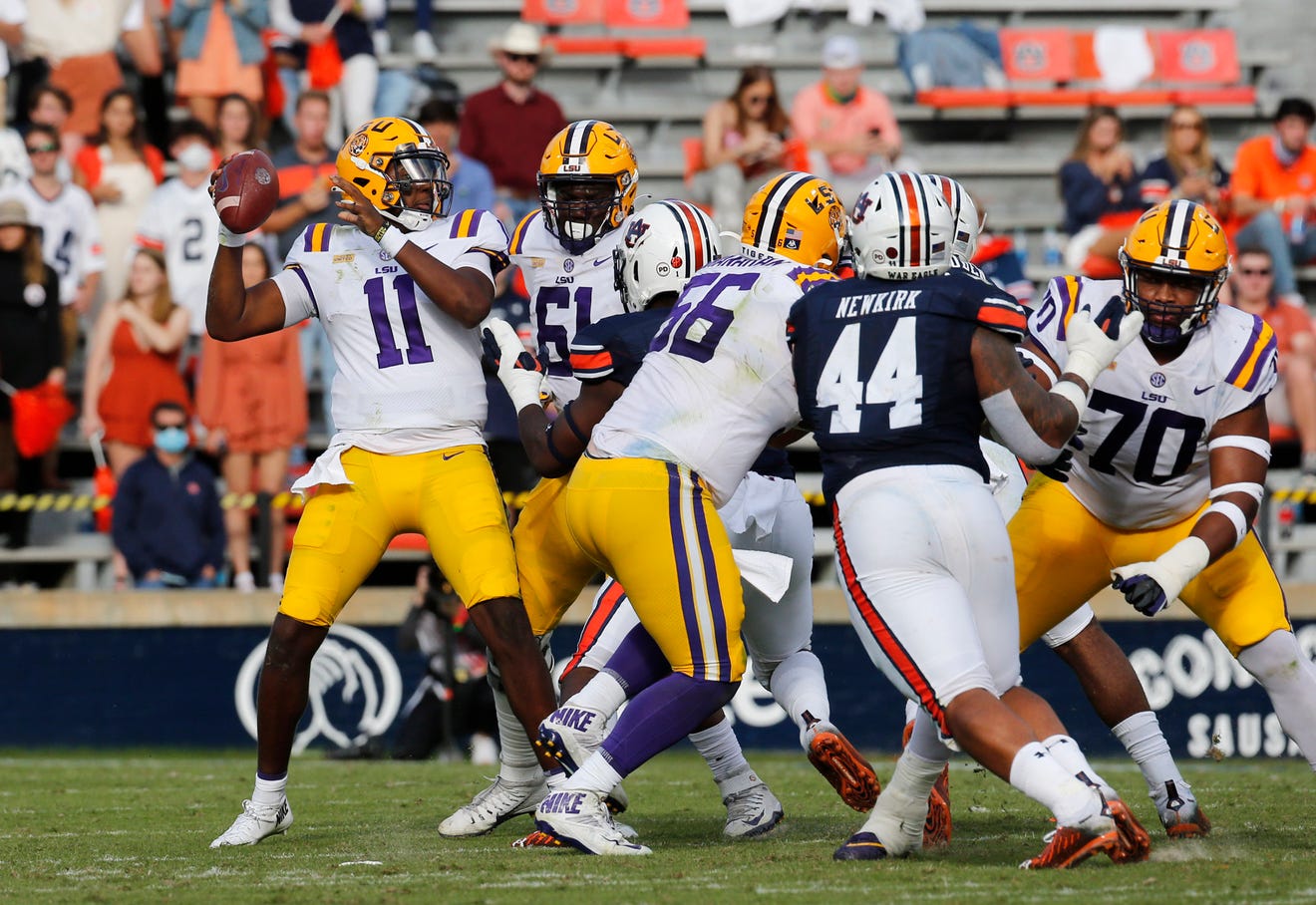 There probably hasn't been a more entertaining SEC football series, at least from LSU's standpoint, than the one the Tigers have enjoyed with Auburn.
There has been LSU lofting a halfback pass to score on the first play of the game (1969), and the Tigers firing game-winning TDs that made the earth move in Tiger Stadium (1988) and made everyone question then-LSU coach Les Miles' (2007) clock management.
LSU has thrown three fourth-quarter pick 6 interceptions (1994) in a loss and intercepted a two-point conversion pass (1996) to clinch a win while Auburn's old basketball arena burned the ground.
There was a Heisman Trophy winning quarterback (2010) dragging the best defensive back in college football the last five yards of a 49-yard TD run and also an All-American running back (2015) jumping over and plowing through defenders for three touchdowns.
There's also been a placekicker who missed five field goals (2005) in an overtime loss and a placekicker who drilled a game-winning field goal (2018) as time expired.
From 2002-14, at least one team in this series was ranked in the AP Top 10 at the time of the matchup, with both teams ranked in the top 10 three times in that stretch (2006, 2008 and 2010).
Even two seasons ago when LSU went 15-0 and won the national championship, the Tigers' biggest scare was a 23-20 home win over Auburn.
"I remember in 2019 our coach said it was like two NFL teams battling it out." LSU offensive guard Ed Ingram said.
It's been rare in this annual SEC Western Division battle matches two teams still struggling to discover consistent excellence in all or just a couple of phases of the game. But it's what's being presented Saturday night in Tiger Stadium when unranked LSU (3-1, 1-0 SEC West) and No. 22 Auburn (3-1, 0-0) collide on ESPN starting at 8 p.m.
LSU's spotty offensive line as well having no running game (80 yards per game) balances against Auburn's hot and cold quarterback play.
The emerging storyline is the possibility of former LSU quarterback TJ Finley getting his first start for Auburn after transferring in May.
Last Saturday with Auburn starting QB Bo Nix struggling against Georgia State. Finley came off the bench and led a game-winning 13-play, 98-yard drive late in the fourth quarter. He threw a go-ahead 10-yard go-ahead touchdown pass to Shedrick Jackson on fourth-and-9 with 45 seconds to play.
"It's my homecoming, and I look forward to it," Finley said of facing his old teammates. "I just can't wait to enjoy 100,000 in Tiger Stadium, and whether I'm starting or not, I just want to be part of the team and help the team win in any way possible."
Finley's return to Baton Rouge may give Auburn motivation. Immediately after Finley's last-second heroics vs. Georgia State, Auburn safety Smoke Monday saw Finley's parents and told them, "We're going into Tiger Stadium with our boy T.J., and we're about to take Tiger Stadium down."
First-year Auburn coach Bryan Harsin hasn't tipped his hand who he'll start at QB, but LSU coach Ed Orgeron thinks it will be Finley.
"I think it's going to be T.J., to be honest with you," Orgeron said. "But, you know, we worked against No. 10 (Bo Nix). We worked against Nix for three years. We kind of know his style. We kind of know T.J.'s style. So, we're ready for both of them."
Last season after LSU lost veteran starting QB Myles Brennan with a season-ending injury in game 3, then-true freshman Finley of Ponchatoula High started the next five games. He was 2-3, completed 57.1 percent of his passes for 941 yards, five touchdowns and five interceptions.
Johnson started the final two games, wins at Florida and home vs. Ole Miss to salvage a 5-5 season.
At the end of spring practice and mired in third on the depth chart behind Johnson and Brennan, Finley felt he needed a fresh start. He chose Auburn, a team ironically in which Finley played his worst game of the 2019 season in a 48-11 loss at Auburn.
This season, Auburn and LSU have had dramatically opposite offensive styles two games shy of being halfway through the regular season schedule.
Led by running back Tank Bigsby who's averaging 100.8 yards per game rushing with four TDs, Auburn's rushing attack (257 yards per game) accounts for 53 percent of AU's total offense (484.2 ypg).
Meanwhile, LSU, led by quarterback Max Johnson who's averaging 290 yards per game passing with 15 TDs, LSU passing game (297.8 ypg) is 78.9 percent of the Tigers' total offense (377.8 ypg).
LSU will have its entire starting offensive line healthy and together for the first time since the Sept. 4 season opening loss at UCLA.
Neither Orgeron or Harsin know if LSU can produce a running game, but Harsin feels the first priority of Auburn's defense is stopping Johnson.
"He's improved as the season's gone on, and that's what good players do," Harsin said of Johnson, "He's a competitor. You can tell there's something about him that he understands what it takes to play that position. He makes good decisions, so he's a guy that has impressed me as I've watched him."