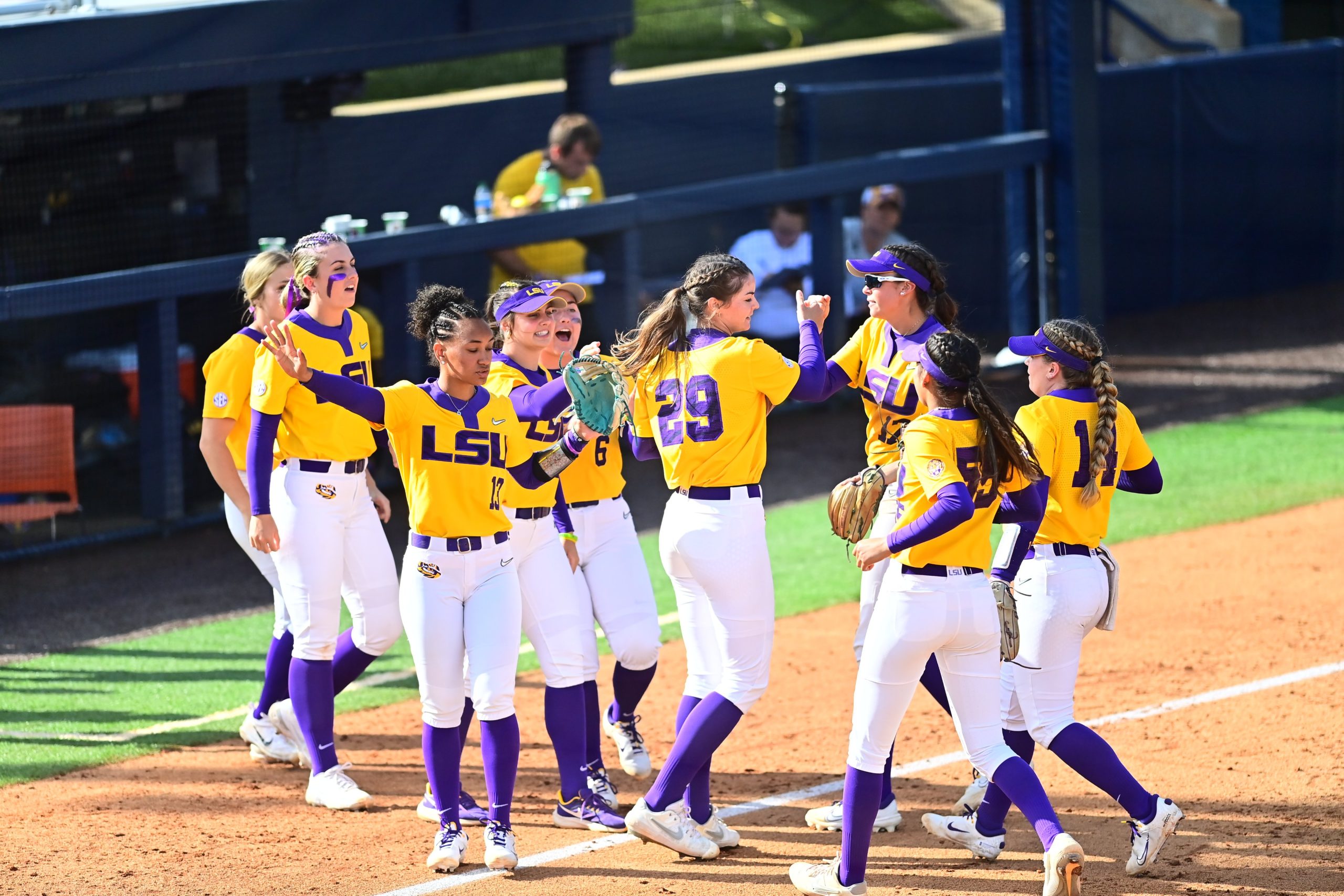 In a series that was decided by a total of four runs, No. 12 LSU and No. 24 Auburn had a fitting conclusion to decide their Southeastern Conference series.
Auburn's Makayla Packer singled to right field and Icess Tresvik narrowly beat LSU catcher Ali Newland to home plate for the game-winning run in the bottom of the ninth inning for a 1-0 victory Sunday at Jane B. Moore Stadium.
Auburn (32-13, 9-6 in SEC) took the series 2-1 with LSU (34-10, 7-8) which played in its first extra inning game of the season.
Pitcher Sydney Berzon (12-4) was the losing pitcher, allowing four runs in 5.2 innings in relief of start Raelin Chaffin (3.3 IP, 3 hits, 3 BBs, 1 K).
"Our team fought hard," LSU softball coach Beth Torina said. "We played one of the nation's best pitchers (Maddie Penta) and she had a really good day today. I thought our pitchers matched her pitch for pitch, but we didn't get the final timely hit."
Berzon kept Auburn, which outhit LSU 7-4, scoreless until Tresvik singled past third baseman Danieca Coffey and into left field. Rose Roach then sacrificed her to second and Packer drove a 1-0 pitch from Berzon. Right fielder McKenzie Redoutey promptly came up with the ball, but her throw home was to the first base side of the plate.
Newland, who threw out two base runners during the game, had to dive across the plate in order to try and tag Packer who was ruled safe. A video review, requested by LSU, also upheld the call.
LSU had two hits through eight innings against Auburn starter Maddie Penta when Ciara Briggs singled to left and Newland's sacrifice attempt turned into an infield single. Briggs was the first player since the fourth for LSU to start an inning by successfully reaching base.
Georgia Clark then lined into a double play by shortstop Nelia Peralta and Karli Petty, facing reliever Shelby Lowe, struck out to end the inning.
LSU had two runners on in the second when Clark and Petty both singled when Penta, who left after throwing 123 pitches over 8.2 innings, got three straight outs to get out of trouble – two of which were strikeouts by Raeleen Gutierrez and Redoutey.
Newland walked to lead off the fourth and took second on a wild pitch, but Clark popped out to shortstop, Petty struck out and Gutierrez grounded out.
Auburn, which took its first series over LSU since 2017, had two runners on in the seventh when Berzon got a strikeout and Newland threw down to second for a caught stealing.
LSU returns to action Tuesday at McNeese's Joe Miller Field at 6 p.m. The game will be streamed by ESPN+ and broadcast locally by 107.3-FM.