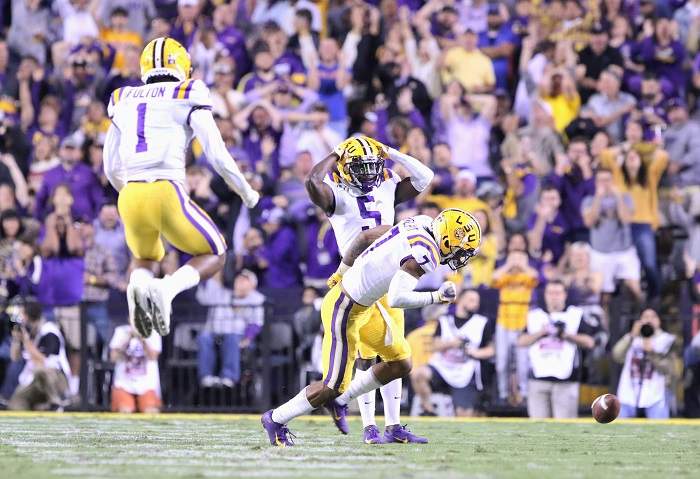 LSU made a serious step Saturday and the nation took notice. With its second victory against a top 10 team, the only team that can make that claim, LSU is no longer a maybe but a player in the College Football Playoff equation.
The Tigers shooting up to No. 2 in the Associated Press poll means the new spread offense is no longer viewed as a temporary gimmick and that the defense has shown enough improvement for LSU to be considered a complete team at the season's halfway point.
Whatever weaknesses LSU was judged to have before seems to be getting better. Sure, the Gators put up 457 yards and had red zone penetrations end in an interception and turnover on downs, but in today's college football, good defense means you mix in enough big plays in all of the yardage to keep you at least one point better than the opposition.
Against Texas, LSU looked as if it would have continued to give up touchdowns as long as they continued lining up. But the maturing unit that was healthier Saturday than a month ago is becoming instinctive, learning how to coexist with an offense that scores almost too quickly.
Derrick Stingley's interception is exhibit one, a great athletic play to twist his body, change direction and make a diving interception on what looked like an uncatchable ball for him or the Florida receiver, Freddie Swain. The defense also looked more than ready for the fourth-down option run, smothering it before Trask could pull the trigger on a pitchout.
LSU will have to continue to make plays like that. Had they made a few more, this game might not have been as close. Cameron Lewis let an interception get through his hands. Grant Delpit twice had an opportunity to intercept but couldn't finish the play. Kristian Fulton also had a pick called back because of a penalty.
As the season goes and the defense improves, they will start making those plays and it will make a big difference. Health will be a factor, too, since being gassed is becoming an occupational hazard with the score-quickly offense.
Meanwhile, the offense continues to be ridiculously good. Florida was allowing 9.5 points allowed per game and hadn't given up more than 21 points in a game. LSU doubled that on the way to piling up 511 yards. LSU punted only twice, and faced only four third-down situations. They were one for four on third downs and had great balance with 218 yards rushing to go with 293 passing.
Don't sweat the time of possession, which was roughly 38-22 in Florida's favor. The Gators' gameplan, which nearly worked, was to control the ball and they did it.
The big worry pre-season was how LSU's offensive line would handle the ferocious Florida defensive front, which harassed Burrow all day in LSU's loss to the Gators last season.
How's this: the Gators had zero sacks and zero quarterback hurries. The Gators had only one tackle for loss all night.
Before the season I was skeptical of the LSU offensive line and how much it could improve after such a weak performance last season. I would say that question has more than been answered.
LSU doesn't seem to have any major concerns on special teams. Going forward into the meatgrinder schedule – Mississippi State, Auburn, Alabama, Ole Miss, Arkansas and Texas A&M – they will be an underdog once. Alabama is looking vulnerable defensively because of some injuries, so the Nov. 9 meeting in Tuscaloosa could set an SEC scoring record for combined points in a game.
Fans had to like what coach Ed Orgeron said after the game about "good not being good enough if you want to be great." Orgeron challenged his team during the week and during the game. It's the tricky part of being a coach, knowing what to say and when to say it.
Orgeron also played that prediction game, saying before the game it was likely they'd have some adversity when facing the best team on its schedule thus far.
"We're going to find out about this team," he said. "Maybe Saturday night. We're going to be behind. We're going to have to come back and win, and it's not going to be pretty. We're going to find out if we have the true grit that this football team had last year. I do believe they have it."
Sure enough, Florida drove for a go-ahead touchdown to start the second half. LSU responded with three consecutive touchdown drives. Players eat that up when coach predicts the future and is right. It's hard not to be confident after that.
"There was no panic," quarterback Joe Burrow said. "We felt like we had been executing all night, and we felt like we'd go down and score, and that really shows the toughness of our team. We faced adversity and now we power through."
It's a team looking like it has the capability to power through to its first College Football Playoff berth, seriously. No maybes about it.
Photo by David Chivataro