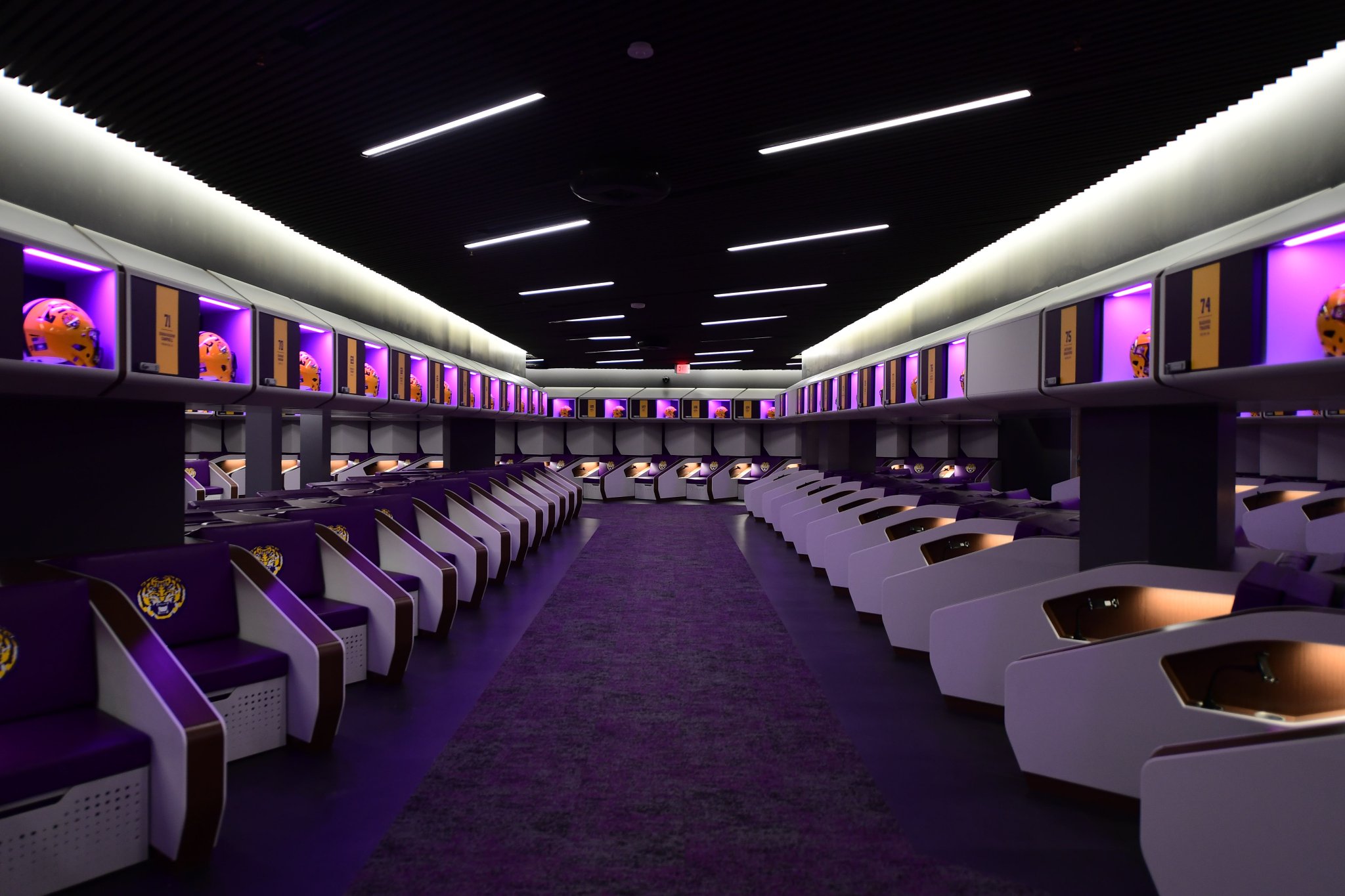 By JIM ENGSTER
President, Tiger Rag Magazine
Four Louisiana governors and four chancellors have ruled since LSU last lost a football opener. It was long before names like Katrina and Kardashian were part of the American lexicon. Mike Foster, an LSU graduate born in 1930, was governor of Louisiana while Mark Emmert was positioned to leave his perch at Thomas Boyd Hall two years later as an icon and ultimately become head of the NCAA.
The year was 2002 when the Tigers last faltered at the outset of a season. Virginia Tech toppled Nick Saban's crew by a 26-8 count in Blacksburg. The Bengals responded to the defeat to the Hokies by winning their next six games, then falling 31-7 at Auburn as Saban stumbled to an 8-5 finish in his third year in Baton Rouge. A year later, he and Emmert were hoisting their crystal trophy above the rest of the world.
The current Tiger unit is poised to pound Jacksonville State and Mississippi State in the next two weeks with the next big test coming on Sept. 24 at Auburn. Should the Tigers prevail on the plains, this could still be a year to savor. If Les Miles and Co. lose at Auburn, the season is all but over and Miles' viability is threatened.
The 16-14 loss to Wisconsin was stunning because LSU had won 13 straight openers, and Miles generally finds ways to win the close ones. Miles is 38-14 at LSU in games decided by seven or fewer points. The ability for The Hat to outlast his foes in close games has been vividly on display in previous opening games.
Les Miles in opening games decided by 7 or fewer points.
2005: LSU 35 Arizona State 31
2010: LSU 30 North Carolina 24
2014: LSU 28 Wisconsin 24
2015: LSU 21 Mississippi State 19
2016: Wisconsin 16 LSU 14
It is convenient to forget the narrow victories and dwell on nail-biting defeats, but LSU could have easily lost openers in 2005, 2010, 2014 and 2015, yet Miles found a way to triumph. This time, he left Green Bay with a loss, but LSU retains the possibility of capturing every goal for this season short of an undefeated campaign.
LSU will likely have to win 14 in a row to secure a national title, but Miles is the only coach in the modern era to win a championship with two losses. The Tigers of 2007 lost at home to Arkansas 50-48 in triple overtime to close the regular season, but two victories later, LSU collected the BCS title.
LSU has captured SEC football championships eleven times (1935, 1936, 1958, 1961, 1970, 1986, 1988, 2001, 2003, 2007 and 2011). Three of the conference winners were whipped in opening games.
LSU lost to Rice in 1935 and recovered to take the SEC crown and post a 9-2 record, the only other blemish was a 3-2 loss to TCU in the Sugar Bowl.
In Paul Dietzel's final season of 1961, LSU was torpedoed 16-3 by Rice, then won ten games in a row to close the Dietzel Era.
In 1970, LSU was reeling from the pre-season death of quarterback Butch Duhe' and lost to Texas A&M 20-18 with All American Tommy Casanova sidelined with an injury. Charlie Mac's team rebounded to win the SEC with victories over Auburn, Alabama and Ole Miss. Oranges littered Death Valley on Dec. 5, 1970 as Mac secured his only SEC title with a 61-17 demolition of Archie Manning and Mississippi.
If recruiting classes are graded accurately, LSU boasts the best talent in the land and should respond positively to the disappointment at Lambeau Field. For Miles, his future will largely be determined ty the outcome of two games, the duel at Auburn later this month and the showdown with Saban on Nov. 5th at Tiger Stadium.
Another impressive streak is over
LSU not only had its NCAA record 52-game regular season non-conference winning streak stopped, but the Wisconsin debacle also halted LSU's longest opening game winning streak since joining the SEC in 1933.
Here are the top streaks for winning and losing openers.
Winning streaks in openers
13 years               2003-15
8 years                  1962-69
6 years                  1996-01
Losing streaks in openers
5 years                  1991-95
3 years                  1948-50
2 years                  1938-39, 1956-57, 1970-71, 1980-81
Alabama ticket is most expensive ever for a game at Tiger Stadium
When Nick Saban arrived in TigerTown, ticket prices to LSU games were consistent game to game. Saban lamented that LSU was the only school in the country with that policy. The one price fits all approach has changed dramatically.
Here are the prices per ticket for the seven home games in 2016.
Alabama                              $116
Ole Miss                               $95
Mississippi State               $63
Missouri                               $63
Southern Miss                   $45
Jacksonville State             $35
South Alabama                 $30
Former publisher suggests LSU go old school for road games
Tiger Rag founder Steve Myers sends this observation about the LSU schedule:
We have 12 games but we are playing teams from only seven states. When is the last time we played four teams from one state in the same season? Four from Alabama, three from Mississippi and one each from Wisconsin, Missouri, Florida, Arkansas and Texas. With the money problems we have, that's close enough to bus to seven games and maybe eight counting Texas A&M. Nine including Arkansas. The only time this team should fly would be to Wisconsin and Florida. Imagine all the money that could go to the flood victims that would normally go to airline fuel.
McCaffery and Fournette have similar stats after one game
In the duel between Stanford's Christian McCaffery and Leonard Fournette of LSU, here is the breakdown after their 2016 debut performances.
McCaffery was solid in a 26-13 victory over Kansas State. His biggest disappointment was having a 95-yard kick return for a touchdown called back due to penalty.
The junior back rushed 22 times for 126 yards and two touchdowns and caught seven passes for 40 yards.
Fournette rushed 23 times for 138 yards and snared three passes for 38 yards while joining Kevin Faulk, Dalton Hilliard and Charles Alexander as the only LSU backs to surpass 3,000 yards rushing in a career. Because of the loss to the Badgers, the odds for Fournette winning the Heisman Trophy are currently pegged in Las Vegas at 18-1.