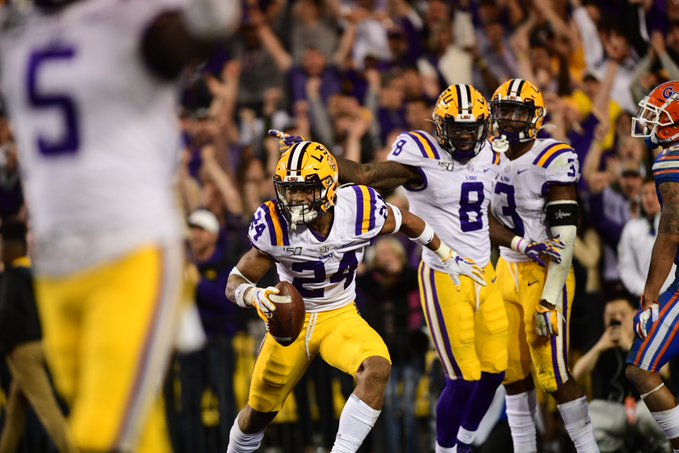 Most of LSU's players had already filed back through the chute to continue the postgame celebration in the locker room.
Security prevented any students from rushing out onto the field after LSU's thrilling 42-28 win over Florida at Tiger Stadium, but the playing surface was littered with friends, family members and honored guest of the program. All of whom were relishing in another classic night in Death Valley.
Among the masses stood Derek Stingley Jr., LSU's rock star of a true freshman cornerback, posing for photos and selfies with any fans who walked up and asked.
Such is life as a superstar.
Stingley looked like a freshman at times against Florida, perhaps for the first time since the ballyhooed five-star recruit signed with his hometown school.
Florida quarterback Kyle Trask went after the rookie more than anybody LSU has played thus far. Wide receiver Van Jefferson beat Stingley on some back-shoulder throws early to set up slants in the red zone. He hauled in touchdowns before and after halftime.
That had to be a bit frustrating some somebody who probably hasn't been taken to school by a receiver since seventh or eighth grade. But it allowed Stingley to showcase one skill that all great cornerbacks must have: a short memory.
Stingley had his first ever rough night, but with Florida driving for the game-tying touchdown in the fourth quarter, he came up with the kind of special play that has defined the greats on both sides of a rivalry between two schools fighting over the moniker of DBU.
Defensive end Rashard Lawrence applied pressure and Trask fired into the end zone on third-and-1 from inside the LSU 20. Stingley, in perfect position, broke on the ball and made a diving interception to kill the threat. Tiger Stadium erupted.
"Big time players make big time plays in big time games," LSU coach Ed Orgeron said. "He gave up some balls, and you give them credit, but he made a play when he had to."
That interception set LSU up to go for the kill shot. Four players later Joe Burrow went deep for a wide-open Ja'Marr Chase and the two connected on a 54-yard touchdown. With less than six minutes remaining on the clock, that essentially put the victory on ice.
Making a play at such a critical juncture — especially on a night that been rather rocky by Stingley's ultra-high standards — felt like a meaningful milestone in his rocket-like ascent to greatness.
First he cracked the starting lineup as a true freshman. Then he shut down Texas wideout Collin Johnson in Austin as the rest of the defense got shredded. After several drops, he finally held on to his first interception at Vanderbilt. Now he's picked off a pass in each of the past three games.
Opposing quarterbacks are now 19-of-41 when targeting Stingley this season for 266 yards with two touchdowns against those three interceptions. His 12 passes defended rank third nationally and lead the SEC. His three picks rank seventh and second, respectively.
It's rare that a player so young lives up to all of the hype and then some from the jump. Through six games and one magical moment, Stingley has done exactly that.
Photo courtesy of LSU Sports Information