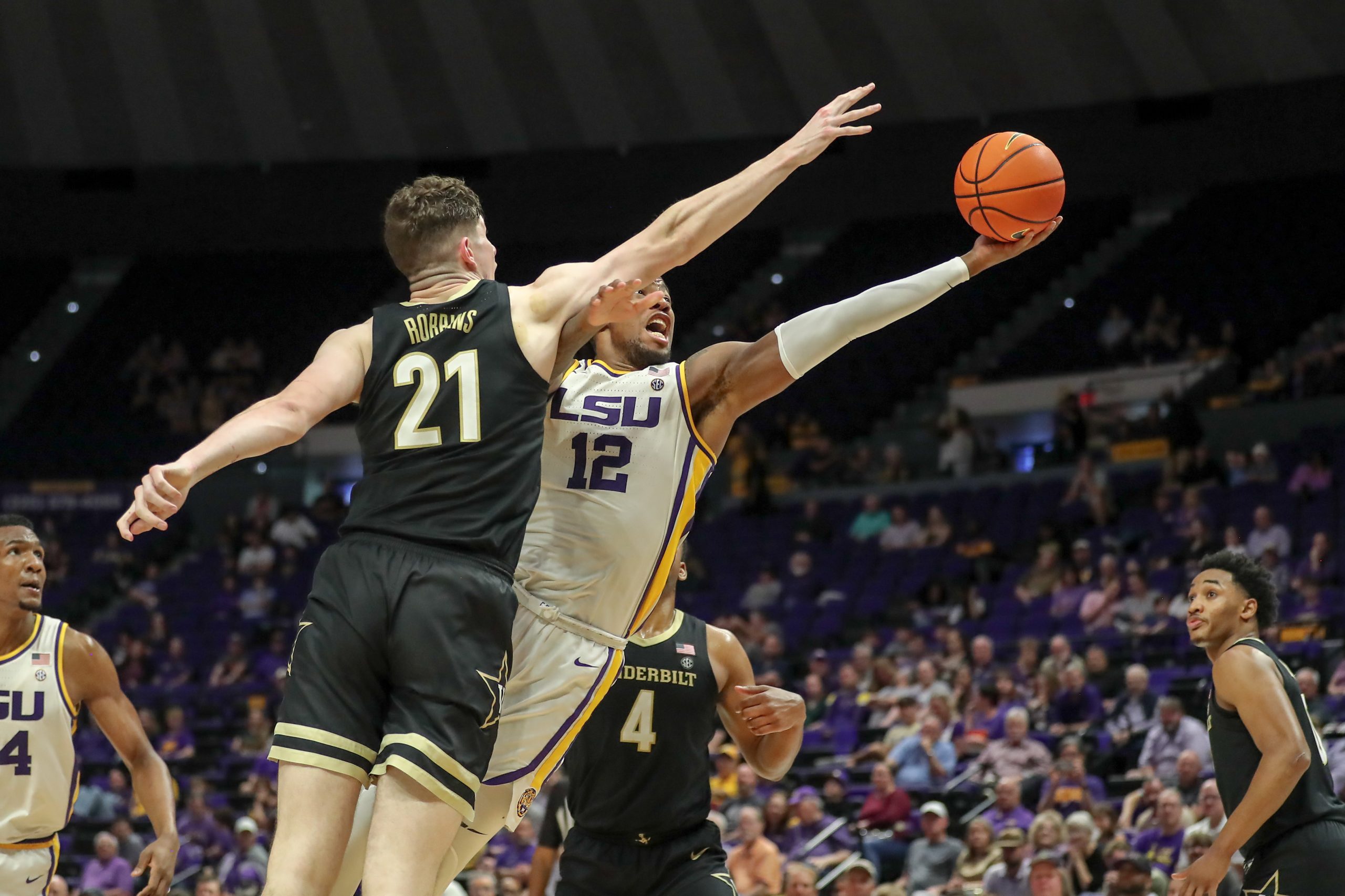 Coach Matt McMahon's first LSU basketball team will not live in infamy, after all.
Vanderbilt, consequently, will now likely be on the outside looking in when the NCAA Tournament field is announced in a few weeks.
LSU's KJ Williams made sure of that, and Adam Miller helped.
Williams scored a career-high 35 points and had 10 rebounds, while Miller added 18 points to help LSU put an end to its 14-game losing streak against Vanderbilt in a 84-77 win on Wednesday night at the Pete Maravich Assembly.
Miller made 9 of 10 foul shots for LSU which overall went 21 of 27 from the foul line compared to Vanderbilt's 14-of-27 effort.
"Obviously, KJ (Williams), his performance was off the charts, 35 and 10. I thought Adam Miller getting to the free-throw line 10 times was huge. 18 points there," McMahon said. "Then I just think there were some other stats that have really been missing for us of late. Trae Hannibal didn't take a shot tonight, but he had the highest plus/minus in the game of any player.
"Juice Hill, four-to-one assist to turnover ratio, had the second-highest plus/minus in the game tonight," McMahon added. "We have been challenging our players, this is where you find out what you are made of. It's been a difficult stretch. Happy for our guys to come in here and play well and find a way to win tonight."
Liam Robbins scored 23 points and grabbed 11 rebounds for Vanderbilt (15-13, 8-7), Tyrin Lawrence scored 19 shooting 8 of 12 and Trey Thomas and reserve Colin Smith scored 11 apiece.
LSU (13-15, 2-13 SEC) snapped Vanderbilt's five-game win streak while the Tigers' own losing streak was the nation's third longest entering the game. Had the Tigers lost to the Commodores, which was arguably the hottest team in the SSEC, the Tigers would have tied its own program's record for futility with 15 consecutive losses.
LSU wanted nothing to do with that record.
LSU made sure to avoid joining the 2017 Tigers by taking a 39-32 first-half lead, and then traded blows and stood toe-to-toe with the Commodores throughout the second half.
"The streak is something we certainly don't spend much time talking about, we try to focus on doing the things that we need to do to play better and to get better as a team and find ways to win," McMahon said.
"I thought our players were really locked into that. One thing that stands out, I thought Vanderbilt really punched us in the face there to start the second half, three-straight drives to get it down to one. They went on another run in the second half and our guys responded both times.
"Often times when you are going through a losing stretch, sometimes you just find another way to lose, and I thought out guys were really dialed in to doing the things necessary to win the game," McMahon added. "Only seven turnovers, 15 assists on our 27 made baskets, so we were over 2:1 there. Really solid on the glass. Got to the free-throw line and converted. We looked back at Saturday's game where we got to the free-throw line 10 times more than our opponent and we got outscored by three. Tonight, we were plus seven at free-throw line. So, credit to our players."
Less than three minutes into the second half, Vanderbilt cut LSU's lead to one point, but the Tigers maintained a slim lead for most of the first nine minutes of the second half before pulling ahead by as many as 11 points.
They had to hit key free throws late to secure the win.
Five times in the second half Vanderbilt trimmed LSU's lead to one point, but the Commodores led only once, at 49-48 with 12:42 left to play. The Tigers quickly regained the lead and was able to stay just out of reach from that point, widening its lead to 11 points (74-63) on a layup by Miller with 4:17 to left.
Smith's 3-pointer with 1:26 to play pulled Vanderbilt with four points of LSU at 77-73, but KJ Williams a huge 3-pointer of his own with 56 seconds left, his fifth 3 of the game.
From that point, Miller made four consecutive free throws and the Tigers held on despite another late 3-pointer from Smith with :25 seconds left to play.
Williams scored 23 of his game-high 35 points in the second half, while Miller, who has lived and died this season from beyond the arc, epitomized LSU's gameplan of driving right at Vanderbilt instead of camping outside and launching bombs.
"It's just us staying the course," Williams said. "We went on a long losing streak and us coming out tonight with the energy and the preparation it took for us these last two days, we took it to heart and we came out with the mindset that no matter what, we were gonna get this win. Credit to my teammates, they were locked in today and we broke the streak."
Vanderbilt coach Jerry Stackhouse said offensively his team did enough to win the game, but simply could not stop Miller and Williams at key points and it cost them.
"Yeah, obviously it was a disappointing loss for us. We knew this was a dangerous team coming in, and we knew that they had some weapons, and those weapons hurt us," Stackhouse said. "Adam Miller was a guy that we talked about, and he had a great game, but KJ Williams, he was special for them tonight.
"I thought we lacked toughness on the boards," Stackhouse added. "I thought we played pretty good defense early on, but we allowed them to get nine offensive rebounds early in that first half, that kind of set the tone for the night. We scored enough points, you know? I thought we did good offensively, but we did not get the stops we needed in the second half, and that was the difference in the game."