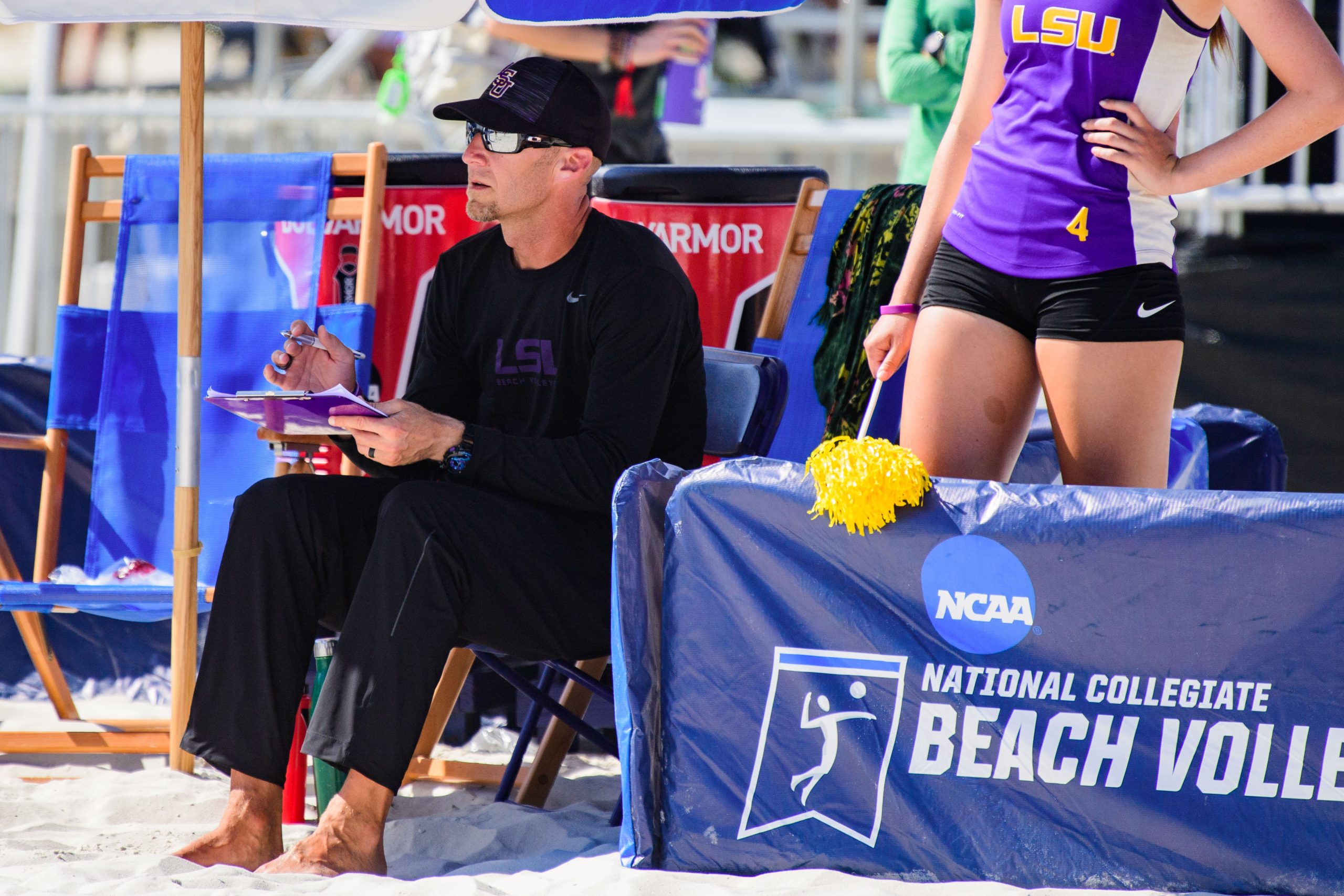 Whether they're loaded with experienced players or brimming with a group of new faces, LSU's beach volleyball program showed it could find its way to the NCAA's national tournament.
The No. 5 Tigers will continue their quest of knocking on the door of their first national championship with a team in 2023 that resembles more of the latter.
"We have unfinished business," LSU coach Russell Brock said. "We want to be playing in the last match of the year but with this group coming in, we have high expectations once again to compete for a conference championship. To get to nationals and to put our best foot forward in the postseason. To try and lift that trophy at the end. That's our goal. We're excited to set the stage again."
Brock, who enters his seventh full season with a career record of 156-53, guided a youthful team a year ago to a No. 6 ranking and 32-12 record following another trip to the NCAA Tournament. The Tigers exited after a 3-2 loss to nemesis Florida State, their fifth setback to the Seminoles last season.
The team's 27 regular-season victories and final win total were both school records.
"We're excited," Brock said. "Every year's a new year. For a while there we had a pretty consistent roster and then last year was a really big turnover. This year we had about half of our roster that moved along. We've got new people in and it's exciting. We had a really good fall training series, and the competitions went really well."
LSU's 19-player roster features four graduate students and three seniors. The Sandy Tigs also have seven underclassmen that have competed in the fall and preseason to crack one of team's six pairs that will take the court this spring.
Three-time AVCA All-American indoor standout Kylie Deberg made a successful transition to the sand in '22 and the 6-foot-4 hitter will be counted on for leadership this season. She had a 18-5 record a year ago, primarily on Courts 2 and 3, with outgoing senior Kelli Greene-Agnew and was 14-4 on Court 2 with returning sophomore Parker Bracken.
Junior Reilly Allred was part of LSU's most successful tandem last season and posted a 32-11 overall record with outgoing senior Holly Carlton, including a 30-6 showing on Court 3. The duo was also 1-1 on Court 1 and 1-4 on Court 2.
Senior Grace Seits and junior Ellie Shank were 11-7 a year ago, including an 8-6 mark on Court 4 and 3-1 on Court 5. Seits also had a 15-2 record on Court 4 with Agnew-Greene and a 1-2 mark with Bracken on Court 4.
Shank also teamed with outgoing senior Sierra Caffo to go 17-3 overall, led by a 15-3 showing on Court 5.
"That's kind of our core group of what we feel like are unique athletes, understands our system, knows how to play our game and have been battle tested," Brock said. "We've got some pieces that have played together. Closer to the season, it's probably unlikely any of those will be playing together this season."
Like most successful programs, LSU has talent waiting in the wings for an opportunity.
Hannah Brister is a graduate student that enjoyed indoor success and trained with last year's sand team but didn't play. Seniors Laura Boos and Elizabeth Masters are entering their fourth years in the program, juniors Brooke Blutreich and Amber Haynes their third years and sophomore Cassidy Chambers her second, all of whom are looking to make bigger impacts this season.
Melia Linder's another graduate student that's paid her dues and could figure into the team's lineup.
LSU's indoor team, which advanced to the second round of the NCAA Tournament in the fall, have a couple of players in sophomore libero Ella Larkin (516 digs) and graduate student setter Josie Vondron (732 assists) in the mix pushing for playing time.
"The beauty of the lineup is that there are going to be lots of people who are going to get chances as we get into the season, especially early on," Brock said. "We're excited where we're kind of shaping up to start, but we're also excited to see how the cauldron of competition will grow us even more and put us in position to be even better as we work through our season."
LSU 2023 Beach Volleyball Schedule
February
25-26 Green Wave Invitational, New Orleans
March
4-5 –Tiger Beach Challenge, Baton Rouge
10-11 at TCU Horned Frog Challenge, Ft. Worth, Texas
17-18 at The March To May, Gulf Shores, Ala.
25-26 – LSU Beach Invitational, Baton Rouge
31-1 – East Meets West Challenge, Manhattan Beach, Calif.
April
7-8 – at Unconquered Invitational, Tallahassee, Fla.
14-15 – Battle on The Bayou, Baton Rouge
27-29 – at CCSA Tournament, Huntsville, Ala.
May
5-7 at NCAA Championship, Gulf Shores, Ala.