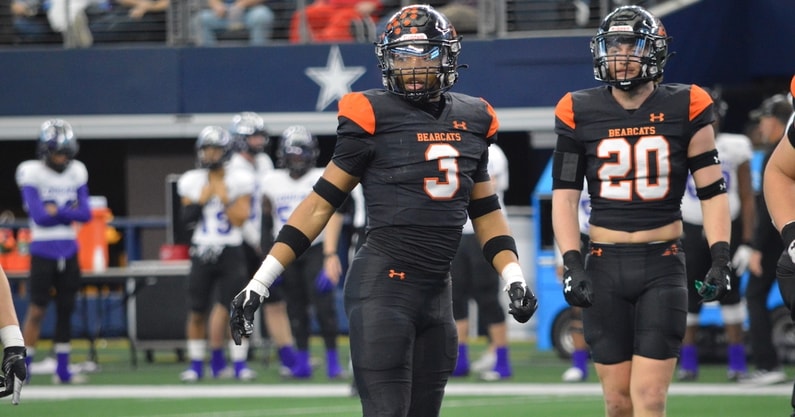 LSU football coach Brian Kelly continued to stockpile linebackers in his current recruiting class that's ranked as high as No. 2 nationally.
The Tigers garnered their fourth commitment from a linebacker and 11th overall in the Class of 2024 with a pledge Saturday from three-star linebacker Davhon Keys of back-to-back state champion Aliedo, Texas.
"I had a great time, and really enjoyed the visit," Keys told On3Sports. "The whole staff was very welcoming, and I loved getting to see the campus and facilities. He (coach Matt House) said he was glad I came for the visit and wants to get me back on campus as soon as possible."
The 6-foot, 215-pound Keys offered his commitment during a huge recruiting weekend for LSU which trails only Georgia for top billing according to 247Sports. He's being recruited by defensive coordinator and safeties coach Kerry Cooks for the Tigers.
Keys' announcement came four days after receiving a scholarship offer from Alabama. He's also received offers from Texas A&M, Houston, Colorado, Oregon, Arizona State and had also taken unofficial visits to Oklahoma and had also considered Duke and TCU.
Keys is rated the No. 32 overall linebacker and No. 68 prospect in Texas per 247.
Keys improved statistically over his sophomore season to 123 tackles with three forced fumbles, three fumble recoveries, an interception for a touchdown, a blocked field goal, five passes broken up and five QB hurries in 2022.
Keys also impacted his team's offense with 13 rushing touchdowns on 45 carries for 166 yards. He had 72 tackles with 8 TFLs and four interceptions in '21.
Keys was part of Aliedo's two consecutive Class 5A Division I state championships to extend the school's state record to 11 titles. The Bearcats defeated College Station 52-14. He rushed for a pair of touchdowns on four carries and also had five tackles with a fumble recovery and a caused fumble.
Moreover, Keys is also a standout powerlifter and recently had a 575-pound squat, 355 bench and 565 deadlift.