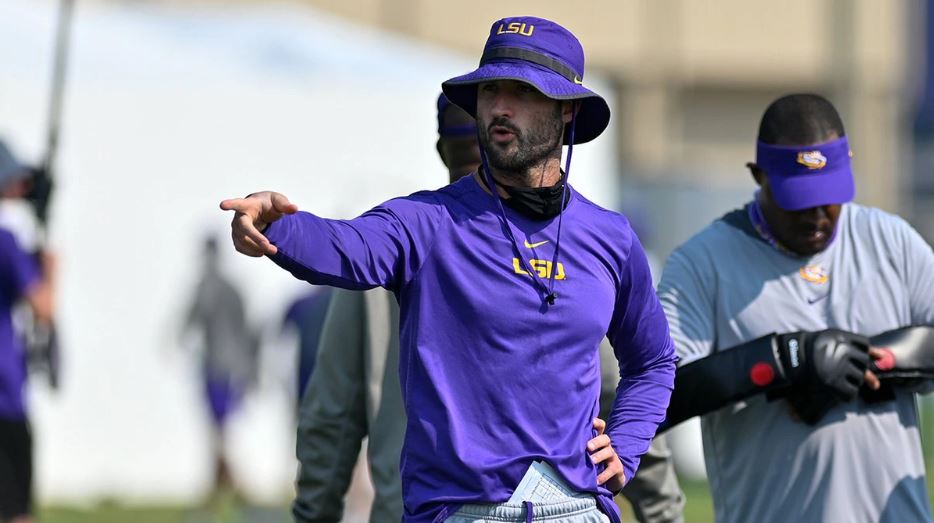 LSU's first-year head football coach Brian Kelly has reportedly let go of another former assistant coach from Ed Orgeron's tenure.
Passing game coordinator DJ Mangas hasn't been retained as part of Kelly's new staff, The Athletic reported Tuesday. Carter Sheridan, an offensive analyst, will be elevated to serve as passing game coordinator and work with the team's wide receivers, according to the report.
This was the second time Mangas worked at LSU, the first in a full-time capacity. After two years as the offensive coordinator at William & Mary, he joined Orgeron's staff in 2019 as an offensive analyst for a team that went on to win the 2019 national championship.

Mangas left after the '19 season to become an offensive assistant with the Carolina Panthers where he served as an offensive assistant under offensive coordinator Joe Brady, LSU's passing game coordinator at LSU.
Orgeron hired both Mangas and Jake Peetz away from Carolina where he made Mangas his passing game coordinator and Peetz the offensive coordinator.
Sophomore quarterback Max Johnson, who has entered his name in the NCAA's transfer portal, completed a record-breaking season under Peetz and Mangas. His 2,815 yards passing is the sixth best single season in school history, while his 28 touchdowns represent the fourth best in school history.
Johnson's 35 career TDs tied him for sixth in school history with Zach Mettenberger.
Mangas will be the fifth member of Orgeron's coaching staff not to return, joining wide receivers coach Mickey Joseph, running backs coach Kevin Faulk, secondary coach Corey Raymond and strength and conditioning coach Tommy Moffitt.