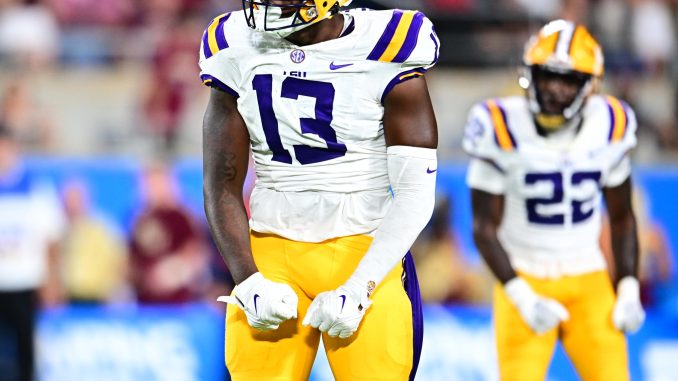 The NCAA transfer portal, primarily the ability to lure Louisiana natives back home, had been a major building block in LSU's return to respectability on the national college football scene.
But the Tigers had to be thinking what might have been Sunday at the sight of Michigan State transfer Keon Coleman of Opelousas scoring three touchdowns for his new team.
Coleman caught three of Jordan Travis' four touchdowns and No. 8 Florida State's 31-0 burst in the second half distanced itself in a 45-24 victory over No. 5 LSU before a sellout crowd of 65,429 at Camping World Stadium in Orlando.
"We have to do a much better job obviously at developing our football team," LSU football coach Brian Kelly said. "We're clearly short in a lot of areas tonight and that falls on me to get our football team to be better in most of the competitive areas you saw."
Florida State overcame a 17-14 halftime deficit, scoring 10 points in the third quarter when Coleman's final score – a 7-yard reception with 10:18 left to be played – touched off a stretch of three straight touchdowns. That enabled the Seminoles to open a 45-17 advantage on Jaheim Bell's 4-yard score with 1:26 showing.
LSU, which lost its fourth consecutive season opener and second straight to Florida State, stopped the Seminoles' run on a 75-yard touchdown pass from Jayden Daniels to Brian Thomas Jr. with 1:16 left.
The Tigers were outgained 494-460 and 281-167 in the second half.
Travis combined for 380 yards and five touchdowns, completing 23 of 31 passes for 342 yards and 4 TDs. He also rushed 7 times for 38 yards and another score.

Coleman's first game against his home state school resulted in 9 catches in 12 targets for 122 yards and 3 TDs, while 6-foot-7 wide out Johnny Wilson had seven receptions for 104 yards.
Daniels wound up 22 of 27 passing for 347 yards with an interception and TD. Thomas led the Tigers with 7 catches for 142 yards and a score, and Malik Nabers added 67 yards on six receptions.
"I take full responsibility for not having our team playing the kind of football I thought they would," Kelly said. "Our players have to make a decision they have to get back to the practice field and double down on their efforts and their attention to detail and their focus, and the things they need to do as well."
FSU scored on its first three series of the third quarter to begin distancing itself from LSU in the nation's lone top 10 matchup.
Travis, who wasn't sacked, routinely exposed LSU's shorter cornerbacks Duce Chestnut and Zy Alexander, combining for 16 of his 23 catches to Coleman, a graduate of Opelousas Catholic, and Wilson.
The Seminoles were successful on 65% of their third-down conversions, twice converting on third downs on a game-tying drive at 17-17 on Ryan Fitzgerald's 33-yard field goal.
Travis and Coleman connected on a 41-yard pickup to get out of a hole and reach midfield and Travis scored on a 1-yard run for the go-ahead score at 24-17 with 2:42 left in the third quarter.
FSU's Renardo Green intercepted Daniels when Nabers slipped and Travis made it 31-17 with a 7-yard fade route to the 6-4 Coleman against the 5-11 Chesnut near the corner of the end zone.
Bell helped the Seminoles put the game away with a pair of touchdowns over a 5-plus minute stretch with a 44-yard scoring catch and 4-yard run.
"The second half we didn't play with a sense of urgency," Kelly said. "All of those fall on coaching and getting our players to recognize that and make those choices in practice."
LSU, which generated 293 yards in the first half and reached FSU's territory five of six opportunities, took a 17-14 lead into halftime on Damian Ramos' 36-yard field goal on the final play of the first half.
The Tigers found themselves tied at 14-all following Coleman's second touchdown pass from Travis, a 21-yarder against Major Burns with 1:01 showing before halftime.
Despite a third-and-10 obstacle from its own 25, LSU unlocked its scoring drive on Josh Williams' 35-yard gain to FSU's 43. The Tigers reached the Seminoles' 19 and after three straight incompletions from Daniels, brought on Ramos for his first field goal of the season. Following a timeout, the redshirt sophomore drilled the kick from the left hash mark for a three-point lead.
LSU appeared it was going to score on its first series of the season, going from its own 25-yard to FSU's 1 on a pair of completions from Daniels of 55 yards to Tre Bradford and 15 yards to Mason Taylor.
However, the Seminoles defense held linebacker AJ Lundy sacked Daniels on fourth-and-goal for a 13-yard loss.
Nine plays later, FSU led 7-0 lead when Coleman turned a short slant into a 40-yard catch and run. He broke out of a pair of tackles, including Alexander's initial attempt, to complete the scoring play.
LSU matched FSU's score with its first touchdown drive of the season that was set up by Daniels with a 13-yard completion to Nabers and his 14-yard keeper. Daniels then found Kyen Lacy who broke out of a tackle near the sideline for a 33-yard gain and Bradford scored on a 1-yard run for the tying score.
LSU's defense came to the rescue to nullify Aaron Anderson's fumbled punt, getting an interception from Chestnutt and the special team delivered its finest moment when Jay Bramblett's 65-yard punt rolled dead at the Seminoles' 1.
The Tigers' flip of field position worked in their favor with a 51-yard drive that Noah Cain capped with a 1-yard run for a 14-7 lead at the 6:02 mark of the second quarter.
The two teams combined for 10 points in the last 61 seconds with Coleman's second TD catch from Travis to make it 14-14 and Ramos' 36-yard field goal.
"This is a total failure from a coaching standpoint and a player standpoint we obviously have to address, and we have to own," Kelly said. "I know adversity's always going to strike in this game and this is our first real piece of adversity that we have to address. I'm confident in our guys and our coaches will rally in the manner they need to."