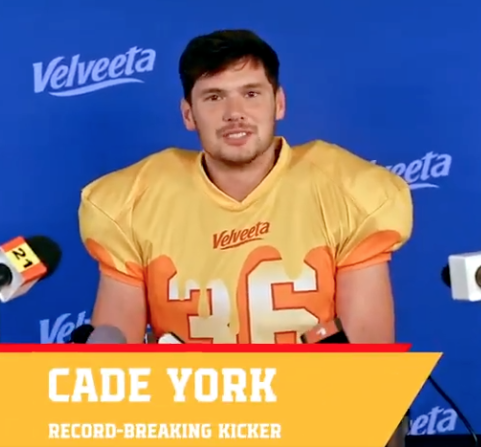 And so, the legend of Cade Queso begins.
Less than two weeks after he filmed the commercial, Velveeta Cheese announced Wednesday that LSU junior All-American placekicker Cade York signed an endorsement deal as the face of the company's "Queso Contract" national ad campaign.
A company press release said anytime York attempts a 50+ yard field goal during a game, one lucky fan who has co-signed the "Queso Contract" (by going online at velveetaquesocontract.com will win their own Queso Grande, ingredients to make queso all season long. Also, hundreds of fans will win Queso Grande's baby brother, Queso Pequeno, ingredients to make their own bowl of queso.
In the commercial, York, wearing jersey with top colored as melted Velveeta cheese, says:
"I'm Cade York, I just signed the BOLDEST contract in college football, Velveeta's QUESO contact. When I'm kickin', you can be dippin.' Every time I line up from 50 plus, you can score free Queso. Co-sign the Queso Contract."
The NCAA passed a rule starting July 1 allowing college athletes to profit off their name, image and likeness. Most of the LSU athletes who have NIL deals are football players, but none have the national reach of York's Velveeta campaign.
York flew to Chicago on Sept. 12 to film the commercial, the day after he kicked the two longest field goals in Tiger Stadium history covering 55 and 56 yards vs. McNeese.
"Never thought I would be in this position when I started two years ago because NIL wasn't a thing and who knew where I'd be at," York said.
After the first three games of the 2021 season, York was 12 of 14 in his career in field goal attempts from 50 yards or longer. He had made his last six attempts from 50 yards or more, including his 57-yard school record game-winning field goal through the fog in LSU's 37-34 upset at No. 6 Florida.
York understands the only reason he attracted a national sponsor through the marketing firm he hired is because of his success on the football field.
"You're there to be an athlete, not for the opportunities with NIL," York said. "It's a great added bonus but the deals and opportunities will come if you do what you're supposed to do on the field. That's gotta be the main focus."
Meanwhile, York's Velveeta hookup caught the attention of former LSU punter Zach Von Rosenberg, who was also York's holder in his first two seasons before finishing his career last year.
"I'm not paying for dinner on Thursday's anymore," Von Rosenburg tweeted.