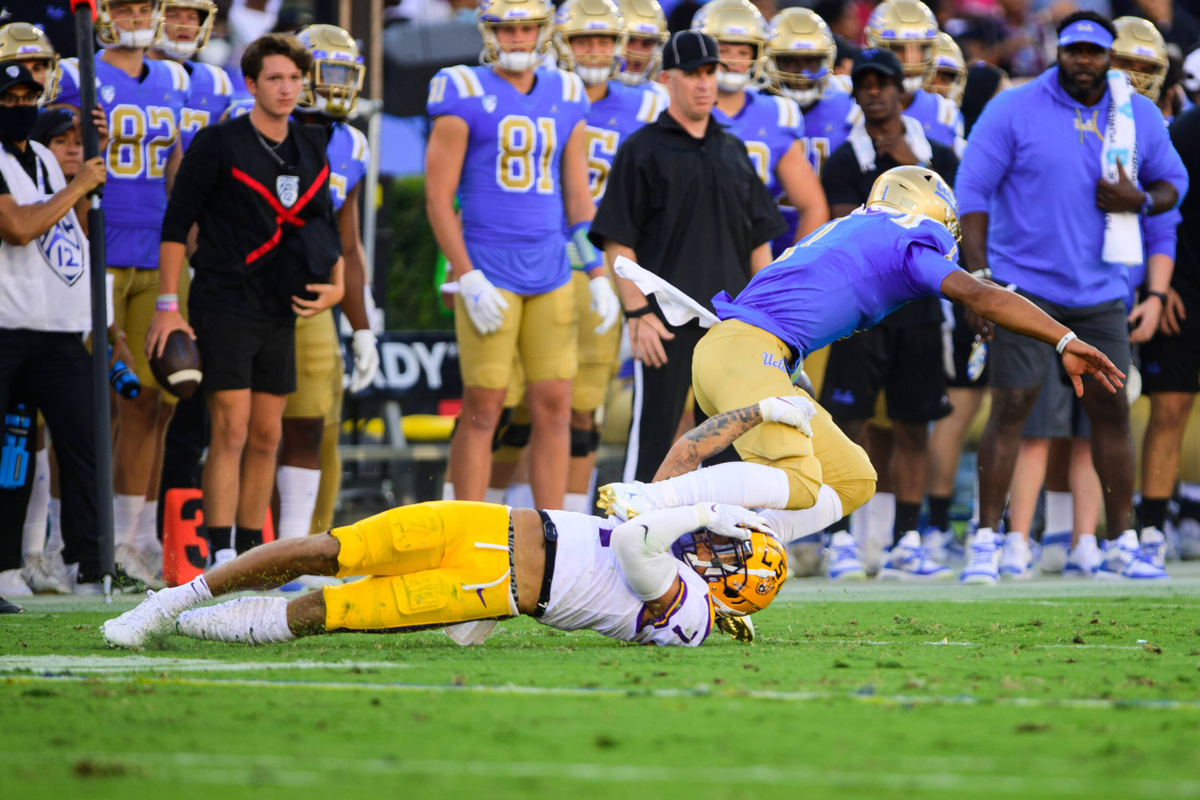 The last time LSU All-American cornerback Derek Stingley Jr. missed a game against Mississippi State, the Bulldogs torched the Tigers' secondary for a Southeastern Conference record 623 yards in a 44-34 upset victory in the 2020 season opener in Tiger Stadium.
Two days before LSU returns to Davis-Wade Stadium to face MSU in the SEC opener for both teams at 11 a.m. Saturday, the Tigers could be without Stingley once again after head coach Ed Orgeron said Stingley was "very questionable" for the game.
"He re-injured the same injury he had in camp," Orgeron said during a Zoom conference after Thursday's practice. "Very questionable for the game."
The day before LSU was set to host Mississippi State in last year's season opener, Stingley was hospitalized for an undisclosed reason. he missed his team's game where State's K.J. Costello rewrote the league's single-game passing mark against a beleaguered Tigers' defense.
Stingley had recorded eight tackles this season and forced a fumble in last week's 49-21 home win over Central Michigan. He's without an interception for the second straight season, having only been targeted three times this season.
Although senior Darren Evans is listed as Stingley's backup at left cornerback on the team's depth chart, Orgeron said he was happy to have sophomore Dwight McGlothern back after he appeared in last week's game following an injury that kept him out of the UCLA and McNeese State games. McGlothern had two tackles in limited action in the second half vs. Central Michigan.
Mississippi State features the SEC's top-rated passing offense (332.0 yards) led by sophomore quarterback Will Rogers. He's the league's passing yardage leader with 1,083 yards.
"Everybody has to step up," Orgeron said. "We still have Jay Ward at safety who we could always move to corner. Cordelle's (Flott) our nickel."
Here's what else Orgeron had to say:
Saturday's starter at left offensive tackle
"We're still going to look at it. We're going to make a game day decision. Garrett Dellinger, Anthony Bradford are the two guys fighting for it right now. Cam Wire practiced a little bit today, but we'll see how well he is on Saturday morning."
Availability of wide receiver Chris Hilton
"He's out indefinitely right now."
Anything new on running back John Emery's status
"Not yet. I know there's some (appeal) stuff going on. Their lawyers are handling that. When they'll meet on it, I'm not sure. I've heard rumors it would be today, but we haven't heard anything."
On the feeling of having to keep up with Mississippi State's offense
"Obviously, we'll have to play very well on defense. We have to eliminate the explosive plays. They're going to make some plays. We're going to have to tackle well. It's going to be a battle. We'll have to play well on offense. We may have to match their scores. Hopefully we don't get in that type of game, but it could be that type of game."
On the feeling on the week of practice
"A really good week. I challenged our guys. Tuesday was better than last Tuesday. A very good Wednesday and a very good Thursday. Spirits are high. We're playing an SEC opponent. We're playing on the road. I felt like we had a good week of practice."
On keep up the team's spirits when other players get injured
"We always have the next man up theory. We always tell them we're going to need everybody. Now it's another guys' chance. Injuries are part of the game. There's nothing we can do about it. It's very unfortunate but the next man theory gives opportunity for another man to play. We've got some guys that are excited. Guys that haven't played much and they'll play very well."
On the priorities needed to win Saturday
"Going on the road and handling the noise. Take care of the football. We can't turn over the football; we've got to be very smart with it. We've got to eliminate the explosive plays on defense. They're going to have some. We've got to play very well on special teams. We've got to continue to make the progress that we have on offense."
On team's pass rush affecting State's passing attack
"I feel good about our pass rush, but they get rid of the ball in 2.5 seconds. You have to be very fast to get to them. In order for us to get sacks we have to make them hold the ball. That's the way it is. We have to get our hands up and bat some balls. If the ball's not out quick and it's 3.0 or higher we have a good chance of getting to the quarterback."
On coverage ability of linebacker Mike Jones Jr.
"He's really come along. His problem was never coverage. It was playing in the box, taking on 350-pound guards, getting rid of them and making tackles in space. If you're not making tackles in space, then make tackles in the box. He's improved in that area, and this is a game that he needs to play if he's going to play. He also has a tremendous attitude. Great character young man with a tremendous attitude."
On whether running backs coach Kevin Faulk will return to sideline Saturday
"No."
On Saturday's rotation at running back
"We haven't decided that. You're going to see all of the guys. Ty Davis (Price) is going to play, Josh (Williams) is going to play. John is the only one not eligible to play and Tre Bradford. We haven't heard anything on him. The rest of the guys are ready to play. Armoni Goodwin's going to play, Corey Kiner's going to play and see how the game goes. I plan on playing them all."
On appearing on an episode of Eli's Place with Peyton and Eli Manning
"It was fun. We did that this summer. From the moment they showed up, we laughed. I think we laughed for about eight hours. They were very respectful and always called me coach. Very knowledgeable of the game. Guys that love football. High character young men."
On kicking off at 11 a.m. for a road game
"We have to like it. I think it's different. It's a challenge. We've done well with 11 a.m. We have no question but to like it. Personally, (I like) 2:30 or 5:30, 6 o'clock gives the team a chance to wake up. They've got to play at 11. You can't use that as an excuse."