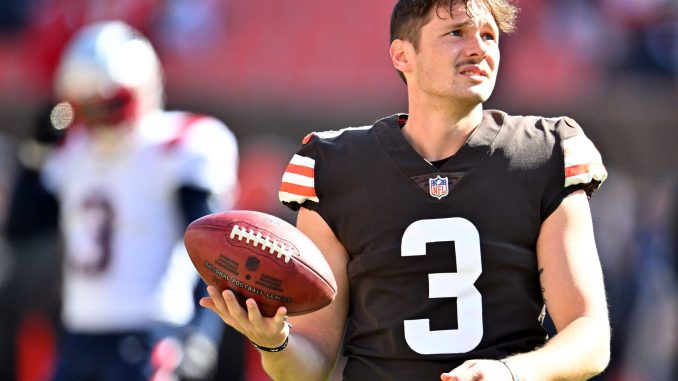 Former LSU placekicker Cade York, the program's first kicker to be drafted by an NFL team, was cut by the Cleveland Browns on Monday following a subpar preseason.
The Browns traded their seventh-round selection in the 2025 draft to the Los Angeles Chargers for placekicker Dustin Hopkins.
York later accepted an invitation on Wednesday from the Tennessee Titans to join their practice squad instead of joining the Browns' practice squad.
York, a native of McKinney, Texas, went 4-for-8 during Cleveland's three game exhibition games. After giving Cleveland a 32-30 lead with a 40-yard field goal in its final preseason game against Kansas City, the Chiefs rallied for a 33-32 lead on a 40-yard field goal and partially blocked York's potential game-winning field goal with 53 seconds left.
York also endured back-to-back failed attempts in an 18-18 tie with Philadelphia. York pushed a 47-yard effort wide to the right, and following an illegal formation penalty against the Eagles, pushed a 41-yard try wide to the left.
The 6-foot-1, 198-pound York, a three-year starter at LSU, began his pro career in grand style with a game-winning 58-yarder for a 26-24 road win over Carolina in the 2022 season opener. He went on to make 24 of 32 field goals and 35 of 37 extra points in his rookie season with the Browns.
York was twice named second team All-SEC in 2020 and '21 while at LSU where he was regarded as the program's greatest kicker. He was 164 of 168 on extra points and 54 of 66 on field goals, including a school record 57 yarder in the fog at Florida for a 37-34 victory Dec. 12, 2020.