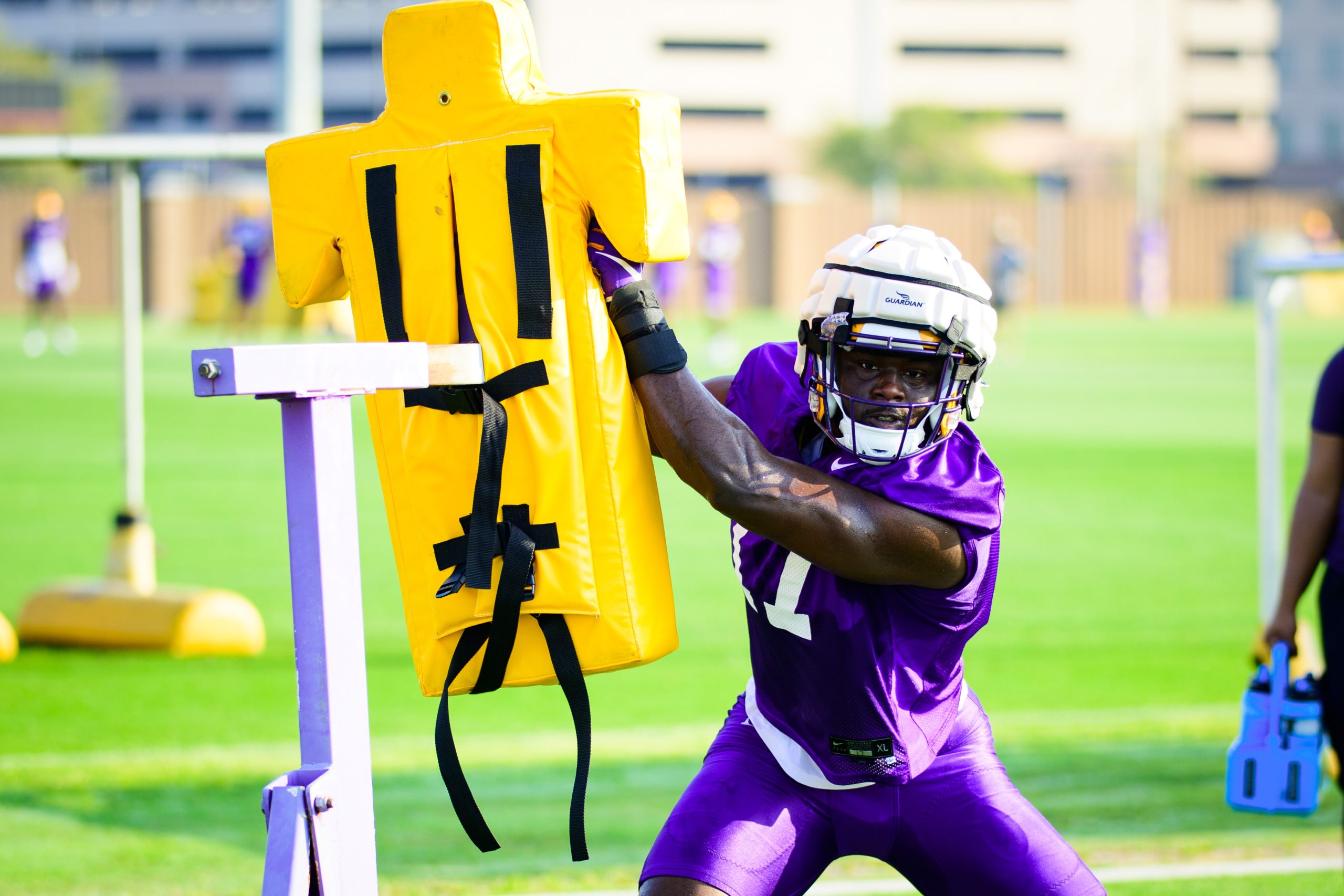 LSU football coach Brian Kelly didn't need that long of a refresher on first-year defensive end Ovie Oghoufo.
He recruited and signed the nation's No. 36 rated outside linebacker out of Harrison High in Lathrup Village, Michigan and spent the first three years of his college career at Notre Dame.
Oghoufo redshirted a year and played two years for Kelly before transferring to the University of Texas where he spent the 2021 and 2022 seasons.
The Longhorns lost 27-20 to Washington in the Valero Alamo Bowl on Dec. 29 – a day Oghoufo believed was his final game in a college uniform. He later learned he was granted an additional year of eligibility because of the NCAA's exception for COVID-19, providing him with an opportunity to enter the transfer portal and signed with LSU, now in its second season under Kelly.
"The extra year kind of surprised me with all of the COVID rules. I can of honestly didn't know I had an extra year," Oghoufo said after a recent spring practice. "Then, having an opportunity to reunite with coach Kelly and play at a high level of football in the SEC, is something I've always wanted to do."
Defense was a priority of Kelly in this year's pursuit of the nation's top talent in the transfer portal, especially in the front seven to bolster LSU's numbers at such a critical area.
That led Kelly to call on a familiar face once Oghoufo entered the transfer portal. When he signed with Kelly out of Harrison High, Oghoufo was 6-foot-3 and 223 pounds, but has since developed into a solid 245-pounder with the experience of having played in 45 games at his previous two stops.
"Twenty-Twenty-five pounds, stronger," Kelly said what he sees now in Oghoufo after Saturday's spring game which ended in a 32-32 tie. "A lot more football. He hadn't played a lot for me at Notre Dame, and he got more playing time at Texas. He's physically developed himself. You have a mature ball player that's been in two really good systems, and he comes here, and I think he's ready to break out."
LSU lost a couple of pillars at the JACK/defensive end positions from last season with B.J. Ojulari declaring for the NFL Draft and Ali Gaye exhausting his eligibility and is also expected to get drafted.
The Tigers decided that having an experienced player to replace Ojulari was of paramount importance and were able to sign Oghoufo and Bradyn Swinson of Oregon from the transfer portal.
"I like his mentality, his winning mindset," Oghoufo said of playing for Kelly. "Just the way he builds up a program. I was at Texas when I got the news that he came to LSU, and just what he did in the first year shows he's about business. That's how he was at Notre Dame. So having another opportunity, and be in a program like that, knowing that I'm coming into a professional mindset and professional school, that's kind of what I wanted."
Oghoufo said it didn't take long to notice during the spring the ability of sophomore Harold Perkins Jr. who has shifted to an inside linebacker position this season.
"Entertaining. Just him as a player and him outside of football," Oghoufo said of Perkins said. "Funny dude. Always loud. You can always hear him from across the locker room, but on the field the boy is a dog. Speed, finesse. It's exciting. I love playing with him.
"He has a lot of speed coming off the edge," Oghoufo added. "He comes with a lot of juice, a lot of finesse. Being able to stay in our pass-rush lanes. If he's going to come under, I'm going to come over the top. Just having that relationship in terms of pass rush."
Oghoufo played in 20 of 25 games during his two seasons at Texas with 96 tackles with 14 tackles for loss and 4 ½ sacks.
On last year's 8-5 team, Oghoufo was sixth in tackles for the Longhorns with 54 tackles – including a season-high of seven – to go along with four quarterback hurries and 2 ½ sacks.
With four years (he redshirted as a freshman at Notre Dame) of playing experience, Oghoufo believes he's equipped to handle whatever role second-year defensive coordinator Matt House throws his way.
"Off the field, just leadership," he said. "I've played a lot of ball in a lot of big games. On the field, just aggression, smart player. Ability to use speed and power, playing the coverage game, being able to rush the pass. Just a jack of all trades.
"His ability to use his players based off their abilities and putting people in the right places," he said of playing for House. "The scheme gives the offense a lot to look at. People are stunting from each way, disguising different coverages and it's a really confusing defense for the offense. As a player, it's very fun. There's a lot of plays to be made. They're building a really good defense here."
Oghoufo, the sixth-rated player in Michigan when he signed with Notre Dame, spent two years under Kelly where he picked up 22 tackles and 2 ½ sacks in 20 games.
Three years after last playing for him, Oghoufo relishes the chance to conclude his career playing for Kelly who guided LSU to a 10-4 record and SEC Western Division crown last season.  
"It was really kind of clear when I came on my visit," Oghoufo said. "Where I fit in on the defense, how the defense is. It was kind of a no-brainer as to where I was going to be."