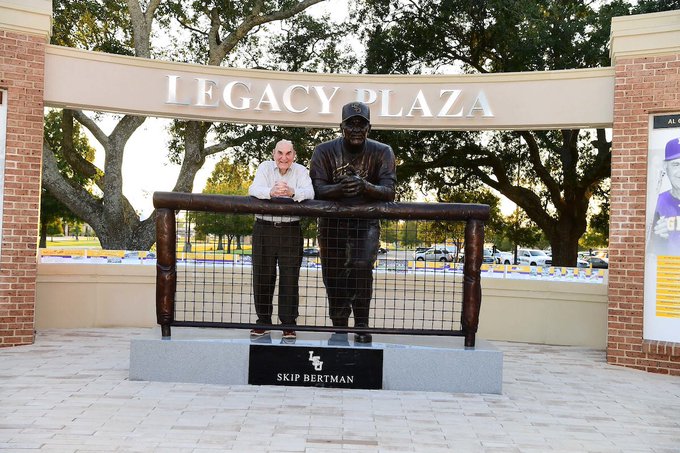 It's that time of year in Baton Rouge when the college sports season is all but done. The LSU track teams are in Austin, Texas trying to win a national title while the focus at home is all baseball.
By the time this column hits the streets, the Tigers baseball team could be in the College World Series for the first time in five seasons. It's getting close to the 30th anniversary of the first trip in 1985 under then second-year coach Skip Bertman, who built so much more than a baseball program.
While many other college towns are winding down their sports seasons, Baton Rouge is usually kicking it up a notch. There's a buzz when the calendar turns to June and when there isn't, everyone wants to know what's wrong.
Three coaches removed from Bertman, who won five CWS titles, have produced a national championship. That was the 2009 team under coach Paul Mainieri.
In LSU's last appearance, Manieri got the Tigers to the finals where they fell to Florida in the championship series.
But it's still pretty incredible to reflect on what Bertman accomplished. It wasn't a rebuild, there was nothing much to rebuild from. He changed the importance of college baseball, first in the Southeastern Conference and then nationwide.
Just consider LSU played fellow SEC foe Kentucky in the Super Regional round, two of the six teams from the league that made it. That's Skip's influence.
Bertman had more than baseball knowledge; he knew people, economics, marketing, media, and was most times the smartest person in the room when it game to having a grasp of many areas of thought.
It's one of the reasons Bertman had the ability to serve ably as an athletic director.
Perhaps the most underrated quality was the new ideas he brought. As a baseball coach, he played every other college team in the state, forsaking the dying adage that big schools shouldn't play the smaller ones because they had everything to lose and the smaller schools had everything to gain.
Bertman recognized spreading the baseball gospel that way would allow it to filter down into the high school ranks and on down from there. After a couple of decades, the overall quality of baseball in the state improved drastically.
When Bertman became athletic director in 2001, he applied the same logic to football. On Sept. 9, LSU and Grambling, which has perhaps the best brand among Historically Black College and Universities, will play for the first time in Tiger Stadium. That's one year after crosstown college Southern made its historic appearance in Death Valley.
Bertman caught a lot of criticism for that, but he knew he was right and has been proven so. He saw that bringing nearby schools helped ticket sales, even if it's only a little, and the game payout kept the money in the state.
That's Skip, one of those guys who thinks "why not?" rather than "why?"
As an athletic director he was clear-minded and purposeful, adept at raising money and fearless in his decision making. He raised ticket prices just before bowing out, leaving one less big issue for his successor, Joe Alleva, to tackle.
Perhaps no other athletic director handled the media better, and he did it by being accessible. He had an ability to get the media to eat out of his hand.
In Omaha, he had a gift for getting his players to relax. In the practice prior to the 1997 national championship game against Alabama, there were neighborhood kids catching fly balls in the outfield alongside LSU players.
Meanwhile Skip sat in the dugout talking about his strategies, answering questions about handling pitchers and telling us humorous stories. He knew when to get serious and his teams seldom played tight.
His former players will tell you he could be tougher than any Marine drill sergeant behind closed doors but funny, witty and charismatic in front of cameras.
One of my most memorable sights was in 1996, the year that ended with Warren Morris' iconic and dramatic walk-off homer. After losing to Northwestern State on back-to-back nights at old Alex Box Stadium, he had the players running about 30 minutes of grass drills – up downs, bear crawls, etc. – in right field while I finished up my game story. It always made me think about the irony of his classic phrase that "baseball is not like football."
Most of Bertman's former players speak glowingly of him in retrospect even if they were at odds with him during their playing days. Some couldn't handle his brutal honesty and hard coaching, unable to pierce the "pressure barrier" he set up.
Even coaches struggled to stick around because of his expectations.
The late Dwayne "Beetle" Bailey, whom I got to know when he was head coach at Denham Springs High School, was as intense a coach as you'll find. But after joining the LSU staff, he marveled how hard Bertman was to work for because of his attention to detail and the demands that far outpaced his own.
Twenty-two years after Skip coached his last game, the season ticket sales are still around 10,000. The program attracts some of the best players in nation, and established coaches like Mainieri and Jay Johnson, who know they will get unrivaled support.
Not many baseball coaches can claim they have a street and a field named after him, with a statue to boot – maybe none. There's no question he earned all three and more.
And although you can't drive on it, stand on it or touch it, you can put a name on that buzz that envelopes Baton Rouge at the end of May and beginning of June.
The Bertman Buzz.