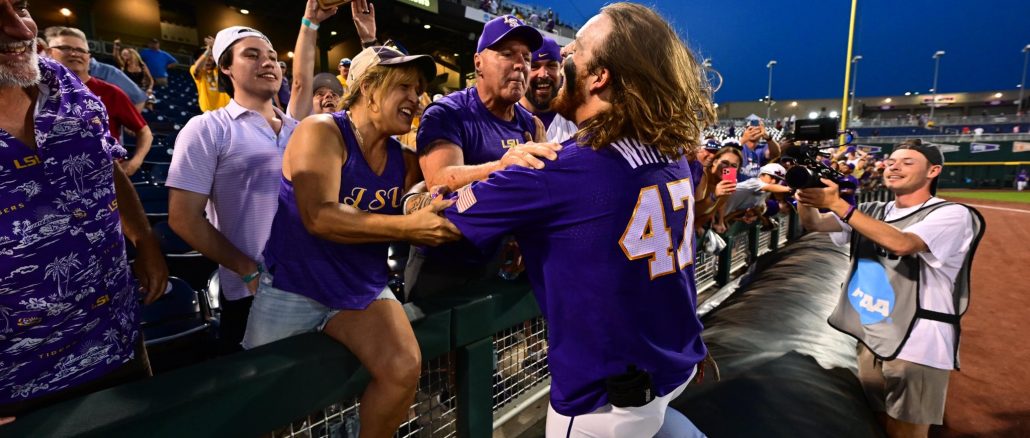 ---
OMAHA, Neb. – LSU third baseman Tommy White launched a two-run homer in the bottom of the 11th inning to walk off the No. 1 overall seed Wake Forest and lift the Tigers to a 2-0 victory and clinch a spot in the CWS Championship Series versus Florida starting Saturday night.
Feelin' It@tommywhite44 | #ThePowerhouse pic.twitter.com/sdnFl1WuLk

— LSU Baseball (@LSUbaseball) June 23, 2023
LSU (52-16) moved into the finals for the first time since 2017 and the eighth time in program history.
LSU returns to action at 6 p.m. CT against SEC foe Florida. The contest will be televised on ESPN and broadcast on LSU Sports Radio Network affiliates.
"I couldn't be more proud of our team," LSU coach Jay Johnson said. "I think that exemplifies the talent on this roster, but more importantly, the character and the people. That was the best-pitched college baseball game I've ever seen from both sides."
LSU center fielder Dylan Crews led off the bottom of the 11th inning with a single against Wake Forest reliever Michael Massey. The Deacons inserted closer Camden Minacci into the game, and then White launched his first pitch into the left field seats to give the Tigers the win.
The homer was White's 23rd of the season and increased his season RBI total to 100.
LSU reliever Thatcher Hurd (7-3) earned the win, working the final three innings and blanking Wake Forest on one hit with one walk and one strikeout.
LSU starter Paul Skenes was brilliant through the first eight innings, allowing no runs on two hits with one walk and nine strikeouts. He extended his season strikeouts total to 209, establishing the SEC single-season mark for strikeouts.
The former record-holder was LSU All-American Ben McDonald, who recorded 202 strikeouts in 1989.
"Obviously what Paul did was spectacular," Johnson said. "What Thatcher did was spectacular. You might see four pitchers that were on that mound tonight from both teams that will pitch in Major League Baseball All-Star Games."
Massey (3-1) suffered the loss, alllowing one run on one hit in 2.2 innings with one walk and five strikeouts.
Wake Forest starter Rhett Lowder also delivered a superb outing, firing 7.0 shutout innings with three hits, two walks and six strikeouts.