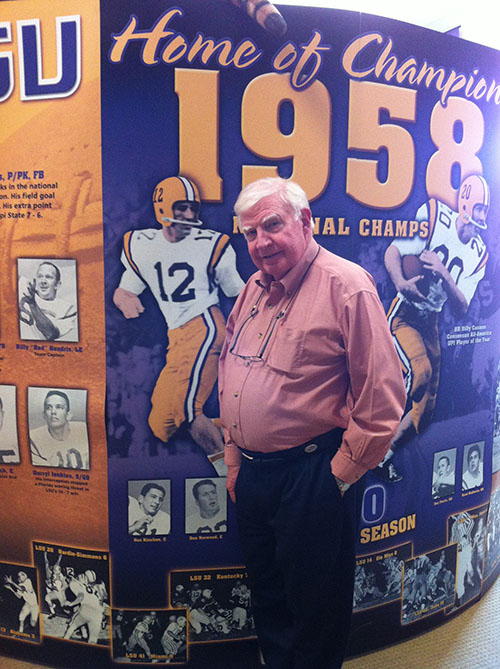 Marvin Lafayette "Bud" Johnson Jr. arrived at LSU on Saturday, Feb. 1, 1958, as a sports information publicist under SID Ace Higgins. At age 23, the Southeastern Louisiana University graduate was perched to be part of LSU lore as the chronicler of the watershed year of 1958. His debut was inauspicious with a 71-54 loss to Mississippi State at the Cow Palace as Jay McCreary was guiding a 7-18 Tiger basketball team to a last place finish in the SEC.
While basketball was mired in futility in the post-Pettit, pre-Maravich era, football was at the cusp of greatness. Seven months into the job, Johnson was deftly informing the masses game by game of LSU's first national title season at Tiger Stadium. It was the subject of his definitive book, "The Perfect Season."
It was a story that could have been a fictional odyssey with an uncommonly handsome 34-year-old maestro in Paul Dietzel and a chiseled freak of nature in the charismatic superman Billy Cannon, the 21-year-old legend from Istrouma High in North Baton Rouge. Years later the 1958 experience was immortalized on the big screen in "Everybody's All American" starring Dennis Quaid as No. 20.
Bud and Billy were separated by a few years in age and were as close as brothers. The two talked daily until Cannon's death at 80 on May 20, 2018. Johnson was 88 when he died, after a brief illness, June 5 in Metairie.
Bud is survived by his wife of 61 years, Evelyn. Their union produced a daughter, Marsha, who was born during the 1972 Summer Olympics, a year after Johnson left LSU to work for Eastern Airlines. Bud connected his daughter's arrival to the historic and controversial Soviet defeat of the USA basketball team at Munich.
Bud presided as LSU's sports information director during the Pistol Pete magical mystery tour, with his 13 years bookended by LSU's most enduring football icon in Cannon and the court genius who reigns as the leading scorer in the college game 52 years after his final shop and 34 years after his death of a defective heart at age 40.
Maravich and Johnson were reunited when Bud became the public relations director for the New Orleans Jazz and Pistol Pete was acquired from the Atlanta Hawks. Maravich led the NBA in scoring at the Louisiana Superdome 45 years ago.
Johnson possessed a trove of stories about his travels with both Cannon and Maravich, talented but tormented souls who had challenges adjusting to the fishbowl of fame that accompanied their prodigious athletic prowess.
When Pete was starring for the Tigers, Buddy Diliberto of WVUE in New Orleans asked Bud to make Pete available for an on-set interview after a game at Loyola Field House. Johnson complied as he and Pete sped to the station for the appearance with Buddy D. and returned to Baton Rouge via Airline Highway.
Pete was hungry so Bud stopped at a nearby restaurant for a late-night snack for the gaunt guard who needed every calorie possible to pack on a super lean 6-5 frame. The operators of the establishment recognized the gangly Maravich and insisted on photos with the LSU All-American. A few days later, Bud was informed Pete had been photographed with a group of mobsters. Johnson worked his magic and kept the story quiet and the pictures never surfaced.
Bud was a fixer, and he responded to scandal with integrity and charm. When Athletic Director Jim Corbett was shot on April 8, 1966, by a Baton Rouge motel occupant, the rumor mill was swirling. The episode was covered nationally and locally with Bud providing media with information. Johnson's account of Corbett having a heart attack, then being shot as he sought help appears to be accurate despite sensational speculation to the contrary.
The New York Times report opened with the headline "LSU Athletic Director Found Shot in His Car" and started with this opening paragraph: "James J. Corbett, athletic director of Louisiana State University for the last 10 years, underwent emergency surgery early today after he was found in his wrecked car with a bullet wound in his chest. His condition was listed as good."
Corbett died on January 29, 1967, nine months later, of a heart attack at age 47.
When New Orleans Jazz owner Sam Battistone moved his team to Salt Lake City, he took the name with him.
The Utah Jazz can thank Bud Johnson for their moniker. It was Johnson who suggested Jazz as a natural for a New Orleans NBA franchise. This was appropriate because Bud was a real-life jazz aficionado. He was a fan of the spectacular pianist Bill Evans, a graduate of Southeastern Louisiana University who is buried in Baton Rouge. Evans was at his fabulous peak for the most successful Jazz album ever, the 1959 classic "Kind of Blue" from Miles Davis.
Bud had eclectic interests. He could recite the names of our state's congressional delegation with the same proficiency as the entire roster of the 1958 Tigers. His intellectual curiosity was matched by a select few writers in his orbit. And it was Johnson who informed Tiger Rag of the deaths of a pair of great scribes he called friends, Peter Finney (1927-2016) and Marty Mule' (1943-2016). Pete and Marty shared Bud's intellectual pursuit for life beyond the games people play.
Johnson logged the last part of his career as the director of the Andonie Museum on the LSU Lakes. It was Charlie Roberts of the Alumni Association who brilliantly put Johnson in charge of the shrine. And Bud was kind enough to invite me to interview a plethora of LSU greats before home football games. In a decade of hosting these sessions, Johnson was responsible for a Hall of Fame array of guests.
Some of the LSU luminaries who participated in the Friday night and Saturday morning interviews at the Andonie Museum and Lod Cook Hotel include these guests of Bud:
Billy Cannon … 3 times
Warren Rabb
Johnny Robinson
Tommy Casanova
Doug Moreau
Charles Alexander
Brad Davis
Warren Capone
Matt Mauck
Jacob Hester
Dalton Hilliard
Mike Archer
Tom Hodson
Bob Pettit
Susan Jackson
Aaron Nola
Todd Walker
Warren Morris
Skip Bertman
The final interview in the series was last year, when the 1961 LSU baseball team convened 60 years after winning the SEC championship in storybook style. Bobby Theriot served as chief spokesman for the team and represented the unit at Bud's funeral in St. Alban's Chapel on campus.
For a man born in the heart of the Great Depression on May 7, 1934, in New Orleans, peaks and pitfalls on the field were symbolic of larger battles. Bud Johnson relished every revelation, savored triumphs and learned from setbacks. He was a remarkably kind man who retained his humility and integrity and logged a full and happy life with his family and friends of all kinds.
Bud Johnson was the complete man. His passing leaves a void for those who were privileged to be part of his orbit. As his late friend and Voice of the Tigers John Ferguson (1920-2005) might muse with his patented baritone, "Bud had a good run."