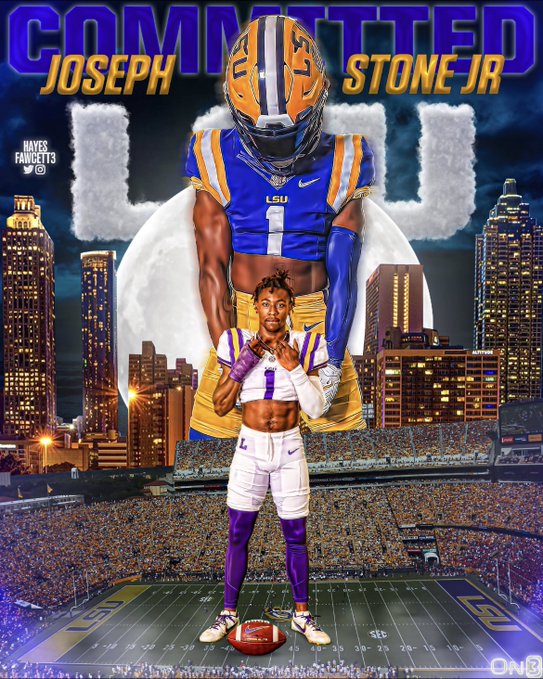 LSU's work ahead on the recruiting road has paid dividends again.
The Tigers picked up a non-binding pledge Monday night from Joseph "Jojo" Stone Jr., a Class of 2024 'athlete' from Grayson High in Loganville, Georgia.
Stone becomes LSU's third Class of 2024 commit, along with Xavier Atkins, a linebacker from Jonesboro-Hodge High in Jonesboro, Louisiana, and Maurice Williams, a safety from Shadow Creek High in Pearland, Texas.
Atkins committed last Tuesday and Williams did so on June 18, becoming the first 2024 pledge for first-year LSU coach Brian Kelly and his new Tigers staff.
Stone is from the same Georgia high school as Michael Daugherty, a Class of 2023 safety who committed to LSU on April 13.
The 5-foot-11, 180-pound Stone is the No. 12 Class of 2024 'athlete' in the country, No. 16 2024 recruit in Georgia and No. 107 2024 recruit nationally according to 247Sports Composite.
He chose the Tigers' scholarship offer from among a few dozen, and put on an LSU hat during a ceremony shown live online by Atlanta's WXIA TV only after teasing onlookers to putting on an Oklahoma cap.
Stone sat at a table that held hats from several schools, Georgia, Florida, Tennessee, Oklahoma, Ohio State, Oregon and Miami among them.
Supporters including friends and family members roared when he chose the Tigers' cap.
Why LSU?
"LSU is gonna be LSU at the end of the day, I feel like," Stone told WXIA during the ceremony. "You know, you can't count them out regardless of what they have going on.
"LSU, you go down there, it's like you're stepping in, like, a different world, almost. The atmosphere is different. Football. It's all about the LSU Tigers.
"I feel like they're Wide Receiver U. … And I just like their plan for me, everything just kind of boils down to the right decision," added Stone, who visited LSU in June. "LSU, that's that dawg. That's that team. I just feel like that's the right choice. All the coaches. … LSU atmosphere is just wild. And their plan for me? Get me to the league. That's why I chose LSU."
In addition to their three 2024 commits the Tigers currently have 14 commits in their 2023 class, eight of whom have gone public with their pledges since July 1 – the most recent being Whit Weeks, a linebacker from Oconee County High in Georgia.