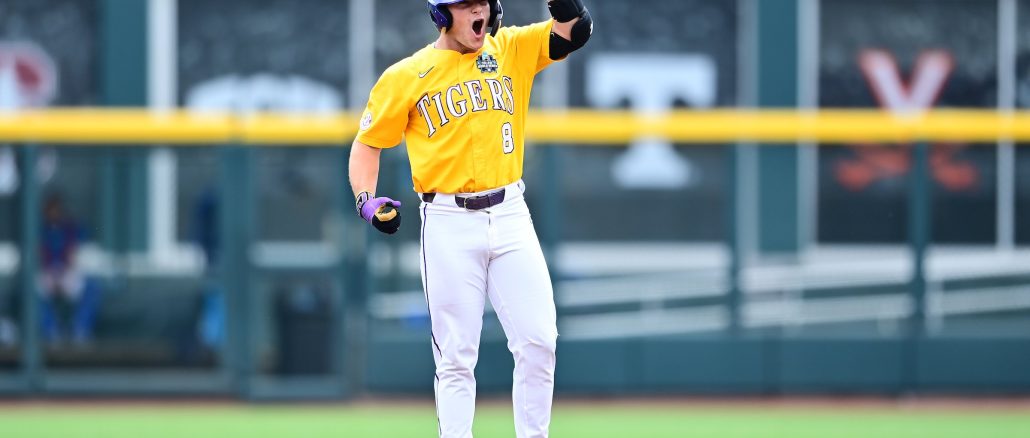 ---
Florida slugged six home runs on Sunday after flushing a heartbreaking one-run loss less than 24 hours before and cruised to a 24-4 win over LSU to tie the best-of-3 College World Series Championship Series at Charles Schwab Field in Omaha.
Now it's LSU's turn to see if it can mentally flush a game and compete on Monday night for its seventh national championship.
LSU (53-17) and Florida (54-16) will meet again at 6 p.m. Central with the winner claiming the 2023 NCAA title.
The game will be televised on ESPN and broadcast on the LSU Sports Radio Network. The radio pregame show begins at 5:30 p.m. and the broadcast will be streamed live at www.LSUsports.net/live.
"It was a tough one, obviously," LSU coach Jay Johnson said. "Really good job by Florida swinging the bat. You have to credit them. It was just an onslaught of good at-bats and barrels. And they're a great team, and they played great today."
Florida reliever Blake Purnell (2-0) was credited with the win. He entered the game in the third inning and fired 1.2 scoreless frames with no hits and two walks. Nick Ficarrotta earned his second save of the season, working the final five innings and limited the Tigers to one run on three hits with no walks and two strikeouts.
LSU starting pitcher Nate Ackenhausen (3-1) was charged with the loss. He allowed six runs – three earned – in 2.1 innings with one walk and five strikeouts.
"Look at the two teams that are playing," Johnson said. "These are the two best teams in college baseball. Would I have liked today to have been different? Yeah. I think we were prepared to play at the beginning of the game. And then we asked Nate to get out there and give us everything he could. I'm really excited about tomorrow night. And I know our players are too."
Florida's 24-run performance is a CWS single-game record — including all parks, all games.
The 20-run differential in a CWS Series final is one short of the 21-run difference when Notre Dame defeated Northern Colorado 23-2 in 1957.
A crowd of 25,292 watched as Ty Evans and Jac Caglianone lead Florida's hitting onslaught to keep Gators' season alive. Each bashed two homers — Evans had a grand slam — while Wyatt Langford had a three-run home run and six RBIs.
A strong northwest wind, gusting to 20-25 mph blowing straight out to center field, certainly didn't hurt the offenses and led to one of the few blowouts in this hotly contested CWS.
LSU couldn't maintain the momentum from its 4-3, 11-inning win Saturday night.
Florida deserves credit for doing exactly what it said it would do following Saturday night's loss – putting that crushing loss behind them and bouncing back.
Now, the proverbial shoe is on the other foot.
It's LSU's turn to see if it can put a loss out of mind and sight with the entire season coming down to one game in a winner-take-all scenerio.
LSU jumped out to the early lead on Sunday, scoring a first-inning run on a Gavin Dugas RBI-double but Florida tied it in the second on a solo homer by Evans. He first thought his shot down the left-field line was foul like everyone else believed, but then kept watching and saw it fly just inside the foul pole.
LSU reclaimed the lead in the second on a run-scoring single from Tommy White and a sacrifice fly by Tre' Morgan. The Gators then grabbed control of the game with a six-run third, highlighted by Evans' grand slam.
Run-scoring singles by Jac Caglianone and Josh Rivera tied the game 3-3 before Evans unloaded a shot that once again was just inside the left-field foul pole. The ball also seemed to get a needed boost from that gusty win.
LSU, playing its sixth game in seven days, didn't have an answer and Florida continued to pour it on. The Gators scored a run in the fourth, five in the sixth, two in the seventh, four in the eighth and five in the ninth.
Colby Halter led off the top of the sixth with a double, followed by a hit batsman. Langford then bashed a three-run homer, followed by a solo shot from Caglianone — his team-leading 32nd of the season.
Florida plated two more runs home in the seventh before it added four more in the eighth on a two-run double by Langford and Caglianone's second home run.
Florida tacked on five more runs in the ninth with the help of an LSU error, the Tigers' season-high fifth error of the game. BT Riopelle also crushed the Gators' sixth homer of the game in that final inning.
Eight of Florida's nine starters had at least one hit as the Gators rapped out 23.
LSU is seeking its seventh title and first since 2009, while Florida seeks its second title and first since 2017, when they defeated LSU.