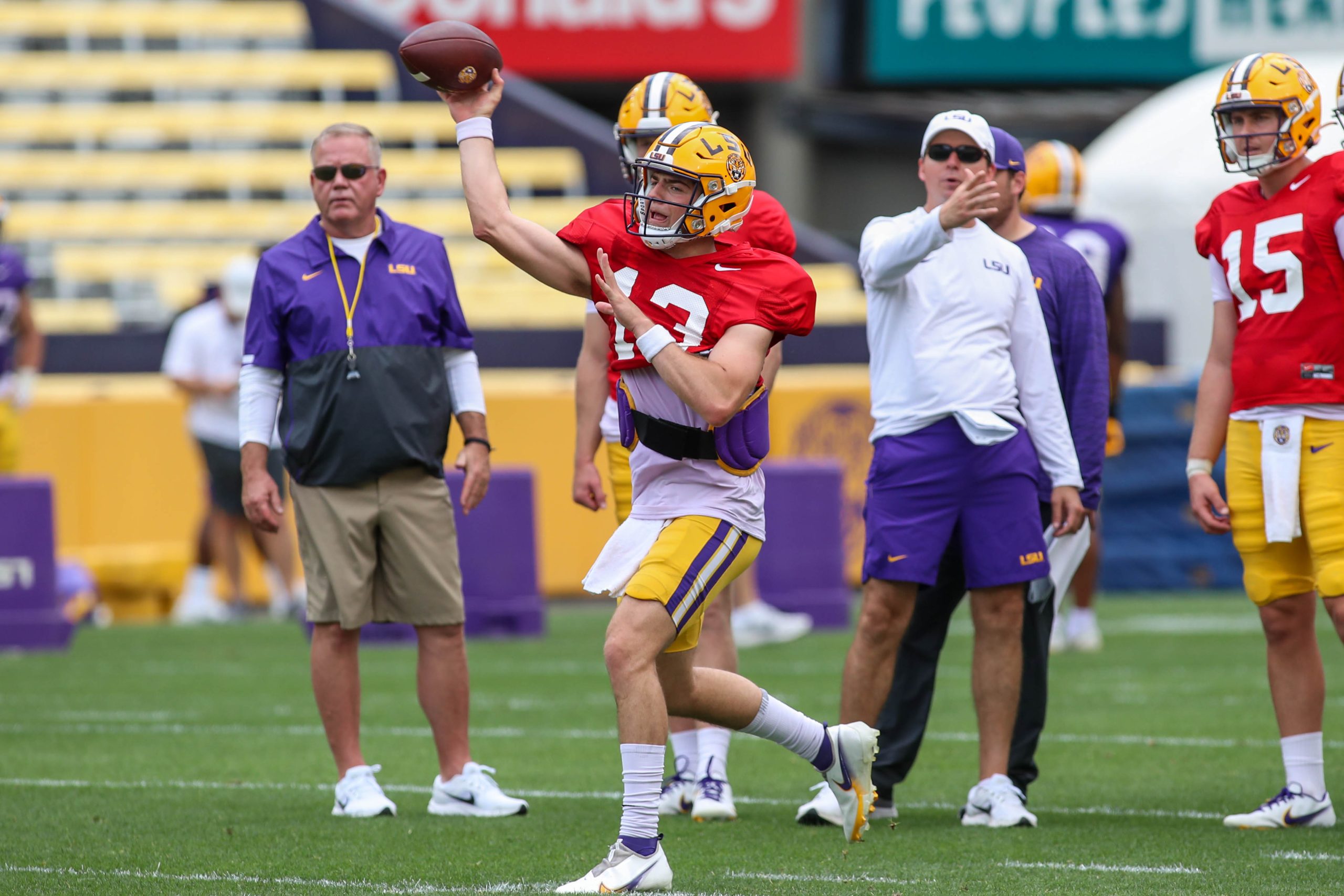 Around 100 days from his curtain call, 60-year-old Brian Kelly brings gravitas to his role on the grand stage as the oldest leader to debut for the Tigers. Kelly counters the clock with a resume' featuring more tenure and more victories than anyone before him as LSU's leading man.

The most compensated employee in Louisiana government history must win a national title within four years to equal the pace of maestros Nick Saban, Les Miles and Ed Orgeron. If Kelly fails, he will enjoy the comfort of a 90% buyout for the remainder of his ten-year contract. It is doubtful that exile for Kelly would resemble Gloria Swanson's "I used to be big" lament from her portrayal of Norma Desmond in Sunset Boulevard.

Saban, Miles and Orgeron captured national titles in years four, three and four as Tiger directors. Their championships of 2003, 2007 and 2019 were achieved on the green carpet of the Louisiana Superdome where Kelly starts his 32nd year as a ring leader. Opening night foe Florida State lurks as an outmanned villain for the talent-rich Bengals. The new cast vies to avert the three-ring circus of the 23 games since Odell Beckham Jr. was seen handing out hundreds to LSU's most celebrated star since Billy Cannon on Jan. 13, 2020, in the same place where Kelly's run begins.

Kelly's first week is anticipated almost as much as Garth Brooks' Death Valley debut. Six days after facing the Seminoles in New Orleans, LSU hosts Southern University in a long overdue showcase of two great universities a few miles apart. The spectacle of the sounds of the Jaguars' Human Jukebox wafting in the winds of Tiger Stadium accompanied by Kelly trotting under the goal posts for the first time offers an irresistible audio and visual event for media types.

The schedule is favorable for Kelly, who stands to rival the most successful first year in the pantheon of LSU honchos. The best rookie season for any of Kelly's predecessors was from Miles, who posted an 11-2 mark in 2005, boosted by an impressive roster assembled largely by Saban.

Twenty players from the 2005 Tiger team played in the NFL, and a similar number should advance to the big show from Kelly's team of 2022. The new guy is not a stranger to professional pipelines for his athletes. A decade ago, Kelly's Notre Dame squad lost to Alabama for the BCS title. The Irish of 2012 fielded 21 athletes who advanced to the NFL. Saban's Crimson Tide had 24 players march
into the league.

As strong as Notre Dame and Alabama were in 2012, the most impressive array of players in the country that year was recruited and harvested by Leslie Edwin Miles, who directed LSU to a 10-3 record. The Bengals produced an unworldly 32 players who landed on NFL rosters, but still lost close contests to Florida, Alabama and Clemson.

Schools with the most current NFL players are Alabama with 53, Ohio State (47), LSU (46), Georgia (35) and Notre Dame (34). The fact Miles fielded 32 NFL players on his 2012 team and lost three games should have been reason enough to dismiss the man from Elyria, Ohio. Four years later, the hammer was dropped on the fellow who had an aversion to spread offenses and an affinity for big breasted blondes.

Miles' squad of ten years ago included La'El Collins, Odell Beckham Jr., Jarvis Landry, Eric Reid, Jeremy Hill and future Alabama analyst Zach Mettenberger.

A decade prior to 2012, Saban was guiding LSU while Kelly was piloting 14-0 Grand Valley State to the NCAA Division II national crown. Saban's 2002 gang was a year away from the first championship for LSU since Paul Dietzel was ruling the Tiger Kingdom in 1958. Twenty seasons ago, Saban's bunch was a disappointing 8-5 and rated the 36th best team in the land in one power ranking. Fifteen players from that team graduated to the NFL, including Matt Mauck, Domanick Davis, Joseph Addai, Michael Clayton, Marcus Spears, Corey Webster and Stephen Peterman.

Turn the clock back to 1992 and LSU was a woeful 2-9 under Curley Hallman. The Tigers were ranked 94th among NCAA football powers but did have five members play in the NFL, including Pro Football Hall of Famer Kevin Mawae.

In 1992, Kelly was 8-3 in year two at Grand Valley State. The 31-year-old as toiling in anonymity and still eleven years from leaving the Lakers in Allendale, Michigan, to move 100 miles to pilot Central Michigan in Mount Pleasant.

Forty years ago, Jerry Stovall presented the best of his four teams. LSU was 8-3-1 with losses of one point to Nebraska and three points to Mississippi State and Tulane. This club remains the only LSU unit to beat Alabama, Florida and Florida State in the same season. Blood thirsty boosters with ravenous appetites for winning demand that Kelly equal the Stovallian feat this fall.

The Tigers of 1982 were laden with stars. Leonard Marshall, James Britt, Eugene Daniel, Ramsey Dardar, Lance Smith, Eric Martin, Garry James, Dalton Hilliard and Alan Risher were among 16 Tigers to earn NFL roster spots.

Kelly in 1982 was a senior linebacker for Assumption University, a Catholic institution in Worcester, Massachusetts, with fewer than 2,000 students. The most prominent NFL player to play for the Greyhounds is Zach Triner, a five-year long snapper with the Tampa Bay Buccaneers. Kelly is a self-made coach who was not hatched at a football factory.

Fifty years ago, 20-year-old Bert Jones was the brightest prospect in the SEC as the senior quarterback guided a team with average talent to national contender status. The 1972 campaign was highlighted by a last-second Jones to Brad Davis touchdown pass to beat Ole Miss 17-16, but LSU's championship quest ended a week later as Bear Bryant and Alabama whipped the Tigers 35-21 at Birmingham.

NFL products from the 1972 Bengals were Jones, Davis, Steve Rogers, Mike Williams, Warren Capone, Bo Harris and Norm Hodgins. Kelly was attending St. John's Preparatory School in Danvers, Massachusetts, population 27,000 in '72. A half-century later he resides in an opulent estate on the LSU Lakes and possesses the keys to the top industry in Baton Rouge. The economic engine that is LSU football puts Exxon-Mobil to shame in a community where Huey Long nurtured the gridiron gods and taxed the oil giants.

Kelly is assigned to reinvent a team that was 6-7 last season. The last LSU coach to inherit a program in decline was Saban, who converted a 3-8 aggregation in 1999 to an 8-4 team in 2000. Should Kelly also win five more games than his predecessor, LSU fans will embrace his ostentatious contract.
They expect nothing less from LSU's first $100 million man.