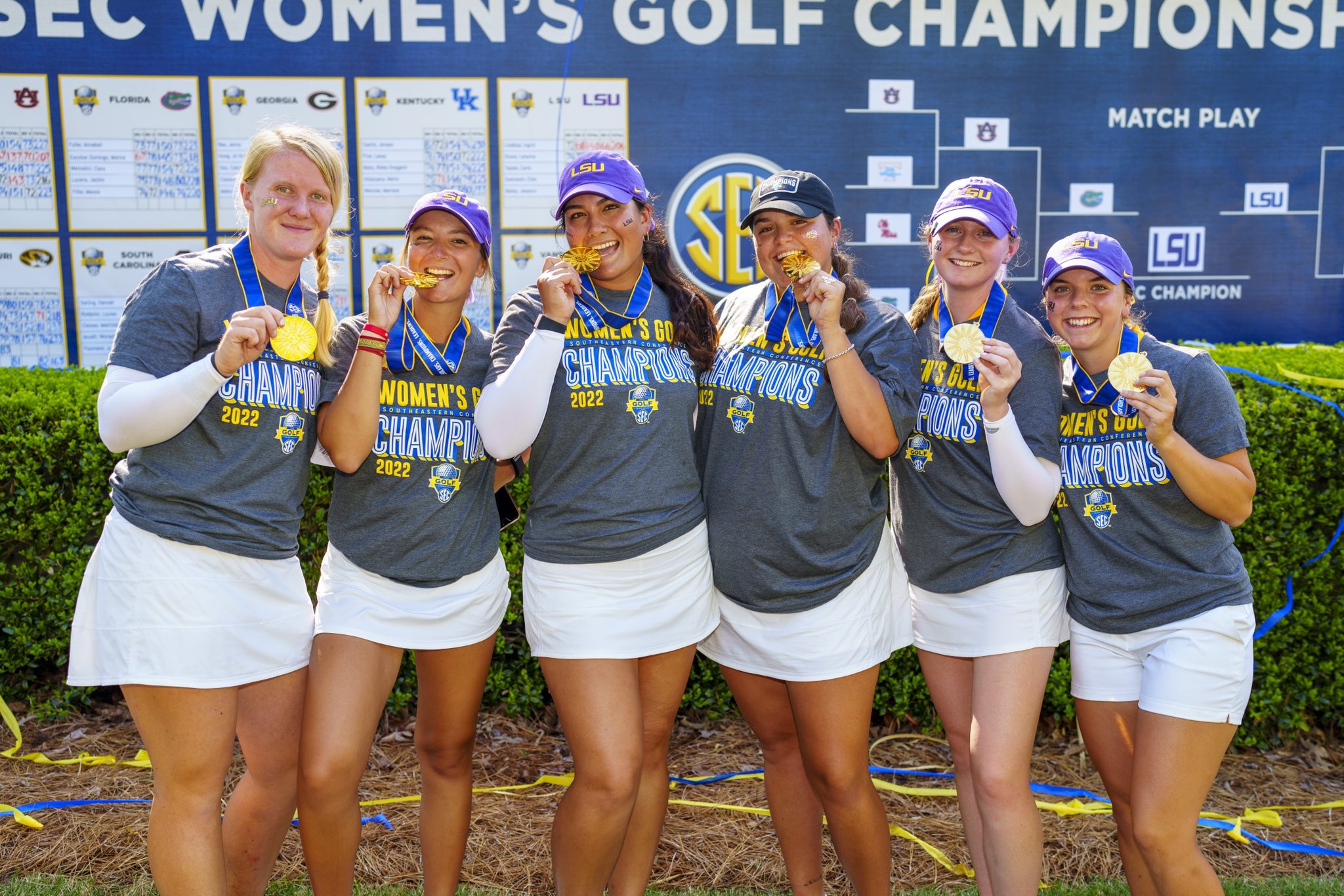 LSU junior Latanna Stone said to understand the exhalation pumping through their team's congratulatory huddle on April 17 that signified the team's Southeastern Conference championship, you had to grasp the disappointment associated with last year's finish on the same Greystone Country Club course in Birmingham, Alabama.

Second-seeded LSU put together a school-record performance that resulted in a first-place finish through stroke play but there wasn't a trophy presentation for the 2021 Tigers.

With the league having adopted a match play format to crown its champions, the Tigers advanced to the semifinals, where they lost to Mississippi State.

"We were so hot in stroke play," said LSU women's golf coach Garrett Runion, whose team opens NCAA Regional play Monday at Stanford. "We broke LSU records, SEC records and NCAA records with 46-under-par team total. We won it convincingly and we felt we were the best team. We felt like we were the hottest team and then came up short. I told the ladies, 'Don't waste the feeling'. They were mad."

With All-Americans such as Stone and Ingrid Lindblad returning for this season, LSU wasn't to be denied. The Tigers returned to the same course, finished second in stroke play but drew on the experience of last season to beat Vanderbilt, Alabama and finally Florida in match play – 4-1 – to hoist the SEC Championship trophy for the first time in 30 years.

"It's really cool being part of history," Stone said. "You're the second team to win the SEC. This is the team. It goes to show that our hard work and what we faced this year paid off."

Said Runion: "This time we finished second in the stroke play. It was a calmness with them this time. They felt like they belonged there. They felt like got robbed to a certain point last year and they were out for a little more revenge. They played great. They were clutch when they needed to be."

LSU won four of the six matches with No. 1 Carla Tejedo, No. 3 Lindblad, No. 4 Stone and No. 5 Jessica Stone being victorious. The Tigers also picked up one point from the matches No. 2 Elsa Svensson and No. 5 Jessica Bailey finished tied in.

"I told Elsa she was so lucky that she got to experience your first SECs and win it," Stone said of the freshman from Mariestad, Sweden.

Stone understands the effort and climb of the program under Runion to become champions. Last year's near-miss became a painful reminder during the offseason when the team also reflected on its performance at the NCAA Championships in Scottsdale, Arizona, where 1,174 strokes was one too many to be among the top eight teams and advance.

Lindblad was again a driving force in this year's team, winning the school's first SEC individual championship in 31 years two days earlier with a 10-under, 206 in the 54-hole event. She began the final round in third place with a 6-under 66 for her ninth career championship title.

"I said in an interview on The Golf Channel she was our Joe Burrow," Runion said. "She's put up crazy-good numbers and did it every week and made you shake your head like, 'How did she do that'."

LSU, which finished two strokes behind Auburn in stroke play, had its entire starting lineup finish in the top 36 of stroke play with only five shots separating Tejedo and Bailey from Nos. 18 to 36th places.

That same balance in the Tigers' lineup was prevalent throughout match play, beginning with a 4-1 win over seventh-seeded Vanderbilt in a match that had to be completed the following day before of darkness.

LSU punched its ticket for the final with a 3.5-1.5 win over sixth-seeded Alabama. For the second straight year elements came into play and the championship round was delayed for more than two hours by inclement weather.

"Staying prepared really helped all of us," Stone said. "We all kind of learned from last year. We had the same weather issue happen and we were all sitting around last year, and we got too comfortable inside. It's a learning experience. This year our preparation was better. We were sitting outside and getting adjusted to the weather. We made sure we were the first ones on the range warming up. Not feeling rushed, so that really helped. What didn't work last year you're going to change. I think we did a great job with that and all we just played our games and got the job done."

Lindblad led her match following a birdie on No. 7 hole for a 2UP lead. Following the lengthy delay, she parred the next two holes and birdied No. 10 for a 6&5 win and play was halted after the 13th hole. Tejedo's triumph didn't involve a lot of drama, taking a lead on No. 7 and not looking back to a 4&2 win to finish 3-0-0 on the weekend.

"The stroke play is you and the course and when it gets to match play it's one on one," Runion said. "It is a little different. In basketball or baseball everyone sees the play, the catch, the shot or anything like that. You don't see your teammates. You're spread out over a couple of holes. They don't know exactly where everybody stands. It is fun when they all found out and converged together on the 18th green."

That left Svensson, Stone and Bailey to push LSU completely across the finish line.

The match with Svensson, who got back to even on No. 17, was not completed after being tied through 18. Bailey found herself in much the same fate when her match was tied late on No. 17 and not completed.

LSU's clinching point came down to Stone, a junior from Riverview, Florida, who went 2-1 in match play. Putting was a strong suit for her in LSU's semifinal win over Alabama and that was the case again with the Tigers staring down their first SEC team title in three decades.

Stone trailed 1DOWN after the par 5 11th hole through the 14th when she recorded a par to even the match. She made an 18-foot birdie putt on the par 3 17th for a 1UP lead and clinched the match by winning the 18th hole with another birdie putt.

"After hugging I looked at Florida and I could feel their pain," Stone said. "You have to go through that pain to want it more than ever. You're thinking back at all the things you could have done differently. You have to go through that to understand where we are because we went through that last year. We did fall short and kind of had that bitter taste in our mouths. Probably wanted
to get redemption. We knew we could do it; we knew we could win."

Runion, a 2008 LSU graduate along with assistant coach Alexis Rather, was beaming with pride at his team's accomplishment.

"We've had Olympians, we've had Curtis Cup players, LPGA Tour winners come through the program and not be able to get it done," he said. "To finally get one done and win the SEC Championship was a great feeling."