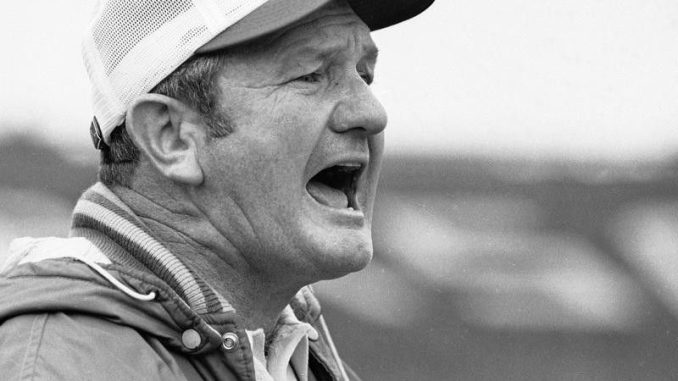 The life of Charles Youmans McClendon started 100 years ago this fall. On Oct. 17, 1923, McClendon was born in Lewisville, Arkansas. The South Arkansas town in Lafayette County reported a population of 915 in the 2020 Census of which 555 residents are Black.
Lewisville is 32 miles from the tiny hamlet of Stephens (population 770) where Coach Mac is buried and 24 miles from Hope, Arkansas (population 8,952) where Bill Clinton was born when McClendon was a strapping lad of 22. He was back from WWII and primed to play for fellow Arkansan Bear Bryant at the University of Kentucky.
Charlie Mac was a member of the greatest team in UK history. The 1950 unit is revered in Lexington and is recognized by some outlets as the national champion for that year and justifiably so. The 1950 Wildcats outscored eleven foes 393-69 for an average margin of victory of 36-6. The lone hiccup on the schedule was a 7-0 loss at Knoxville to Tennessee. Kentucky beat national champion Oklahoma 13-7 in the Sugar Bowl. Bogus championships happened in an era when teams were crowned before post-season play.
After Mac's collegiate career, he served as an assistant for one season at Vanderbilt in 1952. Then he arrived at LSU as an aide to Gaynell Tinsley in 1953, was retained by Paul Dietzel in 1955 and succeeded Tall Paul as head coach in 1962. McClendon logged 27 years on the Tiger staff, including a record 18 as head coach.
When John Ed Bradley carted his mentor off the field at the 1979 Tangerine Bowl in the final game for both of them, Mac departed Orlando with 137 career victories at a time when schools were playing ten and eleven game seasons. Forty-four years later, Mac is way ahead of any LSU successors in total victories. Les Miles was just stripped of 37 wins by the NCAA for using an illegal player. Miles drops from 114 triumphs in TigerTown to 77, leaving Mac 60 victories ahead of Les and 54 wins up on the number coach on the LSU football list, Bernie Moore, who piloted the Tigers from 1935-47.
Many words should be written on the Century celebration of his life, notably his impact on his players, who like Dale Brown's graduates, were fabulously successful in their careers in business, as doctors, lawyers and more than a few NFL stalwarts even though Mac's teams were known more for grit than for overpowering talent.
In his final season, McClendon drew the most ambitious schedule in LSU history with 12-0 Alabama, 11-0-1 USC and 11-1 Florida State visiting Tiger Stadium. LSU was 0-3 vs. the Tide, Trojans and Seminoles, but the Tigers were outscored narrowly in those games by 3-0, 17-12 and 24-19. LSU allowed just 44 points against three of the top five teams in the land in '79.
The 2024 schedule, if it remains intact, will be the most challenging murderer's row for the LSU footballers since 1979 when Jimmy Carter was president, Edwin Edwards was in his second term as governor, and Woody Dumas was mayor of Baton Rouge.
LSU will open the 2024 season at Las Vegas against USC on September 1. The home slate next year also features UCLA, Alabama, Oklahoma and Ole Miss. Suite holders will be pleased with marquee opposition, but Brian Kelly may not be amused. His third season looms as a rugged challenge, so it is up to Kelly to satisfy the thirst for championships by the LSU faithful.
With Jay Johnson winning a national title in his second year on the diamond and Kim Mulkey taking national honors in her second year on the court, fans will demand for Kelly to replicate that Herculean accomplishment in his second year at Tiger Stadium.
It is notable that Johnson and Mulkey experienced ultimate glory in postseason competition, but they did not collect SEC titles. It is frequently harder to win the SEC than to dominate the country.
McClendon knew the perils of conference competition. In his 18 seasons, Mac won one league title in 1970. Counting shared crowns, this is the honor roll of SEC football coaches who captured conference titles from 1962-79.
Bear Bryant Alabama 11 championships
Vince Dooley Georgia 3 championships
Doug Dickey Tennessee 2 championships
Johnny Vaught Ole Miss 2 championships
Charles McClendon LSU 1 championship
Fran Curci Kentucky 1 championship
McClendon's most impactful legacy is that he integrated a program that is now populated largely by Black athletes who represent four of every five players on the roster. In retrospect, Mac waited far too long to shatter the color barrier, but in 1972, Mike Williams and Lora Hinton became the first Black varsity Tigers. Mac's move to recruit Black athletes to Broussard Hall came when Congressman John Rarick, former Ku Klux Klan leader, represented Baton Rouge in the United States House of Representatives from 1967-75.
One year after Hinton and Williams enrolled, Mac welcomed Terry Robiskie, Robert Dow, Thielen Smith, Carl Otis Trimble and Richard Romain to his team as the program became fully integrated. When the coach retired under pressure at the end of the decade, his roster featured a bevy of outstanding Black players in Carlos Carson, LeRoid Jones, Tracy Porter, Orlando McDaniel, Greg LaFleur, James Britt, Chris Williams, Willie Teal, Marcus Quinn, Albert Richardson, Lyman White, Leonard Marshall, Ramsey Dardar, Lawrence Williams and Greg Bowser.
On June 26, Richard Romain died at age 69 in Gretna. Romain was a product of Archbishop Shaw High School, joining Thielen Smith as the first Black football recruits from New Orleans to play for the Bengals. His professional pursuits were dashed by knee problems, but Romain did attain stardom as an actor in the 1982 cult classic film, "Cane River."
Like the overwhelming majority of Mac's players, Romain graduated from LSU. He received a degree in business administration and was a community stalwart for 40 years as funeral director at D.W. Rhodes Funeral Home in New Orleans.
Romain's career statistics at LSU are pedestrian with 21 catches for 319 yards and a touchdown. In those run-oriented days, he was among the leading pass catchers for the Tigers. His quarterback in 1973, Mike Miley, died at 23 in a car accident at 7800 Highland Road in Baton Rouge. Romain's quarterback in 1974, Carl Otis Trimble, drowned in Mandeville at age 21 six months after Miley's death in 1977.
When Romain was attending LSU, the Righteous Brothers rose to No. 3 on the Billboard chart with a song titled "Rock and Roll Heaven." There is comfort for believers to conjure the image of Mac welcoming another of his men to the other side. Romain devoted four decades preparing services for families whose loved ones died. His LSU family, notably Robert Dow and Collis Temple, prepared the farewell for Romain at the funeral home that was his home since 1983. Once a Tiger, always a Tiger. So long Richard Romain, cherished by his cohorts as a good man who made his coach proud.