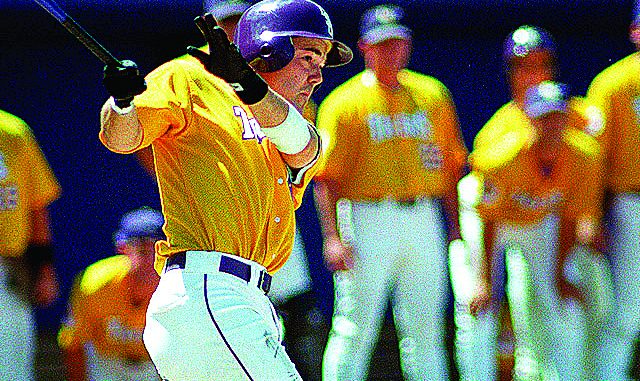 He was an unlikely candidate to become the next LSU athletic icon.
Warren Morris, now 49, was a former walk-on infielder who redshirted his first season while legendary coach Skip Bertman guided LSU's 1993 team to a national championship.
He patiently bided his time, playing other positions in the infield behind All-American second baseman Todd Walker who left for the Major League draft following the 1994 season.
Morris was a second team All-American and member of the U.S. National team, coached by Bertman, in 1995 and played in the Olympics in '96.
His best season was the '95 campaign, batting .369 with eight homers, 50 RBIs and 18 stolen bases, creating big expectations and even greater role for the Alexandria native for the '96 season.
Unfortunately, an injury nearly cost him all of junior season.
He remembered fouling a ball of his hand/wrist area that caused so much pain, doctors later discovered he had suffered a broken hamate bone in his left wrist. The injury resulted in mid-season surgery and missing 39 games, creating plenty of doubt about the remainder of his season.
Morris, still experiencing some pain in his wrist, rejoined the team for the stretch run in the postseason. He was placed in the batting lineup and although unable to swing for power, started to regain some of the mechanics of his swing along with playing defense.
LSU was bounced from the SEC Tournament after a 1-2 showing and received a bid to host a NCAA Regional where the Tigers went undefeated in four games, complete with a 29-13 thrashing of Georgia Tech, to return to Omaha.
In the team's regional final, Morris went 2-for-6 with his first double of the season and drove in four runs.
With LSU in the midst of one of its patent postseason runs under Bertman, the Tigers opened the CWS with a one-run win over Wichita State and defeated Florida twice, including a 2-1 thriller, to advance to a winner-take-all matchup for the national championship with Miami.
LSU found itself locked in a tense battle with Miami and the Hurricanes regained an 8-7 lead going into the bottom of the ninth inning.
The Tigers' prospects also included having to face Miami All-America relief pitcher Robbie Morrison who got two outs in the inning, including a biting curveball to retire Tim Lanier.
That brought Morris, batting ninth in the order and without a homer on the season, to the plate with Brad Wilson at third base. Morris sent Morrison's first pitch – a curveball – that carried deep to right field and over the wall for an improbable, game-winning homer, 9-8.
It remains the only walk-off home run in a championship game in CWS history. Morris was the recipient of the 1997 ESPY for 'Showstopper of the Year'.
Morris, a fifth-round pick draft pick of the Pittsburgh Pirates in 1999, spent a total of five years in the Major Leagues. He also played a year each with the Minnesota Twins and Detroit Tigers before retiring and entering the business world where he's currently the vice president at Red River Bancshares in his hometown of Alexandria.
Morris joined the June 27 edition of Tiger Rag Radio to share his thoughts on this year's LSU national championship team, which defeated Florida 18-4 on June 26, and his memorable moment that helped win the 1996 CWS with Louisiana Radio Network news/sports director Jeff Palermo and Tiger Rag assistant editor William Weathers.
Tiger Rag: You must be smiling from ear to ear today?
Warren Morris: "I have been. It's been a fun day. A lot of people coming up, excited about the game and the championship. It's fun to be an LSU baseball fan right now."
TR: What are your memories from your iconic homer to win 1996 CWS against Miami?
WM: "My wife and I have three daughters now and the oldest twin daughters will be freshman in a few months at LSU. They've seen the video and to them it's just dad. They do think it's cool whenever fans want to come up and take pictures and want to talk about where they were. The greatest thing to me … I love having my place in LSU baseball history. Over the 27 years, you can't imagine how many people have come up to me to say hello and say where they were and what they were doing and share their story. If I pop up or strikeout that day those people never come up. They wouldn't have a reason to say hello to me. It's cool over the years that I've gotten to meet all of these people and hear all of these great stories. LSU fans just have a passion. For them to come up and share with me their story, that's just special to me."
TR: What were you thinking on Tommy White's two-run, walk off homer to beat Wake Forest?
WM: "It was a huge moment going up against an extremely good team in Wake Forest. It just seemed like (if) either team had one thing go right or wrong it would be the deciding factor. I was a little shocked and I think he was too. Not that he couldn't hit a home run, but it just seemed like up until that point all the balls that were hit well, it seemed like the wind knocked them down and didn't go anywhere. He hit it well and I was thinking, 'Let's so how far this one goes.' It just kept going and going and of course it carried into the bleachers. I was excited watching here at my house, jumping around and cheering them on. I definitely remember that feeling. He got to home plate and all of his teammates were waiting on him. Just a special moment for all Tiger fans really."
TR: When did you sense this year's LSU team could win it all?
WM: "They just have so much talent. Every aspect of the game, they excelled at different times. Towards the end of the (regular) season, kind of lackadaisical … I don't know or just the long season itself. They didn't play, I think they would agree, as well as they did earlier in the season. The postseason; it's a new season. In some ways I think it may have helped them they got knocked out of Hoover (SEC Tournament) early. They got to come home and get away from everything, refocus and relax a little bit and then just go at it. Really, they went on that roll and got to Omaha. Even though they lost a game here and there and the Sunday game (24-4 Gm. 2 loss to Florida), it is what it is. I still had no doubt they come out in the final game ready to fire on all cylinders and man, did they take it to the Gators. That was awesome to see."
TR: Could you imagine having to play three straight elimination games?
WM: "I never have. That would be something where it's cliché to say you take it one day at a time. Just win that game and worry about the next day the next time. In '96, we got on a roll. We really didn't go through the loser's bracket. We didn't have to play all of those extra games to get back to the finals. In a lot of ways, just watching this team, they seem to respond the best I felt like when their backs were against the wall. After they lost that first game to Wake (Forest), I felt they were as good as anybody to come back and win those three against possibly the best pitching staffs in the country. They were close games. I felt like I aged a couple of years just watching them. They figured out a way and moved on. That's the test and that's why they're the champions."
TR: Did this year's team reaffirm the program's tradition with first national title since 2009?
WM: "I think he (Jay Johnson) is doing a great job … Just the fact that (it's) in Year 2. It's tough just to get to Omaha and the College World Series, and to get to the finals is another big hurdle, too and then to get over that hurdle and win it. The last time I went to watch LSU (in the CWS) play was 2017 and we had a great team, played Florida and they got us (in) two games. Even when you get there it's not assured. It's the SEC and the competition's going to be tough. It's good and bad. During the season you kind of beat up on each other, and you kind of wear each other out. Then, when you get to the postseason, that experience and that toughness is what gets you through these close games. It speaks for itself. The SEC's won the championship every year since 2017. You can say what you want, but it's definitely the best baseball league in the nation."
TR: Can you relate to some of these current players having to wait to win a national title?
WM: "I had a little bit of a leg up because that '93 season I got to redshirt. I got to go to practice and see what Todd Walker did, saw how Russ Johnson prepared every day, and see what Mike Sirotka and these guys, who were phenomenal players that led to that '93 national championship. That helped a lot of us that were freshman like Tim Lanier and those guys that came in during '93, just to see what it was like and the fact that, 'Hey we can win this'. We just have to go do it. Then in '94 we went to Omaha, went two games and out. In '95, lost our regional and didn't even go. We felt collectively like this was our chance to leave our lasting legacy and our mark on the program. In '96, (we) put it together. The (regular) season didn't end that great. It's almost like the team this year and after the SEC Tournament we just turned it around and those eight games, four in the regional and four in Omaha, and it's cool to see our year up on the Intimidator now as well."
TR: How exciting is to see the relationship Jay Johnson has with your coach Skip Bertman?
WM: "It's great. Just the way he embraces (former) guys like me and the history of the program which really is Skip and what Skip was able to do to make LSU to the level it is now. The great crowds and fans that support it. You've got to credit Skip Bertman for that. I think it's great that he consults with Skip and is around him. He's 85 years old, but so wise and still sharp mentally. He still has a passion for LSU and wants it to succeed. He still has great advice. He's someone to lean on and I don't blame him. I still love picking his brain about certain things."
TR: Will Tre' Morgan's defensive play against Wake Forest go down as one of the best in CWS history?
WM: "Without a doubt. I don't know off the top of my head that I can think of a play like that. You don't have the Tommy White home run if he doesn't make that play. They score and who knows what happens when we come up to bat. Just an unbelievable play. He's had a whole three-year career of us seeing unbelievable plays from that guy. We're just lucky to see guys like him and Skenes and (Dylan) Crews. It's been fun."
TR: How much did this year's team remind you of teams from your era that were dominate?
WM: "It was huge just the way they were able to bond together, just get along so well. I remember before the postseason saying that Jay Johnson said it was almost uncanny how much these guys liked being around each other. They just love each other. I knew once I heard that with the level of talent they had, I thought then these guys have a chance to win it all."
TR: You played in the Major Leagues, but what approach would you take against Paul Skenes?
WM: "You've just got to get ready early and try to get his fastball and hopefully he tries to get ahead of you. Once he starts throwing that change-up and the slider, it's tough for anybody. Especially with two strikes. I know some of the teams we faced this year went with the strategy of trying to take pitches and get his pitch count up, but for me that wouldn't have been a recipe for success. I would have tried to get a good one early and see if I could square it up."
TR: Has anyone ever said they named their son after you?
WM: "I have, believe it or not. To make me feel older their son is about in high school. It's cool because the moment gets to live on, even on YouTube. People can pull it up. High school players who weren't even alive when I did it, they can be excited about it, and they saw it after their parents told them about it. It's just neat how the moment lives on."