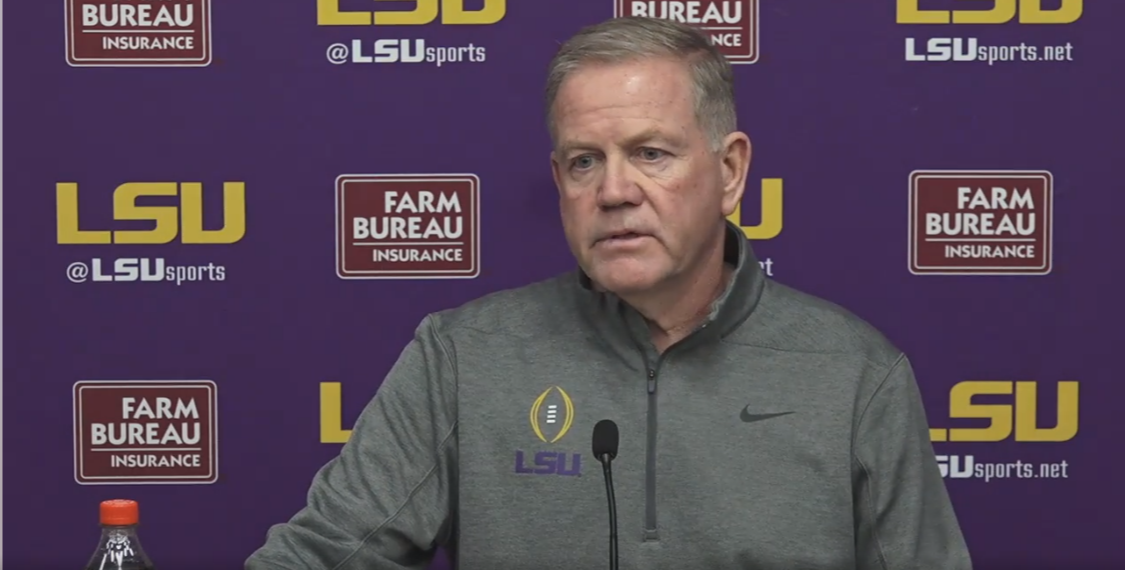 Quarterback Jayden Daniels would be a full go if LSU were playing Purdue in the Cheez-It Citrus Bowl Sunday, LSU coach Brian Kelly said on Saturday when he addressed the media following the Tigers' practice in preparation for the January 2 game.
Kelly did, however, say junior defensive end BJ Ojulari, who last week announced he was bypassing his senior season to enter the NFL Draft, will not be playing in the Citrus Bowl. Kelly did not indicate specifically who would replace Ojulari, but said there were a number of options.
Daniels, who was named LSU's MVP at the annual awards banquet last week, started the SEC Championship Game against Georgia on Dec. 4. He played at obviously less than 100% after suffering an ankle injury against Texas A&M in the final regular season at College Station.
Daniels had both ankles wrapped against Georgia and was replaced late in the second quarter for a few plays by backup quarterback Garrett Nussmeier before returning the final drive of the half against the Bulldogs. Daniels, however, did not play at all in the second half and his health had been a major question mark for the Tigers heading into the Citrus Bowl game.
"He looked really good today," Kelly said. "He's been limited, but today was kind of his last test. We did some, one of the things we like to do is put the quarterback in direct snap, so he's pushing off and driving back. You know it's hard when you're in a shotgun, you shuffle your feet and you throw, and that's how you can get him back quickly when you're in shotgun.
"But you put him in a direct snap, and he's got to drive and use his weight and transfer and take a seven-step drop, and then step up and move," Kelly said. "That's when you know you're ready. Today he went through that progression. I would say, oh, today is Saturday, right? If we were playing tomorrow, he'd be ready to play."
Kelly, which has had 13 players enter the transfer portal – 11 of which were on the active roster in 2022 -was glad the NCAA recently announced a waiver to the rule counting participation in games against a player's ability to redshirt. He said the waiver makes sense because the transfer portal depletes rosters and depth, making it almost impossible for teams to field a competitive team in bowl games if they cannot rely on younger players.
"Garrett Nussmeier could have played in last year's (Texas) bowl game (with this new waiver)," Kelly said.
LSU has been hit particularly hard at the cornerback position this post-season, but Kelly said seniors Jarrick Bernard Converse and Jay Ward will start for the Tigers in the Citrus Bowl.
Kelly also said "he feels really good about how we match up" with Purdue with Ward and Converse holding down the corners.
"So (we) feel really good at the cornerback position," Kelly said. "And, you know, those will be our starters. I think, yeah, we, we feel like the depth there is, you know, (we're) certainly young, but we'll be okay there. We feel like our two starting corners are going to match up very well."
Ward decided to play in the Citrus Bowl even though electing to enter the NFL Draft and bypass his final year of college eligibility due to the COVID-19 waiver.
With early signing day only four days away, and the NCAA having also waived the 25-player signing limit, Kelly has been on the road visiting with recruits.
Expect LSU to sign somewhere between 35-39 players this year, Kelly said, including transfer portal additions.
"It's gonna be in the mid to high 30s," He said. "I think within a calendar year, we could be close to turning over 70 scholarships. When they changed the number from 25, there was certainly the need to go above that 25 number, because of people moving in and out of your program.
"I certainly don't think it's gonna be in the mid to high 30s every year," he added. "I think that that's outside the lines. But I do believe that the high 20s is going to be the norm (moving forward every year)."