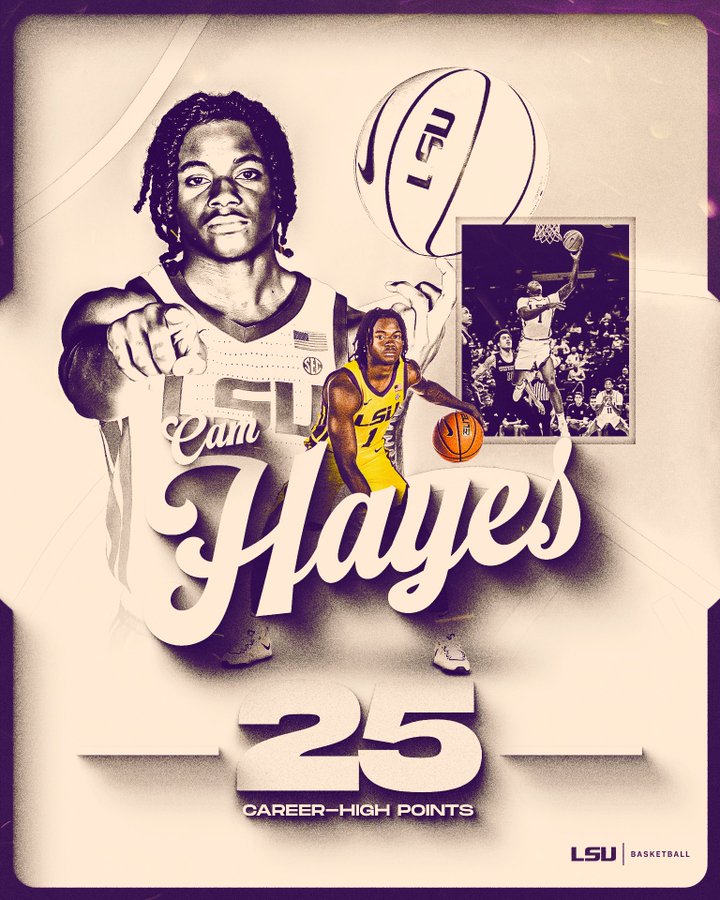 Cam Hayes is settling into his new starting role at LSU quite nicely. And just in the nick of time, too.
Hayes scored a career-high 25 points to lead LSU when it needed it most and the Tigers improved to 10-1 with an 89-81 win over Winthrop on Saturday night in the Pete Maravich Assembly Center.
"He was awesome, I mean awesome," LSU coach Matt McMahon said. "Anytime you score 25 points on 11 shots, that's a good night at the office right there. He was so efficient, shooting it well from three, took high percentage shots. He also got four assists and one turnover."
LSU used a 14-3 run in a three-minute stretch and went up 80-68 on Adam Miller's 3-pointer with 3:40 left in the game.
Winthrop battled back, though, making a 10-2 run of its own to cut LSU's lead to 82-78. KJ Williams' clutch 3-pointer with 48 seconds left and his dunk 12 seconds later finally put the game away.
Williams finished with 18 points, 16 in the second half. Miller added 14 for the Tigers.
Cory Hightower scored 25 points for Winthrop (5-7), Kelton Talford 23 on 11-for-15 shooting, Sincere McMahon added 18 points and Kasen Harrison 11.
Hayes, starting only his second game of the year, appeared to have locked down a spot in the starting rotation. He provides the Tigers with not only a third playmaker and real scoring threat, but also a calming influence for the offense and a perfect complement to point guard Justice Hill.
It's just what LSU needs heading into SEC play following one more tune up against East Tennessee State on Wednesday night at 7 p.m. in the PMAC.
Hayes, a junior guard who transferred from North Carolina State, did not play at all in several of the early-season games but his emergence in the last several games has clearly raised the level of team's play of late.
"We've just been a very efficient offensive team with him on the floor," McMahon said. "I think through the first eight games we were averaging 12 assists a game, the last three games we were up around 18 and that's coming off of a game we went 4-of-25 from three, so it could easily be 19-20 assists per game there. He's just been terrific. He's a very smart player and he's really stepped into a huge role for our team."
LSU needed Hayes in the worst kind of way against Winthrop.
The Eagles, who are a perennial NCAA Tournament team from the Southern Conference, managed to work LSU's leading scorer Williams into early foul trouble during the first half and neutralized the Tigers' size advantage to take a 39-38 halftime lead. 
Williams came on strong in the second half, despite picking up his third personal foul less than two minutes in the second and finished with his season's average despite only scoring two points in nine minutes of action in the first half. 
Miller, who had been LSU's leading scorer through its first seven games, added 14 points, breaking a 1-for-20 shooting slump he suffered through the past two games. He finished 5 of 15 from the field while going 2 of 10 from beyond the arc.
LSU shot 67.7% from the field in the second half and pulled away from Winthrop in the last 10 minutes of the game behind Hayes and a resurgent Williams. 
"I thought it was a great team win. If you enjoy offense, three-point shooting, and a lot of points, it was a good game to watch," McMahon said. "I think on our offensive end, clearly our most efficient performance there on the season. I was pleased at halftime.
"I thought the last 8-10 minutes of the first half we were checking the ball just to make sure it had a lot of air in it, just dribbled around, the ball didn't move, lot of hero shots, and led to very inefficient play. But the second half, I thought we played the game the right way offensively. The ball moved side-to-side, a lot of great screens, we had 13 assists on our 21 baskets and shot 68% from the floor.
"Finally, in those last seven minutes, we were able to get one or two stops," McMahon said. "There weren't many stops in the game, but in those last seven or eight minutes, we were able to get enough to get the win. Overall, I thought it was a great team win and a fun game to watch."