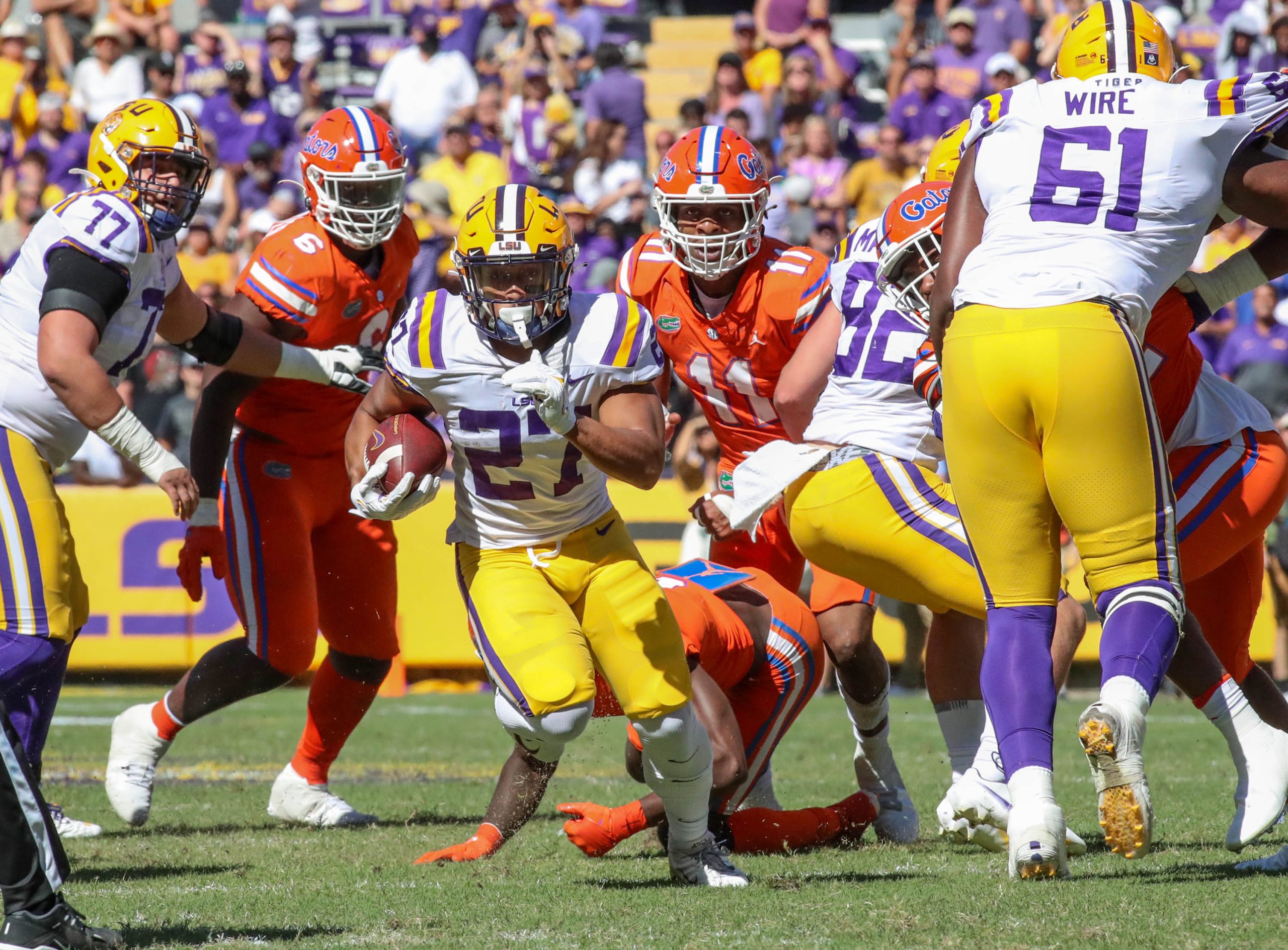 LSU head football coach Ed Orgeron said the result of his team's running game which produced a season-high 321 yards on 45 carries in last Saturday's 49-42 victory over No. 20 Florida can be traced back to an early-week film session.
Orgeron said he provided evidence to the offensive line, a group that sputtered for the most part through six weeks, with practice and scrimmage clips of that same unit enjoying success against the Tigers' defensive front.
"I spent a bunch of time showing cut-ups of our offensive line dominating our defensive line, knocking them off the ball," Orgeron said during Wednesday's SEC Coaches Teleconference. "I'm the defensive line coach also, so I didn't like it, but I had to show the team. I think (offensive line coach) Brad Davis has done a tremendous job with this line. They're the most improved unit on the team."
LSU's offensive line, which had a late substitution into its starting lineup when sophomore Marlon Martinez replaced an injured Chasen Hines, flourished like never before this season with junior running back Ty Davis-Price leading the way with 36 carries for a school-record 287 yards and three touchdowns.
Here's what else he had to say
Opening statement
"We were very pleased with our win over the Florida Gators. There's a 24-hour rule, we have to move forward. On to a very good Ole Miss football team. One of the best offenses we're going to see all year. Lane Kiffin's one of the best play callers in college football."
On the challenge of coaching out the remainder of the season
"I feel good about it. This is our team. I wanted to finish out with it. My athletic director wanted me to finish out with it. We haven't blinked. We've moved forward. The focus now is on Ole Miss. Really, not much has changed."
On the possibility of coaching again
"There's a couple of other things that I wanted to get into and see if my career takes me that path. If it doesn't, I'll see. I'm open-minded right now. I do need to take a year off. I want to spend some time with my children."
On Ole Miss defensive players Otis Reese and Chance Campbell
"I recruited both of those young men. I knew Otis Reese in high school and then I recruited Chance Campbell as a transfer linebacker. Those guys are excellent football players. Chance is really a smart football player. They play that 3-3 defense where he's running around making most of the play and Otis Reese was one of the best players coming out of high school. Two very good players."
On the involvement of former players around the program
"I loved it. I think all the guys that bled purple and gold, they have an open-door policy with us. They can come anytime. We even have them come on the Tiger Walk. We've had a lot of guys come back. They feel welcomed."