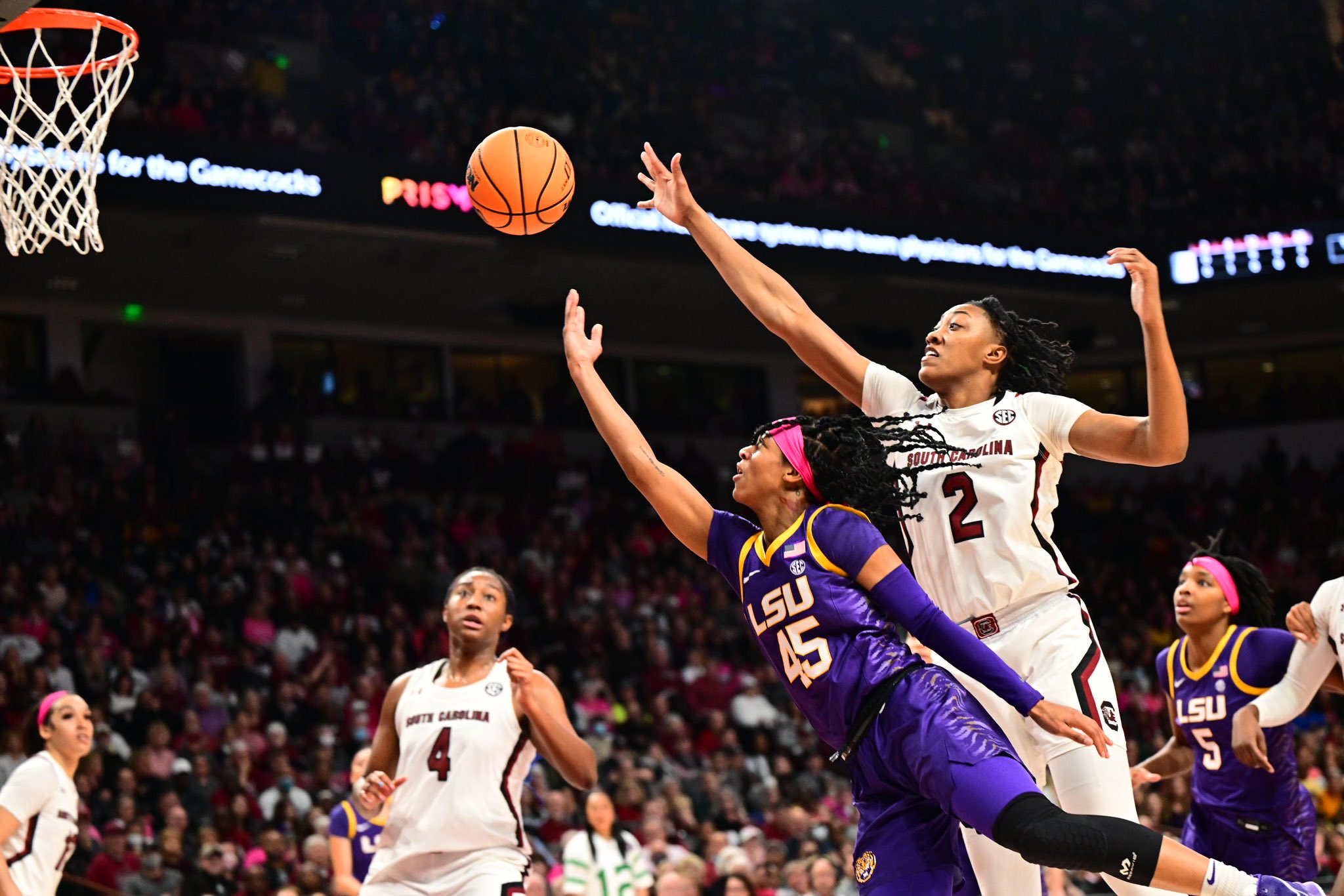 Moments after her team suffered its first loss of the season LSU coach Kim Mulkey told her Tigers not to forget the 88-64 loss to top-ranked South Carolina and the perch the Gamecocks occupy in the women's game.
"Be thankful LSU was on this stage," Mulkey said she shared with the team. "Who in the world would have thought we would be on this stage in year two of rebuilding the program and you got to be a part of that. You've got to help us keep going and climbing to where some day we're where South Carolina is."
The NCAA's transfer portal has hastened the pace of LSU's re-emergence among the top programs in the country, but the reigning national champion Gamecocks made the Tigers painfully aware of the necessary steps that await.
South Carolina jumped out to a 18-2 record and fended off several challenges when LSU battled back and ultimately flexed their muscle in a 24-point demolition. Five players scored in double figures led by 6-foot-7 inside force Kamilla Cardoso's 18 points, 13 rebounds and three blocks in 21 minutes. Point guard Zia Cooke, who scored four seconds off the opening tip, scored 17 and two-time national player of the year Aliyah Boston added 14 points, nine rebounds and three blocks.
"We cut it to five and we'd cut it six and then we would foul," Mulkey said. "Or then we would give up a layup. Those are teaching moments. It comes down to grit, toughness, competitiveness and it's just within your soul. The experience matters and hopefully as we continue to play with some youth out there, they'll remember this moment and this day."
South Carolina's imposing front line of Cardoso, Boston and 6-2 Victaria Saxton made life uncomfortable for LSU star Angel Reese, forcing her into 5-of-15 shooting from the field. She wound up with 13 of her points in the second half, but with four rebounds, had her school record streak of double-doubles halted as 23 consecutive games.
A combination of South Carolina's length and size made life in the paint difficult for LSU which shot 40% (26 of 65) and got outrebounded 43-25.
The Tigers didn't have the necessary scoring balance to keep the Gamecocks at arm's length.
Fifth-year senior guard Alexis Morris overcame an early knee injury to give LSU an opportunity, scoring nine points in the first quarter and bringing her team back to within 24-15.
She scored six more points and had 15 of her 23 points in the first half but wasn't able to score in the last six minutes and LSU trailed at halftime, 42-32. Graduate student LaDazhia Williams, who began her career at South Carolina, provided the Tigers with a few fleeting moments of optimism with a pair of baskets that drew her team to 28-25 with 5:27 showing in the second quarter and 34-29 on a second-chance basket with 2:26 showing.
"You can't win on this stage with just one kid playing up to her potential," Mulkey said. "There's others that feel they can do better.
"I thought Alexis Morris was outstanding," Mulkey said. "Of all our kids, I thought she was the one that came to play. Not that the rest didn't want to play good, but I thought she produced."
Williams touched off a modest 6-0 run early in the third quarter. Morris followed up her own miss and Jasmine Carson added a basket, reducing South Carolina's lead to 44-38 at the 8:03 mark, and Reese later added a drive that made it 45-40.
South Carolina, which shot 57.4% (35 of 61) and scored 17 points off LSU's nine turnovers, began to assert its will in the latter stages of the third quarter. The Gamecocks, taking advantage of foul difficulty by Flau'jae Johnson and Williams, finished the quarter on a 9-2 run to expand their lead to 64-48.
"It's South Carolina and everybody else," Mulkey said. "They're poised and experienced. We played as hard as we could play. We got some in the locker room … I don't want to say the stage was too big for them … but it was the first time they've been on a stage this big in women's basketball."
With LSU unable to guard down low and lost Williams to fouls with 6:49 to play, South Carolina went for the jugular and continually fed Cardoso for 10 consecutive points. Raven Johnson added a driving layup that made it 80-57 with 3:23 showing.
That left the Tigers (23-1, 11-1 in SEC), which dropped from No. 3 to No. 5 in The AP Top 25, to pick up the pieces for the remainder of the regular season, a four-game stretch that begins at home Thursday with Ole Miss at 8 p.m.
There are also short-term goals Mulkey alluded to such as securing second place behind South Carolina in the SEC standings, one spot over their predicted finish, and a high enough seed (they're projected to be a No. 2) in the NCAA Tournament that would afford LSU the opportunity to host first-and-second round NCAA games and launch a deep postseason run.
"There's three more spots out there in the country to get to the Final Four," Mulkey said. "Who knows if we finish out this thing in the SEC and finish second, get a good seed in the NCAA Tournament, play a couple of games at home, let's see what happens."